Book to define Medicolegal guidelines for Safe practise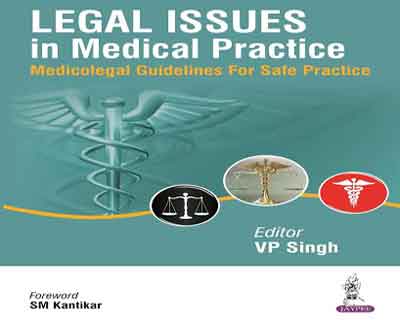 Medicolegal Cases are on the Rise – What is the Solution?
Today, healthcare sector is witnessing sharp rise medical negligence litigation along with violence against doctors and hospitals. Such a scenario clearly indicates lack of trust between patients and doctors. Unrealistically high expectation of patients and the peculiar socio-cultural transference to a non-tolerant, litigious society and media hype have further complicated the issue. Some of the key factors related to the crisis include lack of dialogue between the doctor community, hospitals, legal professionals, and policy makers. It is extremely important for doctors, medical associations, and hospitals to come together to identify and discuss the legal issues related to medicine and to find practical and legally appropriate solutions.
Patient Safety has always been a prime objective of healthcare sector. Recently, due to medicolegal crisis, safety of doctors and hospitals has emerged as a major concern. Doctors now understanding that, medico-legal knowledge is a must. Medico-legal awareness and its implementation in day-to-day clinical practice can be a powerful tool for safety of a doctor as well as quality in patient care.
To adress these issues, a book - 
Legal Issues in Medical Practice: Medicolegal Guidelines for Safe Practice
has recently published by Jaypee Medical Publishers. The book primarily aims at empowering doctors and medical practitioners with medico-legal awareness. It acts  essential medico-legal information that can be used as guidelines for safe clinical practice. Chapters on various medicolegal issues are written by the specialists who are well experienced in clinical as well as medicolegal domains. Most of the pertinent issues such as medical ethics, informed consent, medical documentation, medical negligence, and various laws applicable to the medical professionals have been elaborated in the book. A separate section on medicolegal issues related to various specialties has presented practice management strategies for safe clinical practice. The book is a step-by-step guide that provides basic understanding of medicolegal principles in a simple language, and enables a busy medical practitioner to establish safe clinical practice.
The book has been edited by Dr VP Singh who is a medicolegal consultant in Ludhiana Punjab. An MD Forensic Medicine and an Associate Professor with the Department of Forensic Medicine, DMC & Hospital, Ludhiana, Punjab, Dr VP Singh has more than 17 years experience in the medico-legal domain. The book is a reflection of his deep rooted understanding of medical laws and ability to provide effective solution to the medicolegal conflicts.
You can get more details ( including purchase information) about the book  from the following link: -
http://www.amazon.in/dp/9352500458/ref=cm_sw_r_fa_dp_KJRswb1FAJSA0