New Delhi: 4 deaths due to swine flu in RML hospital, AIIMS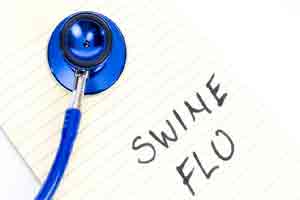 New Delhi: Three persons, including a woman, have died at the Ram Manohar Lohia hospital last month reportedly due to swine flu, while one other succumbed to the H1N1 virus at the AIIMS here, officials said.
The deceased at the RML hospital have been identified as 45-year-old Zaibun Nisha, from Delhi, Navin (25) from Uttar Pradesh and Pramod (39) from Bihar, they said.
The trio was admitted to the swine flu ward for treatment, a hospital official, who did not wish to be named, said.
Besides, a native of Faridabad in Haryana succumbed to the deadly virus at the AIIMS last month.
The patient died at the respiratory ward while undergoing treatment for swine flu, AIIMS director Randeep Guleria said.
"We had put him on chemotherapy as his condition was very bad. He died of lung failure," he said.
According to official figures four deaths and 241 cases of H1N1 infections have been reported in the city till July 9 this year.