New Delhi: Candle March to oppose 7th Pay Commission recommendations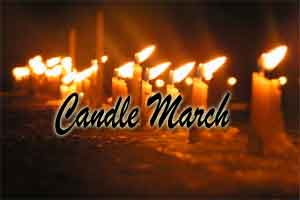 New Delhi: Showing opposition to the recommendations of the 7th pay commission for doctors, Resident doctors under the banner of FORDA are going to organise a Candle March on 1st June, 2016 .
It was reported by Medical Dialogues that 15000 resident doctors associated with various government had gone on a token one day strike on the 26th of May to show their defiance against the said recommendations. The doctors had also threatened to go on on indefinite strike from June 1st, 2016, if the government did not listen to their demands.
This was followed by an emergency meeting called by the Union Health Minister Shri JP Nadda on Saturday asking the striking doctors to put forward their demands. It is reported that FORDA representatives apprised the minister of their issues with the seventh pay commission, among other issues concerning the medical fraternity, with the minister showing a positive response to meeting their demands. The minister had further directed for an internal meeting with the health department on 31st may (today) to work out the solutions to the demand for doctors.
Read Also: 7th Pay Commission: Doctors Delegation meets Union Health Minister
With the minister showing a positive response, FORDA has temporarily decided not to go on strike for the time being, and give time to the authorities to meet their demands. Yet showing gravity of the situation concerning the doctors, the organisation has now called for a candle march at India gate
" We as resident doctors do not want to go on a strike and cause problem to our patients. We also want to give time to the government to work out mechanism to meet our demands. However, we are bent towards our needs and have given time till 7th June 2016 for the govt to repond to our demands else we will have to resort back to an indefinite strike, if the government fails to meet our demands," said Dr Pankaj Solanki, President FORDA
"I request all doctors to gather in large numbers at India Gate to show to the government that all doctors are committed to this issue." he added.