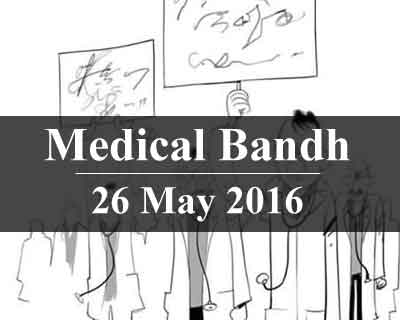 New Delhi : Showing strong opposition to the recommendations of the 7th Pay commission for doctors and the growing discrepancies in the pay scales that are received by government doctors and private practitioners, Federation of Resident Doctor Association (FORDA) has called for a Capital Wide Medical Bandh on 26th May, 2016
It is reported that around 15000 resident doctors across all government hospitals under the banner of FORDA will refrain from duty to show their defiance for one day.  At a press conference organised at RML Hospital today, Dr Pankaj Solanki, President FORDA told Medical Dialogues, " We have actually run from pillar to post asking for representation, while setting up the pay commission recommendations as well as its recent revision . But neither have we got any representation and on top of it, government has very callously ignored the needs and demands of the medical profession . The result is that government doctors are going to see their income fall in the face of rising prices and would be forced to move to the private sector for better remuneration."
If the 7th Pay commission recommendations come into force, Medical professionals working with the government are going to see a fall in their relative salaries as the NPA ( Non-Practicing Allowance) would have been reduced to 20% from the earlier 25%. Moreover there would be substantial fall in the calculations of their allowances such as HRA as the said NPA would no longer be considered a part of the basic pay for further calculations.
FORDA has called for a token one day strike on the 26th May, 2016, yet if the demands of the doctors are not met, resident doctors may go on an indefinite mass bunk from the 1st June,2016.
Following demands have been put forward by the doctors:-
NPA–  Doctors have demanded to increase the non practicing allowance for doctors from 20% ( as proposed) to 40% ( as been the longstanding demand). Moreover, bring NPA back to being included as a part of the basic pay, for the calculation of HRA, which was done in the sixth pay commission and arbitrarily removed in the 7th pay commission
Allowances– Resident doctors across government institutions are to be given common allowances and the same amount, be it telephone allowance, extra duty allowance, learning resource allowance, night shift allowance or Hazard pay ( against diseases contracted on the job)
Same Work Same Pay– – Medical Profession is being highly exploited by being put under different categories, cadres and positions of work having same job profile, yet very different remunerations like that of Permanent Employees, Adhoc employees, contract employees, etc. The discrepancy is so glaring that pays are different within the institution, institution to institution, within the state, and also state to state; for the same work. This goes against various decisions of the government, the judiciary and even basic working logic and is causing enormous amount of dissatisfaction in the working force against this exploitation. This ongoing exploitation should be stopped at the earliest with the doctors being given SAME PAY for same work
Central Residency Scheme– The doctors have demanded immediate implementation of the Central Residency Scheme, a scheme that was directed for implementation by the Supreme court in the year 1992, but is yet to see the doors of implementation.
2 comment(s) on New Delhi: FORDA calls for Medical Bandh on 26th May, 2016