New Delhi: NDMC Doctors call off strike after MCD accedes to demands (updated)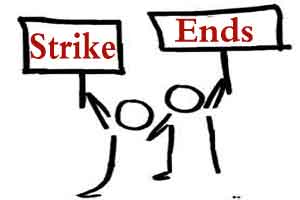 New Delhi: Strike of doctors at various NDMC hospitals in Delhi has been called off after the authorities finally assured the doctors that their impeding salaries will be released by 31st December, 2015.
Representatives of the RDA, Hindu Rao Hospital and Kasturba hospital met with Shri Mohan Bharadwaj on Chairman, Standing Committee, NDMC today and decided to call off the strike after he agreed to meet their following demands


Urgent release of pending salaries of all resident doctors within a week


No victimisation and deduction of salary of any resident doctors during the strike period


Regularisation and timely payment of salaries


Regularisation of posts and stopping of ad-hocism after fulfilling the required procedures and formalities.


Security would be stepped up and working and living conditions of doctors and the condition of the hospital would be improved with immediate effect.


While the doctors are hopeful that authorities shall meet their demands, they have also strongly indicated if the salaries are not released by 31st december, 2015 and demands are not fulfilled, the doctors will return back on strike from 5th January, 2015
Update- The strike of East MCD hospital, that is, Swami Dayanand hospital is still on, as the authorities have been unable to meet their demands of salaries till now