New Delhi: No more private beds in government hospitals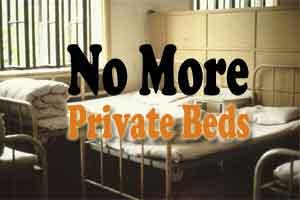 New Delhi: In their effort to abolish the ongoing VIP Culture in government hospitals, the AAP government has come out with a new scheme. In this move, all private wards of government hospital will not be converted into general wards, so that all patients get the same treatment in these hospitals.
Condemning the private ward "VIP culture"  at government hospitals, Shri Satyendra Jain, Health Minister pointed out that if anyone wants VIP treatment, they can go to private hospitals.  "We want to have one uniform level of providing facilities to the people. The manpower is the same and the treatment given to those in private wards is similar to those in general wards. So why waste the space when more beds can be accommodated," the Health Minister told the
Hindu
.
Additionally the government is making a move towards expansion of healthcare facilities in the capital, by increasing the number of beds to 20,000 and creating new blocks at the "unused land" of hospitals to sustain the increased number of beds.
"New blocks will be constructed at Lal Bahadur Shastri (LBS) Hospital, Ambedkar Hospital, Rao Tula Ram Memorial Hospital, Babu Jagjivan Ram Hospital and Sanjay Gandhi Hospital. At Lok Nayak hospital, the emergency ward has only 18 beds. We plan to increase it to 50 and add more beds in its different emergency wards. There is a design flaw common to all government hospitals as focus is more on creating more space for offices and labs while the patient area is adjusted," the health minister told
TOI
.
The government is also planning to set-up 150 policlinics with dedicated diagnostic facilities like  x-ray, ECG and ultrasound, 20 of which will be inaugurated on Sunday. These polyclinics will be manned by existing staff of the government hospitals in shift basis
One the issue of upcoming government hospitals in the capital, the government pointed out it is yet to receive the promised land form DDA to create 11 government hospitals. The health minister is currently trying to work out solution of making the hospitals at Janakpuri and Tahirpur functional.