New Delhi : PNDT Raid reveals Illegal Abortion Centre In Mayur Vihar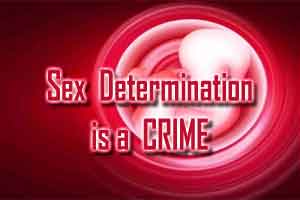 New Delhi: In a sting operation, authorities have nabbed one Dr Manoj Bajpeyi from Noida sector 22  after he was caught performing  sex determination on a decoy patient . They have also arrested one tout, Vinod Gupta who was incidentally caught running an abortion centre in the Mayur Vihar Area of New Delhi.

The investigation began after the authorities in Sonepat, Haryana received information that sex determination was being performed in Delhi's Mayur Vihar area. A sting was planned, and 38 marked notes of 500 each were handed over to the decoy patient and trap was laid out for the tout. The mediator, one Annu directed the decoy to wait outside Sharma medical store in Mayur Vihar phase III, where the concerned person will pick her. At the designated place, the decoy was approached by one Mamta who took her to Mayur Diagnostic Centre in nearby street.

The decoy customer, from the centre was then taken by one Vinod Gupta, the owner of said center to a clinic Noida, where sex determination was performed on her by one Dr Manoj Bajpai, and she was later brought back to the Mayur Diagnostic Centre, where the authorities nabbed Vinod Gupta.

Vinod Gupta then confessed that he gets sex determination done from Noida after receiving patients through Annu and other mediators.

On further inspection of the diagnostic center, the team come across a patient who confirmed that Vinod along with another person had performed her abortion.The authorities also recovered a number of instruments that are used for MTP.

Simultaneous cases have been booked under the concerned provisions of the MTP Act and PNDT Act against the culprits.