New Delhi: Safdarjung Hospital Doctors call it a strike after PG student assaulted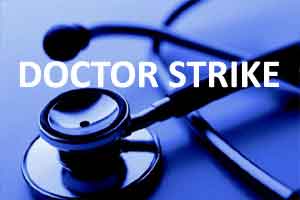 NEW DELHI:  Resident doctors at Safdarjung Hospital in New Delhi called it a strike yesterday evening after their colleague was allegedly manhandled by the attendants of a patient at the emergency ward.
This came after a first year PG student was badly beaten up by the attendants of a patient at the emergency ward of the hospital as they wanted their patient to be examined ahead before others.
The doctors demanded that security should be beefed up in the hospital in the wake of such incidents. Resident doctors at the Institute further alleged that while total 200 security guards are supposed to be working at the hospital, only hald are present with the rest doing fake duties.
"Last Friday, a female junior resident doctor was allegedly manhandled by the attendants of a patient at the paediatric ward. We demand an FIR to be lodged and the security to be increased in the hospital," one of the doctors said.
An FIR has also been filed at the Safdarjung Enclave police station.
Security Issues
Doctors at the hospital have alleged there being a scam in the security provision at the busy hospital. Bringing the incident to light, Federation of Resident Doctors Association has written to the Union Health Minister pointing out to the discrepancies happening at the hospital due to security reasons for resident doctors. "
You must know that there is a scam behind all this. There is a huge difference between the number of security guards posted on paper and the actual strength,
" read the letter.
The letter also claimed that recently, security guards posted at the doctors hostel were removed, which is a matter of concern for the security of resident doctors.
With the strike continuing for a second day today, doctors said they won't call off the protest unless a written assurance is given from the Delhi and Central governments to provide "proper security" at hospitals.
 With the residents doctors on strike, the services are being managed by the faculty members.