New emergency block with 240 beds opens at Safdarjung Hospital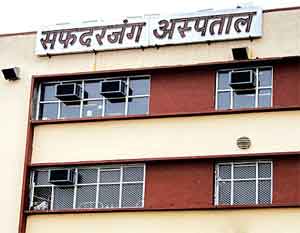 New Delhi: A new emergency block at the Safdarjung Hospital was thrown open to the public on a trial basis, offering much-needed relief to the medical facility overburdened with huge patient inflow.
As many as 260 beds, 37 ICUs and six operation theatres were added to the hospital with the opening of the new block.
Another 240 beds would be added, taking the strength to 500, making the emergency block the largest one among public hospitals in the country, a senior doctor claimed, adding that the facility would include nearly 100 ICU beds and 17 operation theatres.
The facility at the hospital, which was made operational this morning, is likely to be officially inaugurated by Prime Minister Narendra Modi. The date, however, had not been finalised yet, officials said.
"The new emergency block is likely to offer major relief as the patient load is tremendous. We cannot refuse patients and at times, two patients have to be accommodated on one bed for emergency care. Patients coming to this facility are mostly poor and cannot afford private treatment," the doctor said.
Since the hospital was set up in 1995, the number of beds has increased to nearly 1,600.
In 2013, following a special permission from the health ministry, construction work for an emergency block and a super-speciality block was started.
The super-speciality block was caught up in a tussle between the hospital and the AIIMS administration, officials said.
According to a senior official, the super-speciality block would have 850 beds.