Karnataka anaesthetist, South African traveller India's first 2 Omicron cases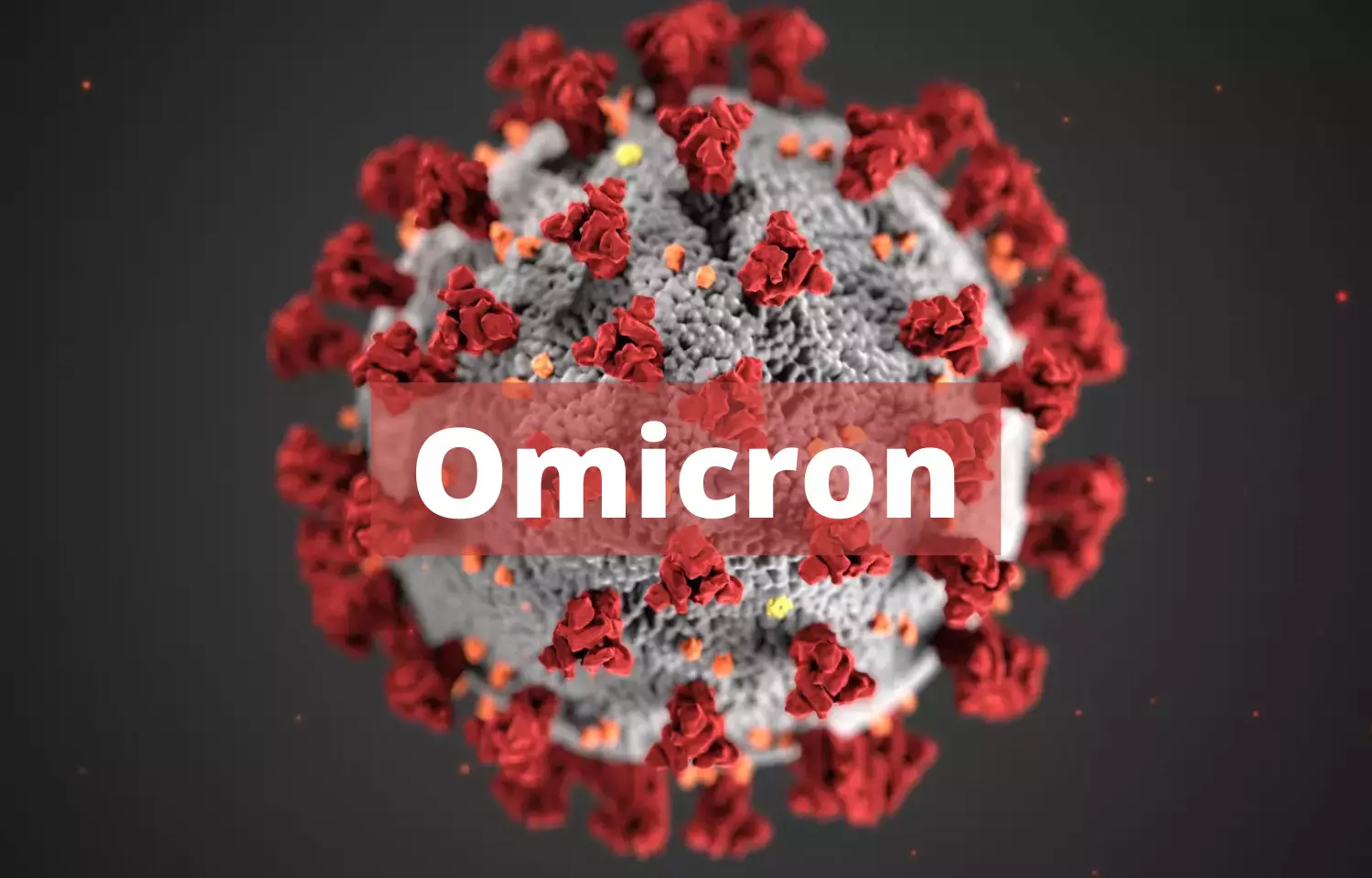 Bengaluru: The Union Health Ministry recently informed that two people have tested positive for the Omicron variant of the coronavirus in Karnataka.

A 46-year-old anaesthetist based in Bengaluru and a 66-year-old man who travelled from South Africa were those who contracted the variant, with both exhibiting mild symptoms, reports ANI.
Also Read: Updated jab in response to Omicron variant could be ready in 100 days: Pfizer CEO

Addressing a media briefing Joint Secretary of the Union Health Ministry, Lav Agarwal said all primary and secondary contacts of the two infected persons from Karnataka have been identified and they are being monitored and COVID-protocols are being followed. He also added that severe symptoms have not been noted in them.

The two cases of Omircron were detected through genome sequencing effort of Indian SARS-CoV-2 Genomics Consortium (INSACOG) consortium of 37 laboratories established by Union Health Ministry, said Balram Bhargava, Director General of the Indian Council of Medical Research (ICMR) at the same press briefing.
Sujeet Kumar Singh, director of the National Centre for Disease Control said, "We are tracing three types of contacts — primary, secondary and tertiary. We have already traced the remotest contacts of these two."
The Bengaluru Civi Body added that three primary contacts and two secondary contacts of the 46-year-old male have been tested positive between November 22 and November 25.
The Bruhat Bengaluru Mahanagara Palike (BBMP) stated, "One of the two patients is a 66-year-old male while the other is a 46-year-old male. The former had returned from South Africa (via Dubai) and was fully vaccinated. Three primary contacts and two secondary contacts of the 46-year-old male tested positive between November 22 and 25. All are isolated. Their samples have been sent for genome sequencing, results are awaited."
Officials noted that since the doctor doesn't have a travel history, it would suggest the presence of virus in the community. The doctor and his contacts are quarantining in a hospital. Thirteen primary contacts and 205 secondary contacts of the person have been traced yet, reports Times of India.
The 66 year old man had travelled from South Africa, which was classified as an 'at risk' country on November 20. After isolating himself at a city hotel, he had left for Dubai on November 27 after after which the authorities received his results of genome sequencing.
Meanwhile, Lav Agarwal informed that the Omicron variant can be five times more infectious than the other known variants of the novel coronavirus. He said, "All Omicron-related cases in the world are found to have mild symptoms so far. In all such cases in the country and across the world so far, no severe symptom has been noted. WHO has said that its emerging evidence is being studied."

"Around 29 countries have reported 373 cases of Omicron Variant so far," he added.
According to a media report in the Business Standard, an official at the press conference stated, "It is too early to assess whether Omicron causes more severe infection or less compared to variants, including Delta."
Agarwal said that Omicron is heavily mutated with 45-52 amino acid changes across the whole genome and 26-32 changes in the spike protein — the part that attaches to human cells. He added that the variant is said to be highly transmissible, and has improved binding affinity.
However, on the other hand, all Omicron patients only have mild symptoms. The government said that they are closely examining the situation and issues like ban on international flights is under discussion within the technical and scientific circles.
VK Paul, member health, NITI Aayog, said, "Let us not fear or panic, let us all be responsible. It is an unfolding situation and we are all learning."
The officials noted that vaccination, wearing masks properly, adhering to Covid appropriate behavior like avoiding crowd and hand sanitization are still the only measures to combat Covid. Paul added, "Even after this new challenge of Omicron, vaccination is the most critical tool that we have to use and we are fortunate that we have that tool in plenty."
He added that the scientific reasoning for booster is currently under examination and there is no plan to change the dose gap because of Omicron.
The Bengaluru Municipal Corporation has traced around 264 contacts of the man from South Africa, with none of them being tested positive. They traced 218 contacts of the anaesthetist, with five of them being tested positive including three primary contacts and two secondary ones.
The Karnataka Chief Minister Basavaraj Bommai would be chairing a meeting of the health department officials, the health minister and Covid technical advisory committee members on Friday following the detection of the two Omicron cases.
Bommai said that they are consulting experts, adding that Omicron is a big challenge and new guidelines would be issued soon. "Until and unless we restrict it we will have to pay heavy price" he noted.
Further, Bommai said, "If anyone is coming from abroad, they should come healthy for the same of safety of other people too. We have to keep a sharp eye on people coming from South Africa and European countries" adding, "e have been testing people coming from south africa. We have to have a different protocol. We are ready for it, we are careful and alert on tracking and testing."
On Thursday, he called the Union Health Minister Mansukh Mandaviya and discussed about the new variant, as per a report by Firstpost. He stated that they discussed about administering booster dose of the vaccine to health care workers. He added that the Health Minister told him the centre is watching the present developments and they would soon take a decision on administering COVID-19 booster dose to health workers after discussing with expert committees.
Only 3.1 per cent of the world's Covid cases were reported from the south east asian region, including India in the past one week. An official said that 84.3% of the adult population in India got the first dose of the vaccination while 49% got the second dose.
There are around 10,000 active covid cases in Maharashtra and Kerala, while nine states and Union Territories have active cases between 1,000 and 10,000. Agarwal said that the weekly Covid positivity rate was around 10% in 15 districts and between 5% and 10% in 18 districts.
Dr Poonam Khetrapal Singh, Regional Director, WHO South-East Asia said, "The confirmation of Omicron variant today by India, the first two cases in WHO South-East Asia Region, was not unexpected in view of the interconnected world that we live in. This emphasises the need for all countries to step up surveillance, be on alert and rapidly detect any importation and take measures to curtail further spread of the virus. Omicron variant has a large number of mutations, some of which are concerning. Researchers around the world are conducting studies to better understand transmissibility, severity and immune escape capabilities of Omicron."
Dr Naresh Trehan, Chairman-MD, Medanta, The Medicity stated, "There are two parts to the virus to worry about- infectivity & virulence. The R0 factor may be 12-18 times or even higher. It means it could be a very devastating spread. Right now, we don't know the exact details of it. There's nothing to suggest it's going to be okay and nothing to suggest it's going to be devastating. All we know is that we're in very tricky situation as they found this new variant which has 30 plus variants on the spike protein and over 50 variants in the whole structure. We don't know how will it behave but if you look at the preliminary data from South Africa, it says that in one day, number of cases can double. It's a fact which is putting the whole world on alert. We should be alert but not panic. Vaccination is important."
The new COVID-19 variant was first reported to the World Health Organisation (WHO) from South Africa on November 25. As per the WHO, the first known confirmed B.1.1.529 infection was from a specimen collected on November 9 this year.
On November 26, the WHO named the new COVID-19 variant B.1.1.529, which has been detected in South Africa, as 'Omicron'. The WHO has classified Omicron as a 'variant of concern'.
Dozens of countries have imposed travel restrictions on the southern African nations since the mutation was discovered.
The new Omicron coronavirus variant has been confirmed in 23 countries and their number is expected to rise, Director-General of the World Health Organization (WHO) Tedros Adhanom Ghebreyesus had said.
India has also added several countries to the list from where travellers would need to follow additional measures on arrival in the country, including post-arrival testing for infection, adds the ANI report.
Also Read: New COVID-19 Variant Omicron doesn't escape RT-PCR, Rapid Antigen Testing, says Health Ministry
Source : with agency inputs