India fears for its children as thousands of MBBS students stuck in Ukraine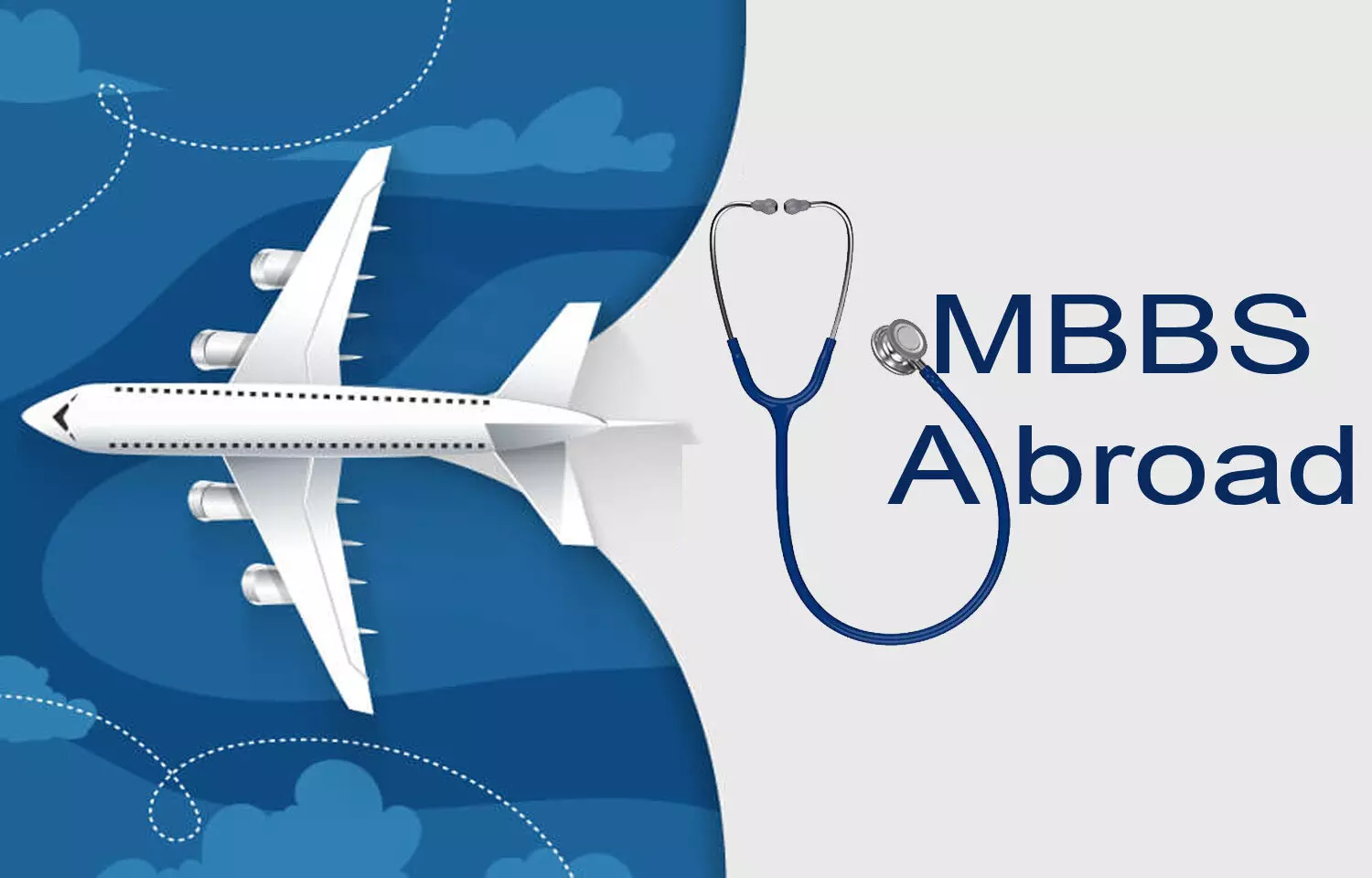 New Delhi: Amid the growing tension in Ukraine after attack by Russia, thousands of Indian Medical Students who are stuck in the war situation cried for help to the government and requested for their safe return to India. As per estimates, more than 20,000 Indians are currently staying in Ukraine including thousands of medical students who are pursuing their medical education in...
New Delhi: Amid the growing tension in Ukraine after attack by Russia, thousands of Indian Medical Students who are stuck in the war situation cried for help to the government and requested for their safe return to India.

As per estimates, more than 20,000 Indians are currently staying in Ukraine including thousands of medical students who are pursuing their medical education in the Ukraine based medical universities.
All hell broke loose on the streets of Kyiv, the capital of Ukraine, when the students had to wake up to air raid sirens and a suddenly well-lit sky.
Meanwhile, videos of Indian Students crying for their safe return to their homes are making rounds on the internet.
In one such video, around a dozen visibly-distressed students were seen stranded on a railway station in the capital city of Kyiv.
"We are very worried. We are stuck at the railway station from last night. The embassy is not replying. We do not have anywhere to go, no taxi is available. No help from the embassy. What should we do?" one of the students says in the video.
In another video, students with their packed bags were seen standing outside the Indian embassy, waiting for any response from the officials.
Meanwhile, students are not able to exchange their currency as Ukrainian stores have stopped trading dollars. The Indian mission in Kyiv was planning to relocate Indian nationals to the western border and has advised them to keep their passport and necessary documents with them all the time.
Narrating their situation, an Indian student who is pursuing her education at Taras Shevchenko National Medical University along with her twin brother, told PTI, "We woke up at 4 AM with a bang as we saw skies lit up followed by air sirens."
There was panic in the morning air as "we saw military students studying with us packing their bags to join the forces and there was a clear instruction that no one will be making any video recordings of movement of troops," she added.
Bunkers in the hostel were opened and all students were directed to move there in case air sirens were sounded. The same drill has been started in all Metro stations.
Another third-year student from the same college hailing from Jamshedpur, said initially he thought that an electric transformer had blown up but the confirmation of Russia carrying out an attack came from India.
"My parents called up and informed me that there was an attack, news enough to pull me out of the bed to understand the situation as we were preparing to leave for home and were awaiting our turn on Air India flights," he said.
He said immediately the hostel staff started furnishing bunkers in the hostel so that people could be accommodated there in case of air raids by Russia. The hostel has around 40 Indians and the exact number of students was not available.
"We immediately rushed to the departmental store and carried back ration for two weeks and some water to survive for another week or so," he said, adding the exchange of dollars had been stopped.
All the students were keeping an eye on the advisories issued by the Indian mission in Ukraine with the latest being that all flights for evacuation had been closed and alternative arrangements were being finalised so that "Indian nationals can be relocated to the western part of the country".
Another medical student who is in the fifth year at Bogomolets Medical University, said that panic was high on the streets of Kyiv from early hours of the morning. "It took me nearly three hours to cover a distance which normally takes 15 minutes by cab," he said.
"I was awaken to the news by my father and immediately I rushed to my apartment to keep my passport and other documents ready," added the student who was at his friend's place.
He said while travelling he saw several Ukrainian nationals carrying bags and suitcases were moving out of Kyiv to safer places, "probably to western part of the country and seeking refuge in neighbouring Poland". He had to change his schedule after Air India announced that its evacuation flight had been cancelled due to the closure of air space over Ukraine.
Why Indian Students Choose Ukraine for Medical Education?

The majority of the Indian students who are stuck in Ukraine are pursuing their undergraduate medical education in the medical universities of the country. The main reason behind this is the cheaper tuition fees in the Ukraine based medical colleges.
On the other hand, the management quota seats in the private medical colleges in India are really very expensive and it becomes difficult for the students belonging to lower middle class families to afford the cost of medical education in their own country.
So, when the students fail to secure a seat in the Government-sponsored seats, they opt for medical education abroad. Besides, another reason for high demands of Ukrainian medical degrees is also the fact that those degrees are recognized by World Health Council and also the Indian Medical Council.
Also Read: MBBS Abroad Not advisable for lower, Middle-Class Indians, note NMC officials

Panic gripped several cities of Ukraine after Russian President Vladimir Putin, in an early morning address, announced a military operation against the European country.
This has triggered serious concerns over the possibility of a full-scale military confrontation between the two countries.
Following Putin's announcement, Ukrainian President Volodymyr Zelensky said an "invasion" could be the beginning of a "big war" in Europe.
Ukraine closed its airspace to civilian flights in view of high risk to safety.
Last week, the Indian Embassy in Ukraine had advised all the students regarding the growing uncertainties in the country.
"In view of the uncertainties of the current situation in Ukraine, Indian nationals in Ukraine, particularly students whose stay is not essential, may consider leaving temporarily," Embassy had mentioned in its advisory dated 15.02.2022.
Advising the students to leave at the earliest, the advisory dated 20.02.2022 had mentioned, "Indian students are advised to also get in touch with respective student contractors for updates on charter flights, and also continue to follow Embassy Facebook, website, and Twitter for any update."
In another advisory on 22.02.2022, the Embassy addressed the issue of medical students especially and mentioned, "Embassy of India is receiving a large number of calls asking about the confirmation of online classes by Medical Universities. In this regard, as informed earlier, Embassy is engaged with respective authorities for streamlining of education process for Indian students. Students are advised, in the interest of their safety, to leave Ukraine temporarily, rather than wait for an official confirmation from universities."
The Embassy also reached out to the Government in Ukraine and requested for safety and security of Indian students are who are stuck in there.

"Embassy of India in Kyiv presents its compliments to the office of the President of Ukraine and has the honor to inform that over 15,000 Indian students are stranded in Ukraine in various regions. The Embassy of India would be grateful if their safety and security be ensured and they will be able allowed to remain wherever they are. Arrangements for essential amenities like food and water for their survival may be provided to them. Their safety and security is of paramount concern to the Embassy of India and all necessary steps be taken to ensure that," it had mentioned in a letter directed to the Head of the Office of President of Ukraine, Kyiv.
Meanwhile, official sources told PTI that India is looking at ways to assist its nationals, especially students, in Ukraine.

Official sources said India is closely monitoring the "rapidly changing" situation in Ukraine and how to assist the Indians in that country. Calls from all around India are growing louder to ensure the safe return of the nationals.
Meanwhile, the top government brass handling strategic affairs held a series of high-level meetings to put into operation certain contingency plans to assist Indians stranded in Ukraine.
As the situation has now worsened, in the recent advisory, the Indian Embassy in Ukraine has informed the Indian students, "As you are aware, Ukraine is under martial law, which has made movement of people difficult. For those students who are stranded without a place of stay in Kyiv, Mission is in touch with establishments to put them up. We are aware that certain places are hearing air sirens/bomb warnings. In case you are faced with such a situation, google maps has a list of nearby bomb shelters, many of which are located in underground metros"
"While Mission is identifying possible solution to the situation, please be aware of your surroundings, be safe, do not leave your homes unless necessary and carry your documents with you at all times," the Embassy of India mentioned in the third advisory to the Indian medical students stuck in there.
Meanwhile, following the Russian onslaught since February 24, several medical institutes asked their students to move to the bunkers with the essential belongings. Their situation was narrated by a medical student, hailing from Kerala. She said huge sounds of explosion could be heard frequently in the wee hours and they were all concerned about their safety.
"We were asked by the authorities to move to the bunkers in the university hostel at the earliest taking essential belongings. We have only limited storage of food and water with us. Network coverage may be lost anytime," the student was quoted saying this to a local television channel from Kyiv by PTI.
In her video call, the ordeal they were going through was very much visible as over 60 students could be seen sitting jam-packed on the floor holding their backpacks and essential articles in the congested bunker, where there was only very dim light.
Source : with agency inputs M.A
Barsha completed her MA from the University of Burdwan, West Bengal in 2018. Having a knack for Journalism she joined Medical Dialogues back in 2020. She mainly covers news about medico legal cases, NMC/DCI updates, medical education issues including the latest updates about medical and dental colleges in India. She can be contacted at editorial@medicaldialogues.in.