MBBS Abroad Not advisable for lower, Middle-Class Indians, note NMC officials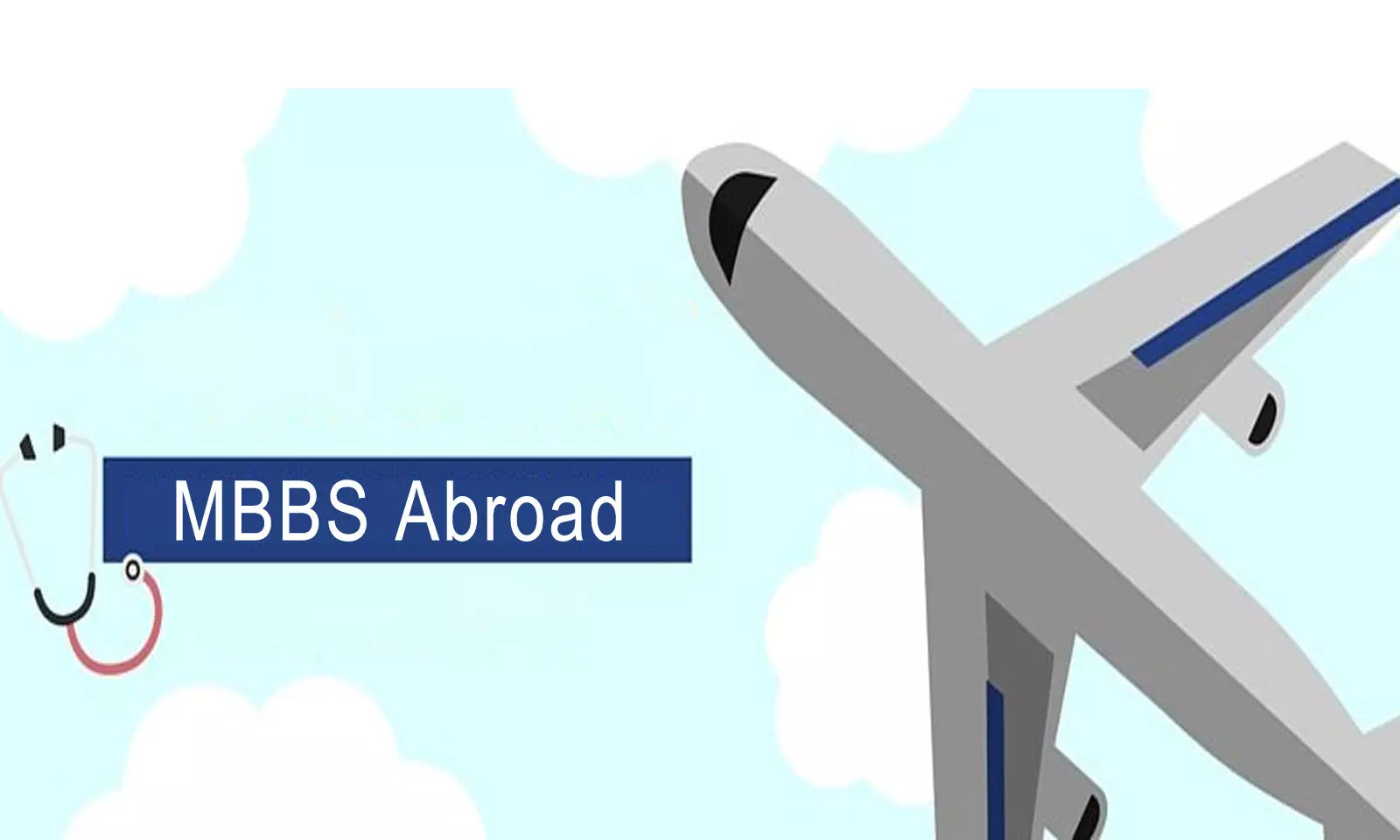 New Delhi: MBBS abroad may not be a good option for lower and middle-class Indians, a recent paper penned down by the National Medical Commission (NMC) members has pointed out. The paper titled "Seeking graduation in medical colleges outside India: Is it a 'win–win situation or 'lose-lose situation' for the stakeholders and the nation? " written by the President of UG Medical Education...
New Delhi: MBBS abroad may not be a good option for lower and middle-class Indians, a recent paper penned down by the National Medical Commission (NMC) members has pointed out. The paper titled "Seeking graduation in medical colleges outside India: Is it a 'win–win situation or 'lose-lose situation' for the stakeholders and the nation? " written by the President of UG Medical Education Board of NMC, Dr. Aruna V Vanikar and three other members of the UGMEB has been published in The National Medical Journal of India.
"Seeking graduation in medical colleges outside India may not be advisable for those from the middle/ low-income group of India," the authors have noted in their article.
The study looks at the various current scenarios regarding the status of medical education in India and where foreign medical education stands. It also has discussed the possible steps that could be taken by UGMEB and NMC for improving the medical education policies in India.
Setting up the background, the paper notes the high aspiration to the pursuit of medical education in India with 14 lakh students+ appearing for NEET and only 5.8% of them falling eligible for MBBS admission in recent times. The study also notes that the high cost as well as disparities in MBBS education in India with fees ranging Rs 6 lakh to Rs 25 lakh whereas the average annual per capita annual income of Indian households standing at Rs 44,901.
"Thus educating a child in the field of medicine is a challenge for a middle/low-income group family. Education in a private college in India is beyond the reach of these children with big dreams," it states.

Foreign Medical Education as an Alternative:

Given the background, many students who are keen on pursuing medical education have two options- either after getting admission to any other branch of biological sciences continuing appearing for NEET, or to pursue medical education abroad- in CIS countries the Philippines, Bangladesh, Nepal, or China, etc.

"The last choice of going abroad is often out of desperation and with a hope of getting qualified as an MBBS and then return to India," mentions the article. The authors have also highlighted many temptations given for students including better infrastructure, low cost of study and an adequate period of training, personality development, and better return on investment.
Also Read: NMC to do away with positions of Tutor, Demonstrator, Registrar, bring them all under Senior Resident nomenclature

Problems Associated with Medical Education Abroad:
While MBBS abroad may seem attractive to gullible students and their families, the NMC officials have penned down various problems associated with foreign medical education including language barriers, lack of exposure to patients, and inadequate period of training.

Pointing out that one of the major temptations that the parents consider is "state-of-the-art facilities", the authors have clarified that "infrastructure although important, may not be the most important point, for it is not the infrastructure alone but the student's ability to assimilate knowledge, and the teaching material which in the present context is 'patients', who are the most crucial for learning how to deal with human ailments whether serious or otherwise."
Speaking to the Medical Dialogues team on the matter, President of the UGMEB, NMC Dr. Aruna V. Vanikar explained, "Medical education outside India is not at par even with our not-so-good colleges. The students do not get exposure to basics like anatomy, physiology. So this is basically erecting a building without the building blocks."
"Those foreign institutes are not bothered about what kind of education the students are getting and all they want is to extract money. What is the main aim? It is to become a good doctor who would be able to treat patients with proper education and training. However, many impediments are there for the foreign medical education including language barriers. For instance, if a patient tells the doctor "mujhe ghabrahat ho rahi hain", there is no other word to replace "ghabrahat". So, even if a student is good at picking up languages they won't be able to understand the suffering of the patient without knowing the local language and without that, a doctor won't be able to know the history of the disease. Kids who go abroad, they get confused and they are not ready to honestly tell that they lack knowledge, exposure, and proper examination," she added.
COVID Situation has made the scenario worse.
"After COVID, the situation has become more worrying as they did not get the chance to go back and finish their education from the institutes. They have studied only online. Even in India, the institutes got closed at the beginning of the pandemic but when the situation got better the students went back to their colleges. However, these foreign medical students had to complete their studies in an online medium only," mentioned Dr. Vanikar.
What about the Return on Investment (ROI) on MBBS abroad?

Busting the myth of "Better return on Investment" after pursuing MBBS abroad, the paper has pointed out that the biggest challenge that the foreign medical graduates (FMGs) face is to clear the FMGE, the licentiate examination conducted by the National Board of Examinations (NBE). The medical fraternity knows about the abysmal passing scores of foreign students in the exam where below 20% pass the exam and the remaining majority are left without a practicing career option in India.
"If they want to migrate outside India, this gateway is a golden opportunity for these students. However, if they wish to practice medicine in India, are they really benefitting from their foreign degree?" questioned the authors.
"In this system, the country is losing revenue and the parents are losing their money," Dr. Vanikar told Medical Dialogues.
When questioned about measures taken by the NMC for preventing the exodus of students abroad, she informed Medical Dialogues about the possibility of removing the upper age bar for aspirants seeking admission to medical graduate courses. This way, even after getting admitted to other courses, the students can come back and appear in NEET for getting admitted to MBBS courses.
"We have recommended removing the upper age bar for MBBS entrance, which is presently 25 years. Now even after students get admitted to other courses like biochemistry or microbiology or anything else, they can continue appearing in NEET. With this , students can try to make as many attempts as they desire, if they are keen to pursue medical graduation. This option can be taken by aspirants instead of going to these countries." she explained
Another possible change that the NMC is contemplating is to bring a cap in the fee structure of MBBS courses across the Government medical colleges in India.
"NMC is also proposing to bring a cap on MBBS fees in government quota seats in government colleges," she added.
Also Read: NEET limited to three attempts, Age limits put in place: UGC

The article also has referred to the biggest change that is going to be introduced in medical education in India- the National Exit Test (NEXT), which will be a uniform final MBBS exit examination in two steps for all the medical students across the country as well as for those who are pursuing their degrees abroad.
Dr. Aruna V Vanikar said, "Soon, in a month or so, a gazette will be out clarifying the regulations for the FMGs. After this act, those studying outside of India, once they come back, will have to appear in NEXT part 1 & 2 exam. So, after graduation from abroad, it will be another two years for them before they can practice."
Also Read: NEXT to be gateway to PG medical admissions, score will be valid for 3 years: NMC new draft guidelines M.A in English
Barsha completed her Master's in English from the University of Burdwan, West Bengal in 2018. Having a knack for Journalism she joined Medical Dialogues back in 2020. She mainly covers news about medico legal cases, NMC/DCI updates, medical education issues including the latest updates about medical and dental colleges in India. She can be contacted at editorial@medicaldialogues.in.