JIPMER PhD Entrance Test 2021: Download hall ticket, mock test NOW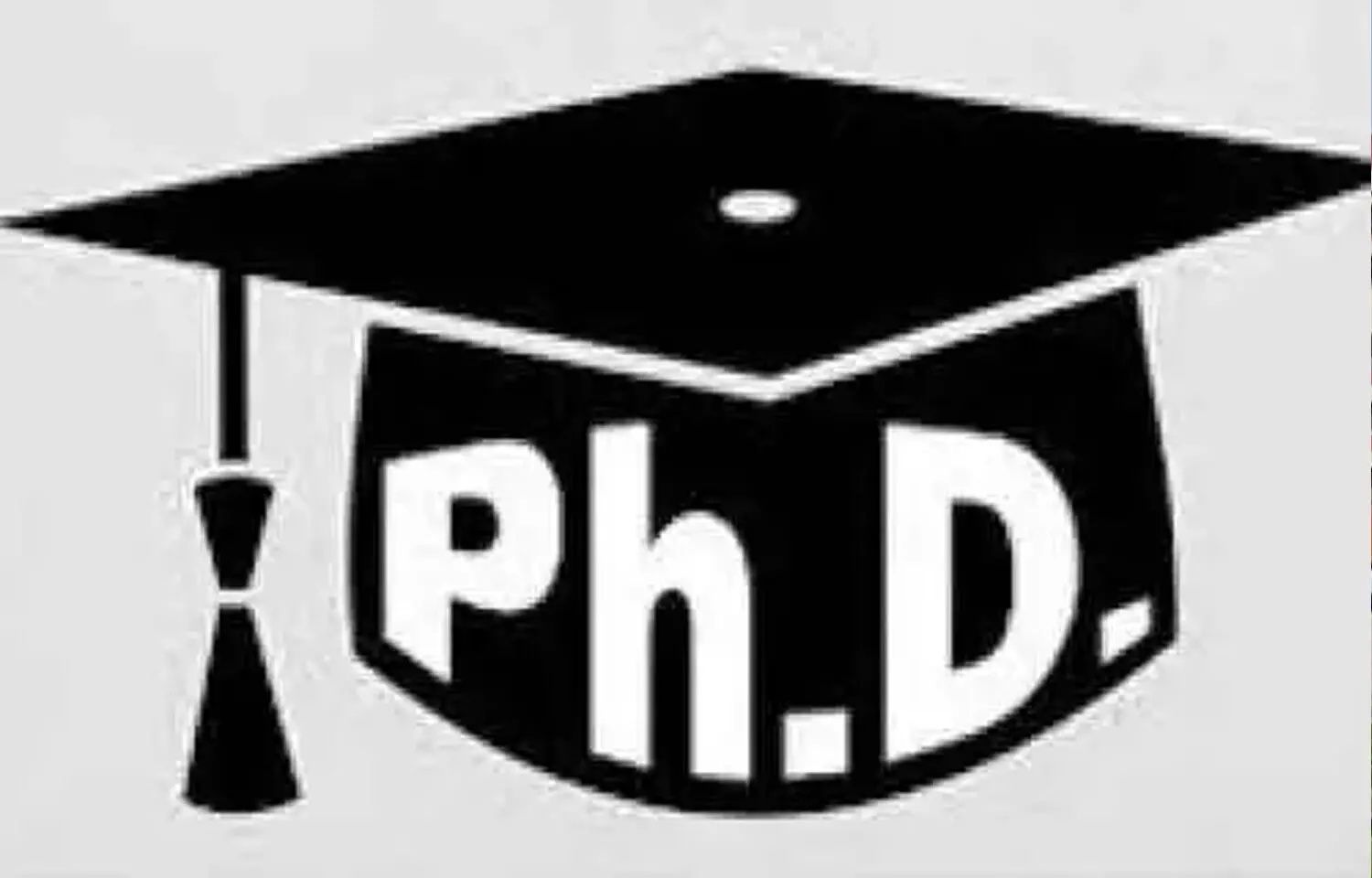 Puducherry: The prestigious Jawaharlal Institute of Postgraduate Medical Education and Research (JIPMER) has released the hall ticket as well as the mock test for the entrance test with respect to admission into PhD courses for the academic year 2020-21.The medical college will be conducting an entrance examination via online mode to select candidates for the PhD programme on February 4...
Puducherry: The prestigious Jawaharlal Institute of Postgraduate Medical Education and Research (JIPMER) has released the hall ticket as well as the mock test for the entrance test with respect to admission into PhD courses for the academic year 2020-21.
The medical college will be conducting an entrance examination via online mode to select candidates for the PhD programme on February 4 2021.
The institute offers 20 PhD seats in 10 disciplines including - five seats in biochemistry, four seats in preventive and social medicine, three seats in medical oncology, two seats in physiology and one each in clinical pharmacology, dermatology, medical education, neonatology, nursing, obstetrics and gynecology.

All the concerned candidates seeking admissions to these PhD courses at JIPMER can view the important dates, eligibility criteria, application process, fee, entrance exam details, instructions issued in view of COVID pandemic as mentioned below:
Important dates
| | |
| --- | --- |
| On-line Registration from | 19-12-2020; 11:00 AM |
| On-line Registration closes on | 19-01-2021; 05:00 PM |
| Download of Hall Ticket from JIPMER website www.jipmer.edu.in (The Hall Tickets will be made available through Internet download ONLY and NOT by Post) | 28-01-2021; 11:00 AM |
| Date & Time of Entrance Examination (Single Shift – Online Mode Only) | 04-02-2021 (Thursday); 09:00 AM to 10:30 AM |
| Expected date of publication of Merit List | 11-02-2021 (Thursday) |
| Viva-Voce examination | Will be announced later |
*All dates mentioned above are tentative and subject to change
Entrance Examination
➢ Entrance Examination will be conducted through a Computer Based Test (CBT) [Online] only.

➢ The examination shall be held on Thursday, 04th FEBRUARY, 2021.
➢ The duration of the examination shall be 1½ hours (One Hour and Thirty minutes).
➢ The Online (CBT) Entrance Examination will be conducted in Single shift
➢ Therefore, all candidates will be required to appear at CBT Online Entrance Examination, which will be conducted on Thursday, 04th FEBRUARY, 2021.
➢ The venue and time of the examination will be mentioned in the Admit Card/Hall Ticket.
➢ No candidate will be permitted to appear in the examination unless he/she holds a valid "Admit Card/Hall ticket" issued by the Institute and a proof of their identification.
Admission:
Admission to all candidates is based on the merit, category of the candidates, and the availability of seats at the time of counseling.
All candidates should report on due date mentioned in their ' admission letter ', failing which, they will forfeit the right of admission. At any time, if the competent authorities find that admission has been offered based on false/ incorrect information/ documents and suppression of relevant facts, educational qualification or quota, the admission offered or the admission already completed shall be cancelled, irrespective of the stage of study of that course. Further, legal proceedings will also be initiated against such candidates for such action/(s). Hence, Candidates are warned against indulging in such action/ (s), in their own interest. All parents are also requested to make note of the above provision, and take due care and diligence, in all matters concerning admission to the courses.
Fees Structure:
The following fees, subject to revision will be payable by each candidate at JIPMER on the counseling day after the completion of counseling process.
ADMISSION FEES:

| | | |
| --- | --- | --- |
| Sl.No. | Description | Fee in Rs. |
| 1. | Academic Fees (Annual) | 2,100.00 |
| 2. | Admission Fees (One-time payment) | 3,000.00 |
| 3. | Learning Resource Fee (One time) for whole duration | 9,000.00 |
| 4 | Identity Card | 150.00 |
| | Total | 14,250.00 |
*In addition to the fee structure mentioned in the prospectus, the selected candidates will have to pay the PhD registration fee as per the PhD Guidelines 2021.

• For Hostel accommodation and hostel fee details please refer to Annexure - III

Please note
1. Any attempt on the part of the candidate to influence directly or indirectly the admission procedures will be viewed seriously and lead to disqualification of the application.
2. Every effort is made by JIPMER to communicate in time to the candidate regarding the examination, merit rank, counseling, etc. through website. In case the candidate does not notice the information, JIPMER shall not be held responsible for the same.
3. In the matter of selection / admission, the decision of the Director of JIPMER will be final.
4. All students admitted to the Courses at JIPMER shall maintain good conduct, pay the requisite tuition fees and other charges by due dates, attend their classes / clinics regularly and abide by rules and regulations of the Institute. When the conduct and character of a student is not satisfactory or of suspicious nature, the Director reserves the right to make him/her vacate the hostel or to expel him/her from the Institute after due payment for damages caused by him/her.
IMPORTANT INSTRUCTION TO CANDIDATES ON COVID-19 PANDEMIC

1. Candidates must maintain social distancing starting from point of entry in the exam venue till his/ her exit from the exam venue.
2. Candidate must bring their own face mask, gloves, personal hand sanitizer (50ml), and transparent water bottle. No other items will be permitted inside exam venue.
3. Temperature of the candidates will be checked at the entry point to the exam venue via a handheld thermal screening device. Only those candidates whose temperature is within the acceptability limits as approved by competent authorities will be allowed inside the exam venue.
4. The candidates with temperature more than acceptable limits or COVID-19 symptoms will be allowed to appear in the entrance examination in a separate isolation exam hall.
5. Entry of Candidates will be given as per Time Slot given on Hall ticket to maintain Social Distancing at the Centre.
6. Mapping of 'Candidate Roll Number and the Lab Number' will NOT be displayed outside the exam venue, but the same will be provided to the candidates individually at the time of entry of the candidate to the exam venue and after their Admit Card and ID verification.
7. Candidates need to follow directions given by representatives & need to stand in the circles drawn at the entry points.
8. At the registration desk, the candidate will be directed to sanitize his/her hands using sanitizer. Photograph will be captured during the registration process.
9. Candidates will be under CCTV surveillance throughout the exam procedure.
10. Candidates are required to report at the exam venue strictly as per the time slot informed prior to exam date via SMS/Email on their registered Mobile Number/ Email ID. It is expected that candidates strictly adhere to this time slot – as entry into the test center will be provided based upon the individual's time slot ONLY. *
Declaration of results
The list of candidates who qualify for counseling to PhD programme course would be declared tentatively On (or) Before 11-02-2021 (Thursday). The marks/Percentile Scores of individual candidate will be made available on JIPMER Website
www.jipmer.edu.in.
Candidates will be shortlisted for Viva-voce with PhD admission committee in the ratio of 1:5 seats available in discipline /Project.
Requests for re-evaluation/re-checking will not be entertained under any circumstances. Individual letters will NOT be sent to the SHORTLISTED CANDIDATES.
Candidates are advised to visit JIPMER website periodically for updated information. The shortlisted candidates will be required to attend Viva-voce at the Institute at their own cost on the notified date.
SUMMARY OF EXAMINATION PATTERN (Please see the text for details and explanations)

01

Mode of Examination

Computer Based Test (CBT) [Online]

02

Duration of Examination

90 Minute

03

Date of Examination

04-02-2021

04

Number of Shifts

SINGLE

05

Timing of Examination

09:00 AM to 10:30 AM

06

Location of Examination Centers

7 Cities

07

Language of Paper

English

08

Type of Examination

Objective Type

09

Number of Questions

Section I – 20 questions (No choice)

Section II – 70 questions (The candidates can answer any 50 questions of their choice out of 70)

10

Type of Objective Questions)

Multiple Choice Questions (MCQs

11

Syllabus for Each course

Based on the PhD topics submitted by the prospective guides, the written test pattern is divided into four groups such as project group I (Basic science stream), II (Nursing stream), III (Medical education stream) and IV (Public health stream).

12

Marking Scheme

Correct Answer: 1 mark (+) 1

Incorrect Answer: -¼ mark (-) 0.25

Unanswered : 0

13

Method of determining merit

Total score (Written + Viva-Voce examinations)

14

Method of resolving ties in written examination

In the following order:

Less Negative Marks & Seniority by age
For more details, log on to the official website of JIPMER: Medical Dialogues Bureau consists of a team of passionate medical/scientific writers, led by doctors and healthcare researchers.  Our team efforts to bring you updated and timely news about the important happenings of the medical and healthcare sector. Our editorial team can be reached at editorial@medicaldialogues.in.