Last date for submission of Internal Assessment Marks for Ist, Final MBBS Summer 2021 Exams today: MUHS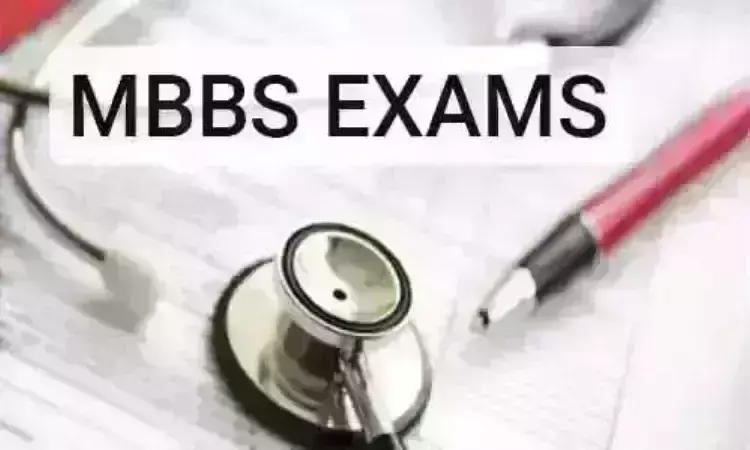 Maharashtra: Through a recent notice, the Maharashtra University of Health Sciences (MUHS) has informed regarding the submission of Internal Assessment Marks for First MBBS and Final MBBS Summer - 2021 Examinations.
As per the notification, the last date is today.
The final Internal Assessment mark list (Hard copy & Soft copy through e-mail-ugexammedical@muhs.ae.in) is to be submitted to the University on or before 13th August 2021. No further extension will be granted by the University, said MUHS.

The Colleges are required to maintain Internal Assessment record of Repeater students as per attached format.
While preparing Final Marks of Internal Assessment, the rounding-off marks shall done as illustrated in following table as per BOE Resolution No.07/2007 dated 08.01.2007.
| | |
| --- | --- |
| Internal Assessment Marks | Final Rounded Marks |
| 15.01 To 15.49 | 15 |
| 15.50 To 15.99 | 16 |
"It is repeatedly observed that certain colleges have approached to the University for change in Internal Assessment marks after initial submission OR even after declaration of Final result on various frivolous grounds. No request for 'change of marks' shall be considered, once marks are submitted by the College to the University. It is therefore decided that Internal Assessment marks lists will only be accepted in case it is signed by the student with counter signature of the HOD/Dean of the college as provided in Ordinance 1/2014. Liability of any clerical error at college-level will rest with the Dean and the concerned HOD. The Colleges are therefore requested to go into all details and thereafter Final Internal Assessment marks lists shall be submitted to the University," stated the notice.
The Colleges, who fails to submit Internal Assessment marks 'Hard copy and Soft copy through e-mail-ugexammedical(muhs.ac.in) upto stipulated time-period, will be imposed fine/ penalty as prescribed by the University under Notification No.09/2011 dated 11.03.2011.
Non-submission of Internal Assessment marks shall constrain the University to withheld hall-ticket of the students. Hall tickets of the students, whose marks are submitted without signature, will also be withheld by the University and any loss to the students shall rest with the concerned College.
To view the official notice click on the following link :
https://medicaldialogues.in/pdf_upload/ia-examination-ciruclar-no-40120821-158922.pdf