COVID-19 Outbreak: JIPMER issues instructions for MD, MS, PDCC, PDF medicos joining for July 2020 session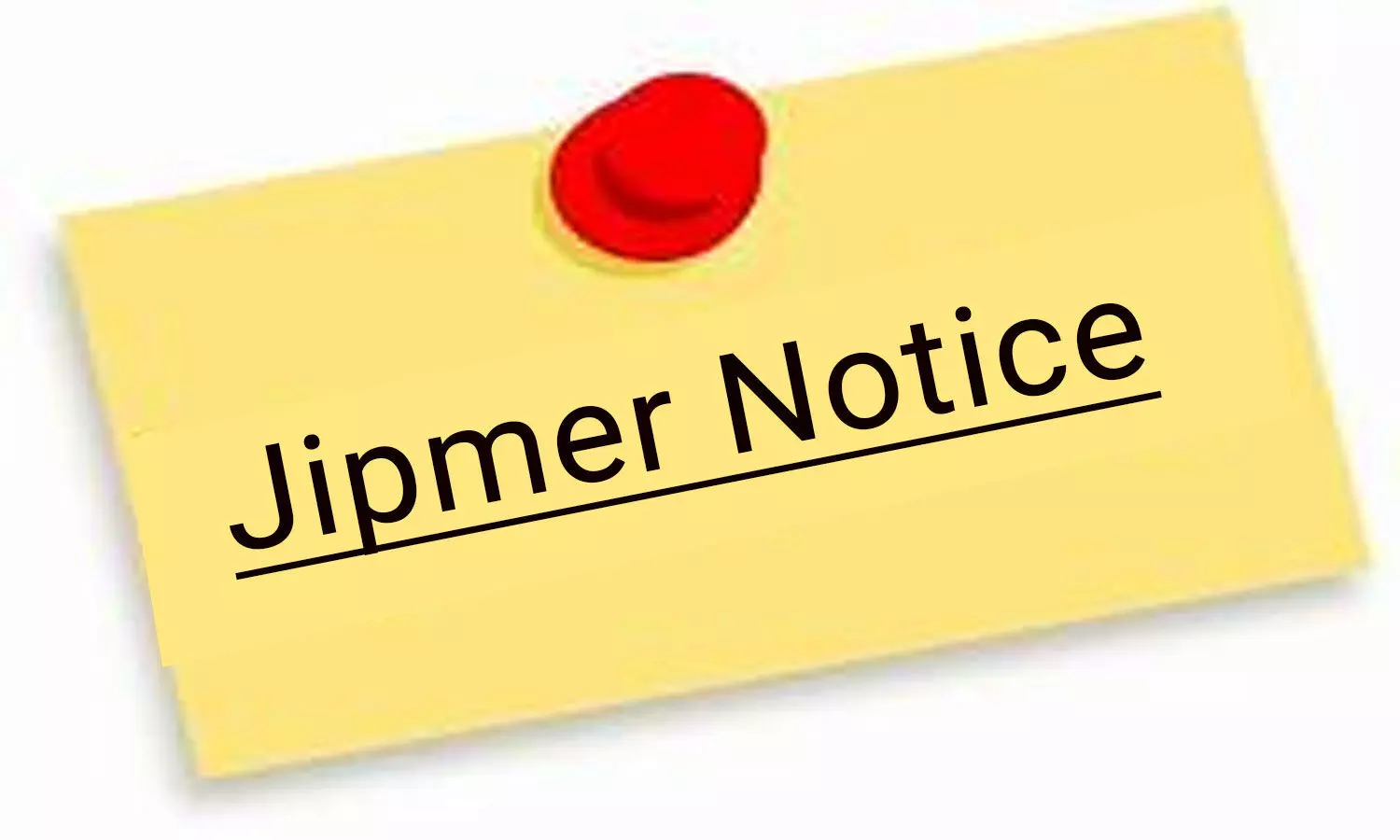 Puducherry: In the wake of COVID 19 outbreak, the premier Jawaharlal Institute of Medical education and research (JIPMER) has recently issued the instructions for MD/MS/PDF/PDCC students joining for July 2020 session.
All the concerned students are requested to view the instructions as issued by the medical colleges' authorities as mentioned below:
For Candidates residing in Puducherry
Candidates residing in Puducherry will undergo certificate verification, medical examination and join the respective departments immediately. The dates to be notified in due course.
For Candidates residing outside Puducherry
In view of the COVID-19 pandemic and the quarantine requirements, the following special steps need to be followed.
Batch wise Admission: The selected candidates will be called to JIPMER to complete the admission process in batches of 30 candidates every 7-10 days, spread over nearly a month.
Please note that you should report ONLY on the date specified in your offer letter.
Mandatory Quarantine: As per the policy of the Govt. of Puducherry, all candidates will have to be in quarantine for a minimum of 7 days, undergo COVID-19 testing on the 8th day and if negative, join the department and shift to the allotted hostel room on the 9th day.
Hence, the following instructions are provided for outstation candidates.
Steps to be taken before leaving Home-Town
Each candidate needs to do the following:
· Send his/her own and parents' contact details(including phone numbers and email ID) to the academic section(by email ) immediately after seat allotment.
· Send a declaration form to disclose if they have any COVID-19 related symptom and a co- morbid condition(email to jipmerstudentshelpline@gmail.com).
· Carry the JIPMER PG seat allotment letter and a valid Govt. photo ID(Aadhaar) with them.
· Obtain an e-pass from the Govt. of Puducherry UT (and the Government of Tamil Nadu, if they transit through it) in advance.
· Plan travel such that to arrive at JIPMER, Puducherry only on the allotted date for joining. It is not possible to provide accommodation before that date.
· Inform his/her travel plan to the assigned faculty /resident/office staff by email to jipmerstudentshelpline@gmail.com or through an SMS/ WhatsApp to 9787244859, at least one week in advance, to allow the institute to arrange for screening/testing on arrival. The travel plan must include
(i) Mode of Travel
(ii) City of departure
(iii) Date and time of arrival of JIPMER, Puducherry.
Help Line: All communications should be sent to jipmerstudenthelpline@gmail.com or to mobile number 9787244859.
Essential items to carry : Each candidate must bring along the following essential items when coming to JIPMER:
(i) For personal protection:
3 ply facemasks-minimum 100 Nos.
Face shields- 2
(ii) Supplies for daily and frequent sanitization:
Hand sanitizer:100 ml(5 Nos)
Liquid soap for personal use in washrooms- 2 bottles
(iii) For following social distancing norms in mess
Food carriers- 2 Numbers
Plates, spoons, tumbler, etc.
(iv) Miscellaneous personal items:
Packaged food items to last 3-4 days
Clean clothes for at least 10 days
Necessary items for day-to-day use , e.g. toothpaste, tooth brush, soap, etc.,
Steps to be taken on arrival at JIPMER, Puducherry
· On arrival at JIPMER, the candidates should report at the quarantine facility arranged in JIPMER Guest House with their luggage and check in to the room allotted to them.
PLEASE NOTE: Everyone entering JIPMER premises should wear a 3-ply face mask properly to cover the mouth and the nose. Entry and accommodation may be refused if this not compiled with.
· Screening: Temperature scanning will be done for each candidate and their status in the Aarogya Setu App will be verified. Please Note: It is mandatory as per the orders of the Government of India that all candidates should have the Aarogya Setu app installed in their mobile devices and location and Bluetooth feature of the device are kept ON.
· Verification of original Certificates and Preliminary Medical Examination: The candidates should have bring all the original certificates(as per the prospectus) with them for verification. Certificate verification and preliminary medical examination(including screening for COVID-19 and testing if necessary) will be done at the quarantine facility. Full medical Board examination will be performed on the 9th day of joining (if the COVID-19 test is negative).
· Payment of fees: Fees will be collected by the online transaction. Please refer to the prospectus for details. Additional Rs 50,000 will be collected(refundable). The rest of the penalty clauses will remain unchanged as given in the prospectus.
· Quarantine accommodation: The facility provides essential needs and its modest. The candidates will not be charged for the accommodation during the quarantine period.
· Meals during Quarantine: Meals will be delivered at the doorstep and the menu is fixed . The candidates will have to pay a mess deposit and pay for the food being served . If necessary, the candidates may be bring packaged food and snacks with them at the time of joining. Leaving the quarantine facility for dining outside or buying food is strictly prohibited. Online food delivery is NOT permitted during the period. Consumption/ possession of alcohol , narcotics and tobacco products is strictly prohibited. The candidates are expected to cooperate with the administration in its efforts and anyone found that abiding by the rules and regulations can be barred from admission.
· Accompanying person: No accompanying person will be permitted. Any accompanying persons entering Puducherry is also required to follow the rules laid by the Government of Puducherry regarding quarantine. As per the existing rules, anyone entering the UT is quarantined for 14 days in the state quarantine facility. JIPMER is unable to arrange/provide accommodation or quarantine facilities for parents or accompanying persons.
Please note that no private paid quarantine facility (eg. Hotel) has been approved by the Government of Puducherry and hotels will not accommodate such persons.
· Joining date: For each candidate, the date of reporting to JIPMER for certificate verification (which will be specified by the Dean office ) will be considered as the joining date for the purpose of calculation of course duration and salary. The course duration will be exactly 36 months from this date.
Please note that:
· Strict compliance with the above procedure is requested and expected. This is important to ensure the safety of the candidates as well as of others. Any violations will lead to the candidate being placed in isolation and further disciplinary action.
· Any candidate testing COVID-19 positive will be immediately placed in isolation with round –the –clock monitoring. He/she will be treated as advised by the COVID -19 clinical team at JIPMER. Information about their health status will be communicated to the parents at the contact details provided. COVID-19 positive persons will be permitted to join duty only after recovery.
· JIPMER follows COVID-19 guidelines /orders issued from time to time by the Government of India and the Union Territory of Puducherry. It is the candidates' responsibility to strictly adhere to the COVID-19 safety instructions and any breech may increase their vulnerability to infection. All the candidates are expected to abide by the prescribed norms at all times to keep themselves and others safe. Despite our best efforts, if a candidate acquires COVID-19 infection, he/she will be treated in JIPMER according to the JIPMER treatment protocol. However, JIPMER will not be responsible or liable for any prosecution, etc in any situation.
To view official notice, click on the following link: