Symbiosis Medical College for Women: Induction Ceremony for 1st Batch of MBBS students held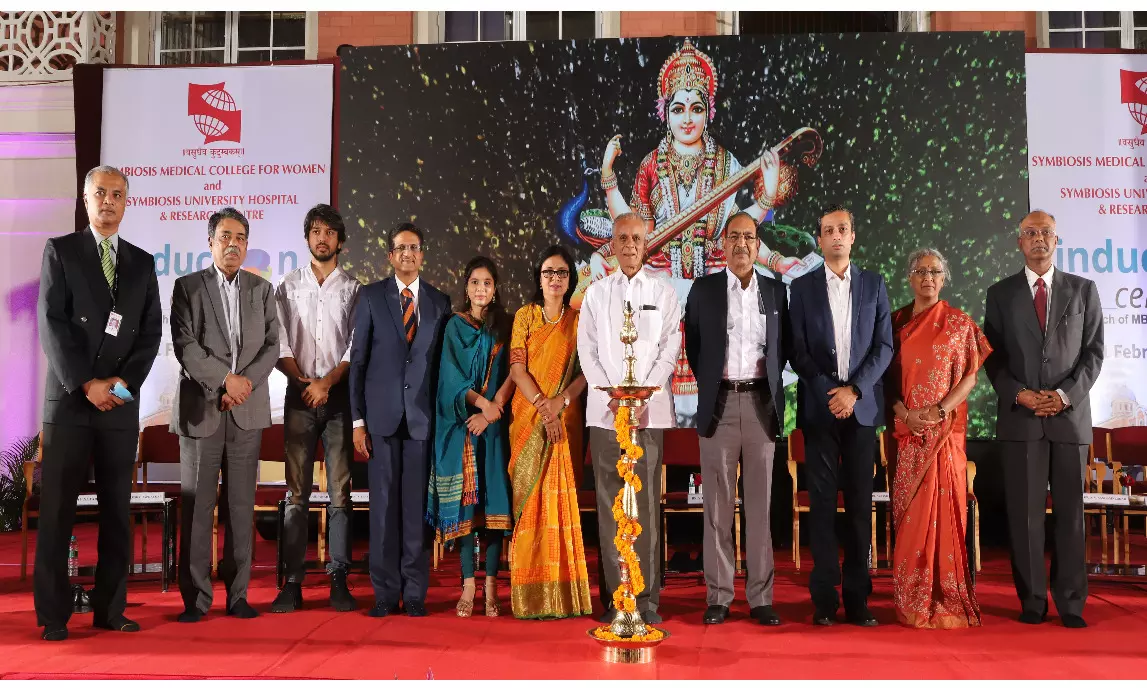 Pune: The "Induction Ceremony" of the 1st Batch of MBBS program was held on Monday at Symbiosis Medical College for Women, SIU Campus, Lavale, Pune.
The crew of Dr. Anandi Gopal's film witnessed the induction Ceremony. Mr. Lalit Brapbhakar - Actor, Ms. Bhagyashri Milind - Actress, Mr. Sunil Vidhwans - Director, Ms. Iravati Karnik - Writer, Mr Ashish Chawla - Co-Producer and Mr. Mangesh Kulkarni- Z TV Producer were grace the occasion.
Symbiosis Medical College for Women (SMCW) has completed the admission process on 14th January with a cent percent admission of girl students by following the MCC guidelines. This is the third women's medical college in the country.
Also Read:Two new Medical Colleges to come up in Jharkhand, 1000 MBBS seats to be added
Dr . S B Mujumdar, Founder and President, Symbiosis and Chancellor, SIU, Dr. Vidya Yeravdekar, Principle Director Symbiosis, and Pro-Chancellor, SIU, Dr Rajani Gupte, Vice-Chancellor, SIU, Dr. Rajiv Yeravdekar, Dean, FoHS, SIU, Lt Col (Dr) T Vijaya Sagar, Dean, SMCW were present on the occasion.
The SMCW is the brainchild of the Founder and Chancellor of the Symbiosis International University, Prof. Dr. S.B. Mujumdar.
Addressing to gathering here this evening Mr. Mazumdar said that he Inspired by the biographic movie about India's first lady doctor, Ms. Anandibai Joshi, the idea of establishing a Medical College, exclusively for women was born. With an objective of women empowerment and contributing to the requirement of more women doctors in our Nation, Symbiosis has established this exclusive college under its Faculty of Health Sciences, he said
The SMCW which located at the scenic campus of the Symbiosis International University at Gram Lavale, Taluka Mulshi, Dist. Pune has launched the unique Dr. Anandi Gopal Scholarship Scheme which granted to the top 5 girls who qualify through the NEET merit list and enroll for the MBBS program at Symbiosis Medical College for Women.
The Medical College and its attached Symbiosis University Hospital and Research Centre (SUHRC) are equipped with state-of-the-art infrastructure and facilities said deputy Registrar Dr. Avinash Kakade. SUHRC is an 866 bedded hospital presently providing top-quality clinical services free of cost to the community at large, mr Kaskade added.
Aishwariya Kaushal, a student from Gurgaon said that I am expecting my bright future here since it's a third exclusive Medical college for womens in country.
Also Read:MBBS at Symbiosis Medical College For Women: View eligibility, fee, admissions process here
Source : UNI