KGMU celebrates its 108th Foundation day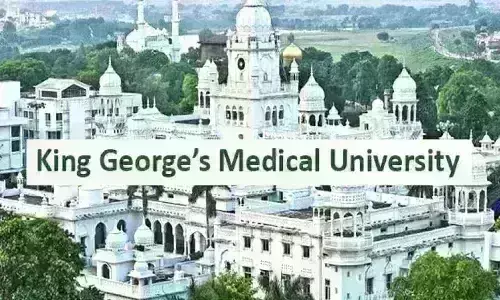 Lucknow: The Department of Pathology, King George's Medical University, Lucknow celebrated its 108th Foundation day on 7th April 2021. However, the grand celebrations planned earlier were shifted to Virtual mode in the wake of COVID-19.
The combined Department of Pathology and Bacteriology was started in 1913 under the chairmanship of Lt. Col. H.J.Walton, with the objective of fostering and strengthening the healthcare system in the region.Prof and Head of the Department Uma Shankar Singh shared the legendary history of the department and welcomed the guests and dignitaries.
Also Read:KGMU Respiratory Medicine Department gets new ICU
During the last 10 decades, the functioning of this department has acquired newer dimensions and has emerged as a government institutional department carrying more than 20 lakh testing every year. The Department of Pathology is well equipped with all the latest testing facilities including Digital laboratory, Electron microscopy, Fluorescence In situ hybridization and molecular techniques.
Honorable Vice-Chancellor Lt Gen Bipin Puri, KGMU, graced the occasion as the Chief Guest and congratulated the faculty members, resident and other staff members of the department for their never-dying spirit in these times of challenges. He said that, this year more than ever will remind of the dedication of doctors and health professionals, who are fighting COVID-19 alongside policymakers and all health care workers, for their immense contributions.
Prof. Vineet Sharma (Pro vice- Chancellor), Prof. Uma Singh (Dean, Faculty of Medicine) and Prof. Anil Chandra (Dean, Faculty of Dental Sciences) who were also present on occasion, online, welcomed the guest and lauded the contribution of the Department of Pathology.
The Foundation Day oration was delivered by Prof. Arvind Rajwanshi (Executive Director AIIMS, Raibarelli), Prof. Nuzhat Hussain (Head of the Department, RMLIMS) and Prof.Amita Jain (Head of the department Microbiology, KGMU).
Prof. Arvind Rajwanshi, in his lecture, spoke about the role of ancillary techniques in Diagnostic Pathology and enlightened everyone with his knowledge on how to apply these techniques in day-to-day work for more specific diagnoses. Prof. Nuzhat Hussain addressed the Paradigm of Screening cancer of the Uterine Cervix India. She told about the significance and challenges faced in the screening of cervical cancer, which is the second most common cancer affecting the Indian females. Prof. Amita Jain delivered a talk on the ongoing COVI-19 pandemic. She explained in detail the present scenario and the role of Covid vaccines in present times.
Honorable Vice-Chancellor Lt Gen Bipin Puri, KGMU felicitated the speaker/ Orators with the Foundation day Oration Award. Final year postgraduate residents, Dr Prachi Goel, Dr. Shalini Rawat, and Dr. Damin Singh were also awarded Certificate of Honor for their outstanding contribution.
The event was attended by around 500 participants including departmental alumni, retired teachers and heads of departments, faculty members as well as other health care workers of KGMU. To conclude, Prof. Suresh proposed the vote of thanks.
Also Read:AIIMS-Dream of every medical student: Harsh Vardhan on 65th Foundation Day