MUHS publishes eligibility criteria, duration of Fellowship courses, Details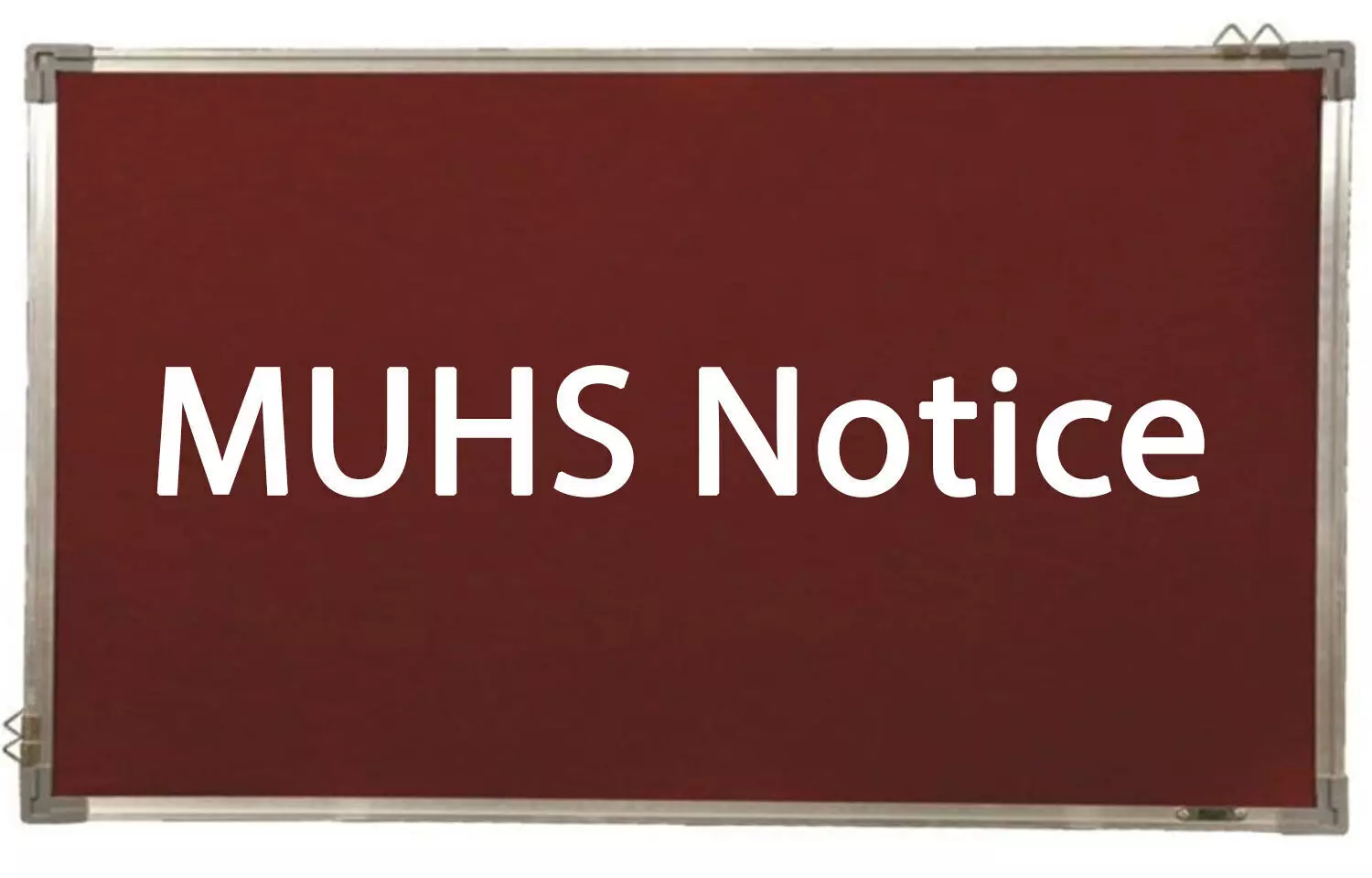 Maharashtra: Through a circular, the Maharashtra University of Health Sciences (MUHS) has announced that the duration and eligibility criteria for its Fellowship Courses.
All the concerned students are informed, as per the notice, that for admission to some of the Fellowship Course(s) University has prescribed the eligibility criteria as post graduation master degree qualification as well as post graduate diploma qualification. Wherein it is clearly mentioned that the post graduate diploma candidate has to work for one more year that of PG master degree candidate. Therefore, the total duration to complete the Fellowship Couse(s) for post graduate diploma candidate is prescribed as 2 years.

List of Fellowship Course(s) whose Eligibility Criteria is PG Diploma Qualification

Sr.

No.

Name of Fellowship Course

Eligibility Criteria

Duration of Course

1

104100-Fellowship Course in

Learning Disability &

Neurodevelopmental Paediatric

DIPLOMA IN CHILD HEALTH

02 Years

DNB (PAEDIATRICS)

DNB (PSYCHIATRY)

M.D. (PAEDIATRICS)

M.D. (PSYCHIATRY

01 Years

2

104149-Fellowship Course in

Paediatric Intensive Care

DIPLOMA IN CHILD HEALTH

02 Years

DNB (PAEDIATRICS)

M.D. (PAEDIATRICS)

01 Years

3

104150-Fellowship Course in

Paediatric HIV

DIPLOMA IN CHILD HEALTH

02 Years

DNB (PAEDIATRICS)

M.D. (PAEDIATRICS)

01 Years

4

104165-Fellowship Course In

Laryngology

DIPLOMA IN

OTORHINOLARYNGOLOGY

(DORL)

02 Years

DNB (ENT)

M.S. (ENT)

01 Years

5

104167-Fellowship Course In

Otology

DIPLOMA IN

OTORHINOLARYNGOLOGY

(DORL)

02 Years

DNB (ENT)

M.S. (ENT)

01 Years

6

104171-Fellowship Course in

Vitreo Retinal Surgery (FVRS)

DIPLOMA IN OPHTHALMIC

MEDICINE AND SURGERY

02 Years

DNB (OPHTHALMOLOGY)

M.D. (OPHTHALMOLOGY )

M.S. (OPHTHALMOLOGY)

01 Years

7

104177-Fellowship Course in

Spine Surgery

DIPLOMA IN ORTHOPAEDICS

02 Years

DNB (NEUROSURGERY)

DNB (ORTHOPAEDICS)

M.S. (ORTHOPAEDICS)

MCH (NEUROSURGERY)

01 Years

8

104179-Fellowship Course in

Paediatric Orthopaedics

DIPLOMA IN ORTHOPAEDICS

02 Years

DNB (ORTHOPAEDICS)

M.S. (ORTHOPAEDICS)

01 Years
9


104181-Fellowship Course in

Paediatric Minimal Access

Surgery in Orthopaedics, Hand

Surgery, Spine Surgery

DIPLOMA IN ORTHOPAEDICS

02 Years

DNB (ORTHOPAEDICS)

M.S. (ORTHOPAEDICS)

01 Years

10

104201-Fellowship Course in

Regional Anaethesia

DIPLOMA IN ANAESTHESIA

02 Years

DNB (ANAESTHESIA /

ANAESTHESIOLOGY)

M.D. (ANAESTHESIA /

ANAESTHESIOLOGY)

01 Years

11

104208-Fellowship Course in

High Risk Obstetrics

DIPLOMA IN OBSTETRICS AND

GYNAECOLOGY

02 Years

DNB (OBSTETRICS AND

GYNAECOLOGY)

M.D. (OBSTETRICS AND

GYNAECOLOGY)

M.S. (OBSTETRICS AND

GYNAECOLOGY)

01 Years

12

104225-Fellowship Course in

Foot and Ankle Surgery

DIPLOMA IN ORTHOPAEDICS

02 Years

DNB (ORTHOPAEDICS)

M.S. (ORTHOPAEDICS)

01 Years

13

104226-Fellowship Course in

Orthopaedic Trauma

DIPLOMA IN ORTHOPAEDICS

02 Years

DNB (ORTHOPAEDICS)

M.S. (ORTHOPAEDICS)

01 Years

14

104227-Fellowship Course in

Shoulder Surgery

DIPLOMA IN ORTHOPAEDICS

02 Years

DNB (ORTHOPAEDICS)

M.S. (ORTHOPAEDICS)

01 Years

15

104228-Fellowship Course in

Orthopaedic Oncology and

Reconstruction Surgery

DIPLOMA IN ORTHOPAEDICS

02 Years

DNB (ORTHOPAEDICS)

M.S. (ORTHOPAEDICS)

01 Years

16

104229-Fellowship Course in

Orthopaedic Research

DIPLOMA IN ORTHOPAEDICS

02 Years

DNB (ORTHOPAEDICS)

M.S. (ORTHOPAEDICS)

01 Years

17

104231-Fellowship Course in

Community Mental Health

DIPLOMA IN PSYCHIATRY

02 Years

DNB (PSYCHIATRY)

M.D. (PSYCHIATRY)

01 Years

18

104238-Fellowship Course in

Phacoemulsification

DIPLOMA IN OPHTHALMIC

MEDICINE AND SURGERY

02 Years

DNB (OPHTHALMOLOGY)

M.D. (OPHTHALMOLOGY )

M.S. (OPHTHALMOLOGY)

01 Years
19

104239-Fellowship Course in

Oculoplasty

DIPLOMA IN OPHTHALMIC

MEDICINE AND SURGERY

02 Years

DNB (OPHTHALMOLOGY)

M.D. (OPHTHALMOLOGY )

M.S. (OPHTHALMOLOGY)

01 Years

20

104247-Fellowship Course in

Pediatric Cardiovascular

Anaesthesia

DIPLOMA IN ANAESTHESIA

02 Years

DNB (ANAESTHESIA /

ANAESTHESIOLOGY)

M.D. (ANAESTHESIA /

ANAESTHESIOLOGY)

01 Years

21

Fellowship Course in Basic

Phototherapy and Lasers in

Clinical Dermatology

DIPLOMA IN DERMATOLOGY

VENEREOLOGY AND LEPROSY

(DDVL)

02 Years

M.D. (DERMATOLOGY

VENEREOLOGY AND LEPROSY)

DNB (DERMATOLOGY

VENEREOLOGY AND LEPROSY)

01 Years

22

Fellowship Course in Clinical

Sexology

DIPLOMA IN PSYCHIATRY

02 Years

M.D. (DERMATOLOGY)

M.D. (GENERAL MEDICINE)

M.D. (PHYSIOLOGY)

M.D. (PSM)

M.D. (PSYCHIATRY)

M.D./M.S. (OBGY)

M.S. (UROLOGY)

DNB (PSYCHIATRY)

01 Years

23

Fellowship Course in Fetal

Medicine

DIPLOMA IN MEDICAL RADIO

DIAGNOSIS (DMRD)

02 Years

DNB (OBSTETRICS AND

GYNAECOLOGY)

M.D. (RADIOLOGY / RADIO-

DIAGNOSIS)

M.D. / M.S. (OBSTETRICS AND

GYNAECOLOGY)

01 Years

24

Fellowship Course in Paediatric

Haematology Oncology

DIPLOMA IN CHILD HEALTH

02 Years

M.D. (PAEDIATRICS)

DNB (PAEDIATRICS)

01 Years
25

Fellowship Course in Paediatric

BMT

DIPLOMA IN CHILD HEALTH

WITH 2 YEARS FELLOWSHIP IN

PEDIATRIC HAEMATOLOGY-

ONCOLOGY

02 Years

DM (CLINICAL HEMATOLOGY)

DNB (GENERAL MEDICINE)

WITH FELLOWSHIP IN CLINICAL

HEMATOLOGY

DNB (PEDIATRICS) WITH

FELLOWSHIP IN PEDIATRIC

HEMATOLOGY AND ONCOLOGY

MD (GENERAL MEDICINE) WITH

FELLOWSHIP IN CLINICAL

HEMATOLOGY

MD (PEDIATRICS) WITH

FELLOWSHIP IN PEDIATRIC

HEMATOLOGY AND ONCOLOGY

01 Years
To view the official notice, click on the following link:
https://medicaldialogues.in/pdf_upload/diploma-qualification-duration-circular100821-158815.pdf
For more details, log on to the official website of MUHS: