NEET AIQ Reservation: SC questions govt decision to adopt Rs 8 lakh criteria for EWS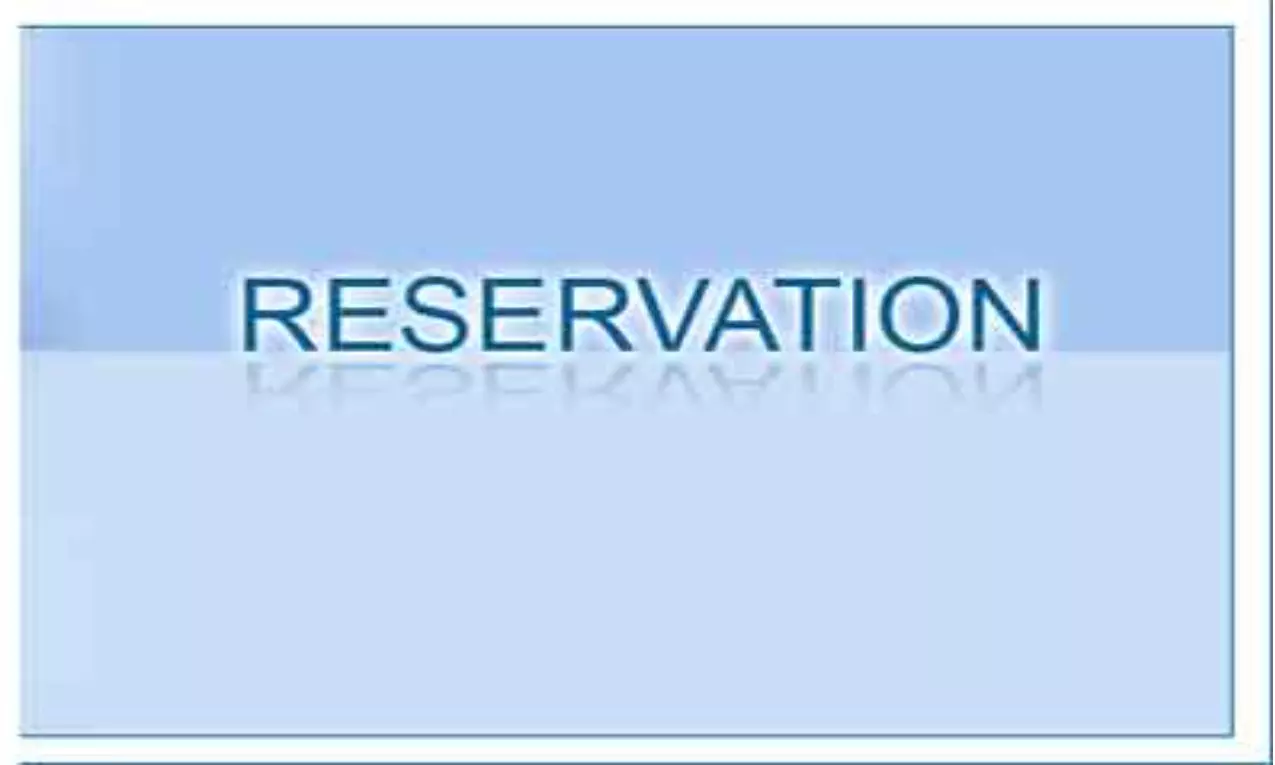 New Delhi: The Supreme Court recently questioned the govt's criteria of annual income for deducing the Economically Weaker Sections (EWS) for the purpose of reservation in All India Quota (AIQ) under the National Eligibility cum Entrance Test (NEET).
According to a recent report by Livelaw, this decision was taken for petitions filed against the govt's decision to reserve 27% seats for OBC and 10% for EWS in NEET-AIQ by using an Rs 8 Lakh annual income criteria.
This decision was released via notification dated July 29, 2021 by the Medical Counselling Committee. Various petitions were filed challenging this notification as well as wanting a stay to be put on the July 29 notification. Writ petition by Dr Neil Aurelio Nunes also sought to declare the One Hundred and Third (Amendment) Act, 2019 Act, 2019 ("Amendment Act'') and income limit of Rs 8 lakh per annum for EWS Category as unconstitutional. Along with Dr Neil Aurelio Nunes, petitions for quashing, challenging etc the centre's notification were also filed by Dr Yash Tekwani, Dr Madhura Kavishwar, Dr Apurv Satish Gupta etc.
All these petitions were heard by a bench of Justices DY Chandrachud, Vikram Nath and BV Nagarathna. They had questioned the Additional Solicitor General (ASG) KM Nataraj regarding these steps taken up by the central government.
The ASG had submitted that such income criteria for EWS were a "matter of policy". Defending the centre's move he submitted national cost of living as the basis for the decision and reminded similar criteria being used for determining the OBC Quota. "In 2015 it was 6.5 lakhs for creamy layer, in 2017 it was increased to 8 lakhs for creamy layer", he said.
The bench then pointed out the fact that there is no concept of social backwardness for the EWS category, therefore, the former criterion i.e. of the OBC Quota may not automatically fit here.
Therefore, Justice Chandrachud said, "As far as EWS is concerned, there is no social or educational backwardness. So can you apply the same yardstick of 8 lakh limit for the creamy layer to the EWS? In the case of EWS, we are not dealing with social and educational backwardness. So have you lifted the criteria for creamy layer mechanically for EWS? And have you considered only income or income and assets?"
He further added, "Mr Nataraj, you better reflect on these. On what is the indicia for EWS? And what exercise has been done for arriving at this by the Govt of India? You cannot apply the same indicia as you apply for the SEBC. See because, in the case of creamy layer, the concept of creamy layer is that by reason of economic advancement, the indicia of backwardness is completely obliterated. But in the case of EWS, there is no concept of obliteration of social backwardness. We are not looking at social backwardness at all"
The bench went on to also question the basis on which such quota was being applied uniformly considering huge per capita income disparities amongst each state. It was explained using an example by Justice Chandrachud. "Mr. Nataraj, I will tell you a fable. Not a fable, a real happening. When we recommend lawyers as judges, there is an income criteria. For example, income criteria of "X". But for a person in Allahabad, "X" will be a huge income. It might be different in Mumbai. The scale of pay, living cost etc are different. In one place you may have corporate clients paying".
Further, he said, "Even within a state, there will be different parameters. For example, in Maharashtra, different parameters will be there for Gadchiroli and Mumbai. For UP, different parameters will be there for Ghaziabad, or Eastern UP or Behraich or for any other interior districts",
The judge pointed out that even for House Rent Allowance(HRA), there was the concept of Class-1, Class-2 cities.
"What is this exercise? How can you say 8 lakhs everywhere for the country? Who carried out the study? What were the contemporaneous studies which the government relied on upon? You can't say it is a matter of policy. For the EWS quota, there is a constitution amendment. But what about this income criterion, who deliberated?" The bench finally questioned, quotes Livelaw
The ASG sought time to get instructions from the concerned Ministries to file an affidavit for the same.
The petitioner's counsel, Senior Advocate Arvind Datar, however, said that in the present matter at hand the appearance is for the entire Central Government and the non-joinder of a particular Ministry was immaterial. The bench directed the ASG to respond to the questions of the senior advocates as well as add the other concerned ministries as parties to the case.
He said, "A uniform figure of Rs 8 lakh is arbitrary. Statistics show that per capita income varies across states. Therefore determining the criteria for All India applications requires careful study," stressing that such an income criteria for EWS is arbitrary. And went to contend that there was lack of clarity for the term "annual income".
"Now we have a situation where there's a report by Major Sinho and the Office Memorandum which lays down various criteria. In the report, only annual income is given. We don't know on what basis this Committee had decided. There is the absence of clarity," Senior Counsel added to substantiate his contention.
Senior Advocate Shyam Divan appeared for the petitioners who are challenging the OBC quota in AIQ. His contention was that 27% reservation for OBC will remove 2500 PG seats from "general" purview. He stated, "Society requires doctors of enormous merit. During the pandemic, we have seen their services. If we are talking about the difference, that is 2500 PG seats. They are now not available. If we are to remove 2500seats from "just merit", that is a factor which should weigh with the Court".
Further hearing of the case will continue on October 22, with ASG having instructions from the ministries.