NEET PG Counselling Verdict to come soon, Supreme Court Reserves Order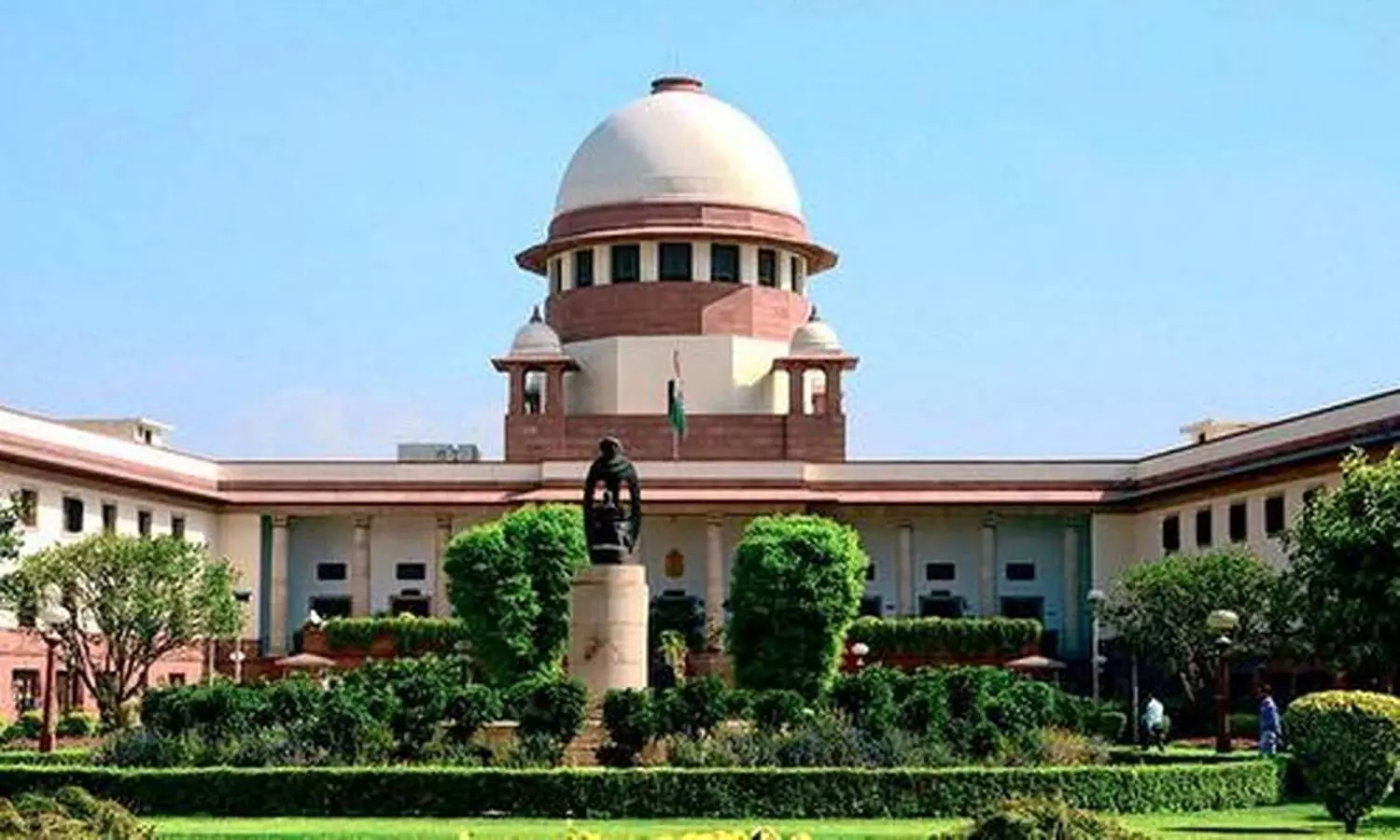 New Delhi: In continuance to the longstanding uncertainty of NEET PG counselling, the Supreme Court has reserved its judgment on the matter of EWS and OBC Quota in connection to NEET and NEET PG AIQ admissions.The top court bench led by honourable Justice DY Chandrachud heard the matter for the 2nd consecutive day and has reserved its verdict after hearing all the contentions...
New Delhi: In continuance to the longstanding uncertainty of NEET PG counselling, the Supreme Court has reserved its judgment on the matter of EWS and OBC Quota in connection to NEET and NEET PG AIQ admissions.

The top court bench led by honourable Justice DY Chandrachud heard the matter for the 2nd consecutive day and has reserved its verdict after hearing all the contentions and arguments.
Medical Dialogues had been reporting about the delay in NEET PG counselling which has kept the admission process in limbo. The case was originally slated for hearing on January 6. However, resident doctors have been protesting in Delhi seeking an early hearing, since the NEET PG counselling has been put on hold due to the pending matter. The top court had expedited the hearing and called the bench for deliberation today.
The Supreme court was moved by a batch of pleas challenging the Centre and Medical Counselling Committee's (MCC) July 29th dated notification providing 27 per cent reservation for OBC and 10 per cent for EWS category for PG Medical admissions via NEET PG Counselling 2021.
Even though the counselling in the 50 percent AIQ seats was set to commence from October 25, 2021, after the OBC and EWS reservation policy that was announced by the Central Government was questioned, the MCC had postponed the counselling dates.
The Central Government had assured the top court that till the matter concerning EWS quota gets resolved, no NEET PG counselling would be held. The bench of judges, including Justice DY Chandrachud and BV Nagarathna, had noted Centre's assurance and recorded that if the counselling process starts before the court takes a decision, the "students will be in a serious problem".
The matter got deferred to January as the Central Government decided to revisit the Rs 8 lakh annual income limit set for determining the Economically Weaker Sections (EWS).
Yesterday, the Matter finally came up where the Solicitor General began with the acknowledgement that based on the Supreme Court's direction to evaluate the EWS criteria limits, a committee consisting of Former Finance Secretary, GOI Member Secretary and Principal Economic Advisor was formed that gave its recommendations
Taking cue from these, Central Government in an affidavit filed on December 31, 2021, informed the Supreme Court that it has accepted the recommendations of the Committee for revisiting the Criteria Of The Economically Weaker Sections (EWS) Reservation. The Centre pointed out that the Expert Committee has recommended for retaining the annual income criteria of Rs 8 lakhs, taking note of the fact that changing the criteria midway would complicate the matter. However, the committee also recommended that families having land of 5 acres or above, irrespective of their income should be excluded further adding that these revisions may be applied from the next academic year. Apart from these, the Expert Committee made its recommendations for the removal of criteria regarding residential assets. These revisions in the criteria should be introduced from the next academic year, the Committee had suggested.
This voice was also resonated by Senior Advocate Arvind Datar as well who stated that for this year where exam has already been done, let the old system prevail now. This was not acceptable , there was thereafter a debate in the court regarding the OBC reservations which prompted judges to concur amongst themselves. Justice Chandrachud noted to the solicitor general that on "Nov 25 when you told us that you will revisit the criteria and we had said that the matter will be heard on Jan 6, and you filed your affidavit. We'll have to give opportunity to Mr Datar & Mr Divan ( counsels for petitioners) in brief."
Presenting the case before the top court, the Solicitor General had stated, "Now there is a judicial adjudication as far as OBC is concerned. Government is earnestly requesting that we will not accept a position that poorest of poor or OBC is deprived of what is legitimately due to them. They have come to SC now even when notification was out in January 2019."
"Counselling is stuck and its from graduation to post graduation. we need doctors and their concerns are genuine. as a society we cannot go into lengthy arguments now. we said we will revisit and the report has been submitted now," SG Tushar Mehta told the Supreme Court.
The report needs to be seen in the light of the conscience is whether poorest of poor is covered. Let us proceed with counselling and we can assist the court in great detail. We are in a situation which we did not apprehend. We are responding to the bonafide requests of the resident doctors, the counsel added.
In response, Senior Advocate Arvind Datar said the new system of OBC, EWS should be implemented from the next year. Senior Adv P Wilson objected and said OBC reservation cannot be postponed.
The new reservation scheme in PG medical admissions have taken away over 2,500 general category seats and this should not be implemented in the present admissions, Advocate Divan argued. Senior Advocate Shyam Divan, appearing for the petitioners, referred to the July 29 notification for implementing EWS and OBC quota. He said it is like "changing the rules of the game midway" as the reservation policy was introduced after the exams were notified. "We are saying you cannot change the rules of game when the game has begun," he said.
Advocate Divan said postgraduate medical admission should be merit-based and reservation should be minimal.
Rules of the game cannot be changed belatedly. Information brochure for NEET PG was released on Feb 23, 2021 and registration commenced on that date. Last date of registration was March 23, 2021. Rules cannot be changed surely after this. Then it was postponed by 4 months. New date was September 11, 2021. So the new announcement was in July 2021. Impugned notice dated July 29, 2021 was after 5 months exam process began and thus changed rules of game and took away 2,500 seats meant for open category. This case (Pradeep Jain's ) was concerned with regard to domiciliary seats which we have cited. This 50 percent gets cemented by a Constitution bench judgment. An executive order cannot nullify a judgment of this court. This right is recognised and created by this Court which is a facet of Article 14, he had added.
Advocate Datar further mentioned that in a span of three says the criteria of 8 lakh was announced for EWS with property criteria. Unlike the backward classes committee where discussions which was held with States and experts, here there was no such discussion undertaken, he said adding that unlike the commissions for OBC reservations, there is no study undertaken for EWS reservations. The present report justified EWS criteria but there was no study undertaken.
"Basis for 8 lakhs is completely arbitrary. Look at what they've said. If a person has got money to make investment in PF's and shares and make savings, he would not be called as EWS. Any person who gets capital gains of 1 lakh from shares, can he be called EWS?" the counsel had said.
During the hearing today, the Advocate Datar, speaking on the reservation said, that the committee had consulted state govt and UTs, NGOs and social leaders. "It contains exhaustive discussion of each and every party. For example, Tamil Nadu said we have 69% reservation we don't need economic one at all. It's very detailed, they've gone state wise," he said.
Submitting that Rs 8 lakh criteria is a top down approach and not a bottom up approach, the counsel said, "BPL population in General category was higher in some states than others. BPL is an expenditure based statistics. The committee goes into determination of poverty. BPL can be a factor. It can be nutritional value but final they settled at income. Emphasis was put on caste based survey to understand the distribution. They say there must be a bottom up approach."
Though GC is a class of unreserved category more of less equal, their economic conditions are not equal From such resources the commission came to the understanding that economically backward classes will come from unreserved categories. They reiterate don't adopt creamy layer. The commission also felt the criteria should be simple for EBCs- non tax paying families and BPL could be one. Everyone with BPL is automatically EBC and everyone below the taxing limit should be taken as EBC, he said.
On this, the bench noted, "All BPL families+ all families whose income is below taxable limit which was 1.60 lakh in 2010."
In a vast country like India, where it ranges from 40k to 4L- 8Lakh is an arbitrary number, Advocate Datar reiterated arguing, "The difficulty is if the reserved category candidate makes it to the score for open category."
They are counted in open category. On top of it if you don't calculate EBS properly then GC are not getting any reservation anywhere. In Indra Swahney, they said it's about a proper and appropriate identification of a backward class with distinguishing traits from others, the counsel further argued, adding that the Supreme Court had issued a means test against Maharashtra's scheme for housing for poor. As a working guideline, it was directed that a means test will be adopted and income for applicant shouldn't exceed 18k. The Supreme Court directed minimum income tax limit to be the limit.
Another counsel appearing from the petitioners' side seconded the Rs 8 lakh limit as arbitrary and said, "Given that there is no evidence of bunch EWS in higher income bracket, despite the fact the bulk of candidates is under 5L, higher criterion is required. Except for this sentence, there is no reason why it should be 8 and not 5L."
Further seeking expedition of the NEET PG Counselling, Advocate Dave, representing resident doctors who had gone on strike contended before the bench, "45000 doctors are inducted as PG doctor's every year in medical workforce. This year because of the pandemic exam happened late, only 2nd and 3rd year residents are there because 1st years have not joined. The counselling had to start immediately because 3rd year residents are about to pass out in 4 months. We'll be left with 33% of workforce. With 3rd wave coming we need doctors. The 8L or 5L limit can be looked at later."
The top court found the point as valid not only for the or the doctors but also the citizens.
Responding to all arguments laid by petitioners counsels, Solicitor General argued, "The submission of the petitioner that OBC reservation is per se unconstitutional as canvassed by Mr. Diwan is not legally sustainable submission and the judgment he relied on does not state this. The Pandey committee report- eventually the submission would be unless it is grossly unfair and no man with common sense would reach this conclusion.
"The information brochure was published on February 23. My first submission is the rules of game start from this date. Last date of registration was March 15. Scheduled exam was in March. It was postponed. Date for release of booklet counselling in July 29. The information brochure says that the reservation will be applicable as per the norms of the government. What will be applicable reservation will be informed at the counselling. When I appear for an exam, my performance is not based on applicable reservation. I have to give the best. I can't say since there is 10% reservation, I can perform slightly less," he stated.
"This sentence implies that you can have valid reservation up to PG level. The last sentence seems to indicate that", Justice Chandrachud.
Right from 2006, the Central Educational institutions had 27% OBC reservation. So the OBC quota in All India Quota, as per the impugned notification dated July 29, is not for the first time, the SG argued adding that 27% OBC and 10% EWS because that is the decision taken in January 2019 which is mentioned in the committee report. 31 Jan 2019, they've already implemented. For UPSC examination they already have these reservations.
Stressing the fact that exam is related to counselling not reservation, the SG said, "There are two submissions with respect to rules of the game. The game started with effect from Feb 2021 when the notification issued said reservation will be announced later…. The candidates who had registered for counselling have already got their certificates with respect to EWS and have filed it with counselling centre as per previous regime. There will not be any hardship to anyon."
Adding the seats have been increased corresponding to EWS quota, the SG said, "When 103rd amendment came- EWS class was added, the government took a decision that in all medical colleges, let us increase the seats by 25%.... Wherever EWS students will be accommodated would not harm the other candidates as the 25% increase was made for them. Mr. Datar said it's unconstitutional. Art 15(5) itself provides for it."
Arguing against the arguments that there cannot be OBC reservation in PG, Super-Specialty courses, teh SG said, "Super speciality has no reservation. NEET exam has nothing to do with admission in super speciality. Second, Article 15(5) does not distinguish between under graduation and post-graduation when it says State can have reservations for socially and educationally backward class."
" It does not demarcate UG or PG level. Therefore OBC reservation is constitutionally permitted in both UG and PG. Mr. Datar relied on Pradeep Jain judgement that reservation can't happen in PG. My substance is this none of the judgements of Your Lordships even remotely suggest that there cannot be reservation in PG," he said.
On this, Justice Chandrachud pointed out that Pradip Jain judgment says that super specialty courses there should be no reservations even on the basis of institutional preference. This means, there can be reservation in other course, Justice Chandrachud surmised, quotes Livelaw
Making case for the EWS Quota, the SG contended, "With respect to the contention that there was no study: There was a study, application of mind, consultation b/w the govt but it was only because of your lordships intervention, this (revisiting 8 lakh criteria) study was undertaken. It was not an unstudied exercise."
It was submitted the criteria for determination of EWS category was arrived at after due deliberation by Ministry of Social Justice and Empowerment.
From the common sense perspective, is Rs 8 lakhs reasonable is the question. Rs 8 lakh is about Rs 70,000 per month. We are not in the exercise to find who is poor. The Constitution uses the word "economically weaker section". Whether economically weaker meritorius students can compete with other students, afford tuition etc, are the considerations, the counsel said.
Further noting that this committee attempted to justify EWS criteria post-facto, the bench said, "From the first affidavit you say you decided to follow the creamy layer criterion. Now in the Pandey committee report, you say EWS is a stricter criteria. One area where we need to explain is, today's income tax limit is 2.5 lakhs. Up to 5 lakhs, you don't have to pay any tax because you get a rebate. So no income tax effectively till 5 lakhs."
ASG KM Nataraj further submitted that when PG courses were discussed, a certain percentage maybe reserved for institutional preference. "The government was obliged to holding all India examination and it was observed. Government submitted a scheme as to how reservation should be provided. It won't be right for us to limit the reservation that states can make to 50% in MBBS, BDS and PG courses. In Budhi Prakash Sharma, there was some ambiguity so in 2007 clarification was sought. 50% to be filled by all India examination includes reservation. Reservation is provided by the court, the extent has to be decided by it and not government."
Adv. Wilson responded and said, "Merit cannot be seek in view of marks alone but human values necessary for the medical profession…Those who are unequal cannot be treated equally in law." We must proceed on the basis, as far as admission to MBBS is concerned, resident requirement can be added as a condition, he added.
Speaking on reservation, the advocate said, "The reservation of seats in medical colleges for respective categories shall be as per prevailing laws in the state and UTs. This is for the UG courses. For PG courses, the reservation of seats in medical colleges will be according to prevailing laws in the states and UTs." 8 lakh so far as OBC is concerned, EWS & OBC by no stretch of imagination can be considered same. They stand on a diff footing. It's like trying to consider unequal as equal, the counsel Wilson said.
Pointing towards the urgent need to expedite the PG medical admissions, the Adv. Shyam Divan, said," My submission is with these dates available to the court and that the impugned notification. We are not dealing with a handful of seats we are dealing with 2500 seats. As far as NEET MDS is concerned there is no problem. It's 33.4 on the list… The court is saying look 50% all India quota keep it in general category. I have appeared for my PG exam today, and I believe my rights are being violated and putting me at a tremendous disadvantage."
As per Bar and Bench report, Advocate Datar further urging to keep EWS criteria at 2.5 lakhs in the alternative said, "Seats are going to EWS which is not a defined category. It can have huge effect of PG candidates' life. The 8L and all is without any kind of data whatsoever. After deliberation Sinho Committee said 2.5L and gave a formula, nobody questioned it.."
Ultimately, after hearing all the arguments presented by all parties and interveners in the case, the top court has reserved its judgment which is expected to be out soon ending the painful wait of MBBS doctors seeking commencement of NEET PG counselling at the earliest.
Source : with inputs B.Com. Hons
Garima joined Medical Dialogues in the year 2017 and is currently working as a Senior Editor. She looks after all the Healthcare news pertaining to Medico-legal cases, MCI/DCI decisions, Medical Education issues, government policies as well as all the news and updates concerning Medical and Dental Colleges in India. She is a graduate from Delhi University and pursuing MA in Journalism and Mass Communication. She can be contacted at editorial@medicaldialogues.in Contact no. 011-43720751