AIIMS releases Schedule Of MSc Nursing Professional Exams 2020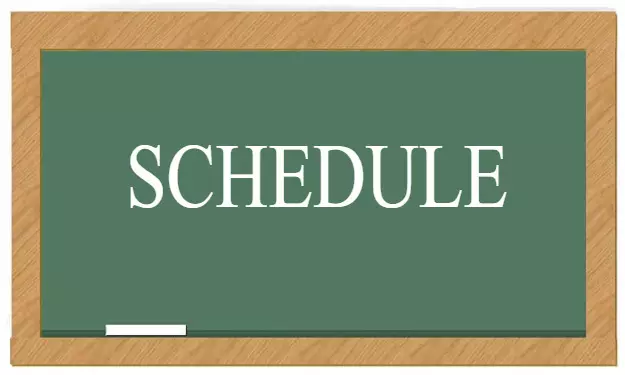 New Delhi: Through a recent notice, the All India Institute Of Medical Sciences, New Delhi (AIIMS) has published the Schedule Of Post Graduate MSc Courses and MSc Nursing Professional Examinations. The exams are scheduled to be held in May and June 2020.
The said schedule, as uploaded on the official website of AIIMS is attached below:
I. THEORY EXAMINATIONS

Date

Day

Paper No.

Specialities

Venue & Time of Theory

30.05.2020

Saturday

I

M.Sc. Courses

M.Sc. Nursing Phase-II

Examination Section Convergence Block, 1st Floor, AIIMS, New Delhi-110029

Nursing Management

01.06.2020

Monday

II

Do

Clinical Nursing -II

02:00 PM

to 05:00 PM

03.06.2020

Wednesday

III

Do

Nil

II. PRACTICAL/ CLINICAL/ VIVA-VOCE EXAM

M.Sc. Courses (Other than Nursing)

Concerned Department will fix the date, time and venue likely from 06.06.2020 to 15.06.2020

M.Sc. Nursing (Phase - II)

(Clinical Nursing, Thesis viva, Nursing Education and Management)

Dates/time/venue will be fixed by Principal, College of Nursing, AIIMS likely from 05.06.2020 to 15.06.2020

III. No Capturing of Data for Biometric Attendance ( M.Sc. / M.Sc. Nursing Phase-II final year)
NOTE:

1. All Candidates are advised to submit their Examination Fees before the last date of Registration and take a print out of Admit Card form the website.
2. No Candidate will be permitted to enter the examination hall without Admit Card and Identity Card.
3. No candidate will be allowed to enter the Examination Hall after the entry time mentioned in the Admit Card.
4. All latest information will only be available at Examination Section website www.aiimsexams.org in "STUDENT TAB". Please visit the website regularly.
https://medicaldialogues.in/pdf_upload/pdf_upload-128908.pdf

AIIMS is an autonomous institution of national importance and defined objectives and functions by the Act of Parliament. By virtue of this Act, the Institute awards its own medical degrees and other academic distinctions. The degrees awarded by the Institute under the All India Institute of Medical Sciences Act are recognized medical qualifications for the purpose of the Indian Medical Council Act and notwithstanding anything contained therein, are deemed to be included in the first schedule of that Act, entitling the holders to the same privileges as those attached to the equivalent awards from the recognized Universities of India.