PGIMER issues addendum on seat position for MCh course January 2021 session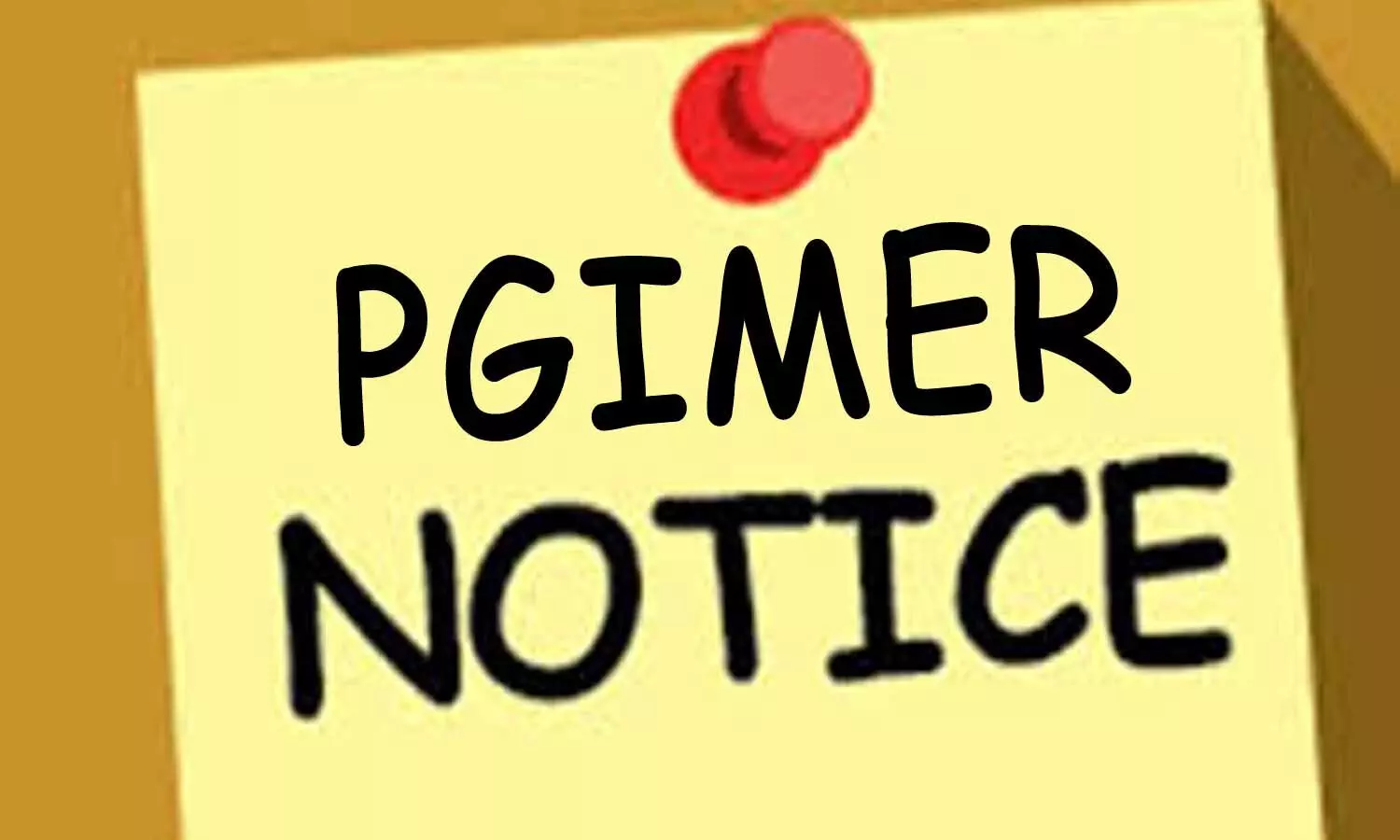 Chandigarh: Through a recent notice, the Postgraduate Institute of Medical Education and Research (PGIMER) has issued an addendum on the seat position of MCh course January 2021 session.
It is for the information of DM/M.Ch applicants that the seats position in the M.Ch Neurosurgery Course in the Department of Neurosurgery, PGIMER, Chandigarh for January 2021 session may now be read as under:
| | | | |
| --- | --- | --- | --- |
| S. No | Name of Department/Course | General Seat | Sponsored Seat |
| 1 | Neurosurgery | 07 | 07 |
To view official notice, click on the following link:
https://medicaldialogues.in/pdf_upload/pdf_upload-141458.pdf
As per the seat matrix released by the institute on its official website, a total of 116 seats are available at the following courses:
MD Hospital Administration: 2 seats
House Job oral sciences: 5 seats
DM: 72 seats
MCh: 37 seats
For DM, there are 27 courses. The maximum number of seats are in Neuroanaesthesia with 6 DM seats followed by DM Cardiology, DM Gastroenterology, DM Neurology, DM Pulmonary and DM Critical care medicine, and DM Histopathology with 5 seats each.
Next comes DM Nephrology with 4 seats. DM Hepatology, DM Paediatric critical care and DM Cardiac Anaesthesia have 3 seats each.
Meanwhile, DM Clinical Pharmacology, DM Neonatology, DM Paediatric Clinical Immunology and Rheumatology, DM Medical Genetics and Metabolic Disorders, DM Neuroimaging Interventional Neuroradiology, DM Clinical Hematology, DM Clinical Immunology and Rheumatology, DM Trauma Anaesthesia and Acute care, DM Paediatric Anaesthesia and Intensive care, DM intensive care and DM Addiction Psychiatry have 2 seats in each speciality.
The least number of seats are in the specialities of DM Paediatric Gastroenterology, DM Child Adolescent Psychiatry, DM Haematopathology, DM Paediatric Neurology, DM Paediatric Endocrinology and DM Paediatric Pulmonology with only 1 seat.
For MCh course in the institute, there are 37 seats in 10 specialities are available for candidates. Of which, the maximum are in MCh Neurosurgery with 13 seats followed by CVTS with 10 seats.
Mch Paediatric Surgery, MCh Urology, have 3 seats each. Plastic surgery, Renal Transplant Surgery, both specialities have 2 seats each. The MCh specialities of Surgical Gastroenterology, Vitreo Retinal Surgery, Head and Neck Surgery and Cornea, cataract & Refractive Surgery have only 1 seat each.
The tentative Schedule of related activities is given below:

Commencement of online Registration and filing of application form on PGIMER website

05.10.2020

Closing of online Registration and submission of application form

26.10.2020

Computer based Entrance Examination (CBT)

27.11.2020 (Morning Shift)

Expected date of declaration of result

05.12.2020

Application processing fee (excluding transaction charges, if any).

Fee once deposited will not be refunded at any cost.

D.M/M.Ch Courses and MD (Hospital Administration)-

For all categories - Rs. 1500/-

PwBD category is exempted.

House Job (Oral Health Sciences)-

For Gen/OBC/Spons- Rs. 1500/-

For SC/ST — Rs. 1200/-

PwBD category is exempted.

Mode of Payment

Through Debit/ Credit card/ Net banking only (except UPI).
Note: For any enquiry regarding DM/M.Ch courses — 0172-2755570

For any enquiry regarding MD (Hospital Administration), MDS House Job (Oral Health Sciences) courses —0172-2755569
For eligibility criteria, number of seats, and other details, applicants are advised to read the prospectus and instructions given there in carefully before starting online registration and filling of application form. The prospectus of admission is available on Institute's website i.e. www.pgimer.edu.in. The candidates are requested to visit the PGIMER website regularly for all subsequent changes/ updation for entrance examination/ communications/addendum/corrigendum.
MD (Hospital Administration) & House Job (Oral Health Sciences) Seats to be filled for January 2021 Session.

DETAIL OF SEATS

MD (Hospital Administration)

Sponsored

02

House Job (Oral Health Sciences)

General

02

SC

01

ST

01

OBC

01
CLICK HERE TO APPLY FOR MD (HOSPITAL ADMN)

D.M/M.Ch seats to be filled for January 2021 Session

Detail of D.M/M.Ch Seats:
NAME OF THE DEPARTMENT/ COURSE

Seats to be advertised for January 2021 Session

GENERAL

SPONSORED

D.M COURSES

1

CARDIOLOGY

05

-

2

CLINICAL PHARMACOLOGY

01

01

3

GASTROENTEROLOGY

04

01

4

PAED. GASTROENTEROLOGY

01

-

5

HEPATOLOGY

02

01

6

NEPHROLOGY

02

02

7

NEUROLOGY

04

01

8

NEONATOLOGY

02

-

9

PAED. CRITICAL CARE

01

02

10

PAED. NEUROLOGY

01

-

11

PAED. CLINICAL IMMUNOLOGY &

RHEUMATOLOGY

01

01

12

PAED. ENDOCRINOLOGY

01

-

13

PAED. PULMONOLOGY

01

-

14

MEDICAL GENETICS & METABOLIC DISORDERS

01

01

15

NEUROIMAGING INTERVENTIONAL

NEURORADIOLOGY

01

01

16

PULMONARY & CRITICAL CARE MEDICINE

03

02

17

HAEMATOPATHOLOGY

01

-

18

CLINICAL HEMATOLOGY

01

01

19

CLINICAL IMMUNOLOGY & RHEUMATOLOGY

01

01

20

CARDIAC-ANAESTHESIA

-

03

21

NEURO-ANAESTHESIA

02

04

22

TRAUMA ANAESTHESIA AND ACUTE CARE

01

01

23

PAED. ANAESTHESIA & INTENSIVE CARE

01

01

24

INTENSIVE CARE

01

01

25

CHILD & ADOLSCENT PSYCHIATRY

01

-

26

ADDICTION PSYCHIATRY

01

01

27

HISTOPATHOLOGY

02

03

M.Ch COURSES

28

CVTS

06

04

29

NEUROSURGERY

06

07

30

PAEDIATRIC SURGERY

-

03

31

PLASTIC SURGERY

01

01

32

SURGICAL GASTROENTEROLOGY

01

-

33

UROLOGY

03

-

34

VITREO-RETINAL SURGERY

01

-

35

HEAD AND NECK SURGERY

01

-

36

RENAL TRANSPLANT SURGERY

01

01

37

CORNEA, CATARACT AND REFRACTIVE

SURGERY

01

-
To view official notice, click on the following link:
https://medicaldialogues.in/pdf_upload/pdf_upload-135368.pdf
https://medicaldialogues.in/pdf_upload/pdf_upload-135363.pdf
https://medicaldialogues.in/pdf_upload/pdf_upload-135366.pdf
For more details, log on to the official website of PGIMER:

https://pgimer.edu.in/PGIMER_PORTAL/PGIMERPORTAL/home.jsp

Read also: PGIMER Invites Applications For DM, MCh, MD Hospital Administration, House Job 2020, 116 Seats Up For Grabs