2 leading specialists from Delhi nominated to institute of body of PGI Chandigarh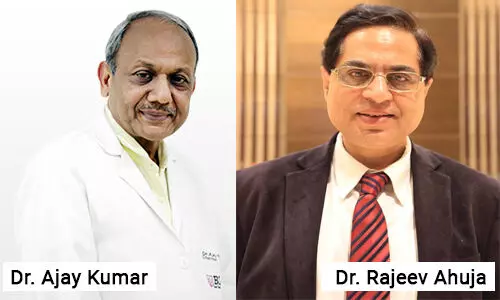 Gastroenterologist Dr Ajay Kumar and Plastic Surgeon Dr Rajeev Ahuja; have been nominated to the institute body of Post Graduate Institute of Medical Education and Research, Chandigarh (PGI Chandigarh)
New Delhi: Delhi's two leading specialists, Gastroenterologist Dr Ajay Kumar and Plastic Surgeon Dr Rajeev Ahuja; have been nominated to the institute body of Post Graduate Institute of Medical Education and Research, Chandigarh (PGI Chandigarh).

The institute body of PGI Chandigarh is a chief governing body of the topmost medical institutions of the country. The body constitutes of 20 members of whom 3 are from the Parliament, 3 are exofficio members, 1 representative is each from the Ministry of Health and Family Welfare (MoHFW), Ministry of Education, Ministry of Finance, ISCA and other specialists across the country. The body's president is the Union Health Minister.
Two renowned specialists from the capital, one in the field of Gastroenterology and other in Plastic and cosmetic surgery from Delhi; have been nominated to be a part of the PGI's governing body.
Dr Rajeev Ahuja, is a Senior Consultant, Plastic & Cosmetic Surgery at reputed Sir Gangaram Hospital, New Delhi.
Dr Ahuja completed his MBBS in 1977, from Maulana Azad Medical College, New Delhi, M.S. (Gen. Surgery) in 1981 from PGIMER Chandigarh, M.Ch. (Plastic Surgery) in 1983 from PGIMER Chandigarh and Diplomat of National Board (Plastic Surgery) in 1984 from the National Board of Examinations, Ansari Nagar, New Delhi.
He was instrumental in developing the department of Plastic surgery at LNJP Hospital as a premier facility in a government setup. Under his guidance, the department became one of the pioneers in Head and Neck Reconstruction and Microsurgery in the country, which was started by him way back in 1988. Dr Rajeev Ahuja is one of the earliest recipients of the State Award from Government of NCT of Delhi for excellence in service (the year 2000). He is associated as an expert with WHO, CDC (USA), Healing Foundation (UK), Global Alliance for Cookstoves, ICMR.
Read Also: Notable Plastic Surgeon Dr Rajiv Ahuja, Now At Sir Gangaram Hospital

The other nominee to the PGI Chandigarh institute body is gastroenterologist, Dr Ajay Kumarwho is currently the Chairman and Head of the Department of Gastroenterology at BLK Institute of Digestive & Liver Diseases, New Delhi.
Dr Kumar completed his undergraduate medical training from GGS Medical College, Faridkot (Punjab), Internal medicine training from PGIMER, Chandigarh and Fellowship in Gastroenterology from GB Pant Hospital, New Delhi. He has been instrumental in setting up advanced gastroenterology departments at reputed including Indraprastha Apollo Hospital and Fortis Healthcare
He has made significant contributions to research in the area of Corrosive esophageal strictures, the nomenclature of gastric varices and post-LDLT Biliary strictures.

Read Also: Dr Ajay Kumar Conferred International Service Award By American Society For Gastrointestinal Endoscopy