2 UP Doctors fined Rs 3 lakh for negligence in case of patient murder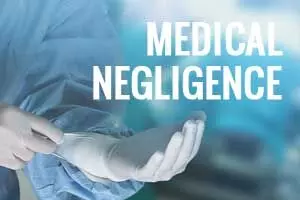 Meerut: The National Human Rights Commission (NHRC) has slapped a fine of 3 lakh on two senior doctors of the Lala Lajpat Rai Memorial Medical College (LLRM) holding them guilty of negligence in connection with the murder of a patient in 2013.
The patient was murdered at the old emergency ward at the LLRM College and Hospital.
The case goes back to 2013 when a patient, a second-year B.Pharma student and resident of Amroha district was found dead in the hospital with his throat slit. The deceased was a witness in a court case. He was murdered in the emergency ward of the hospital.
The deceased was admitted to the emergency ward of the Meerut district hospital in an injured condition after being thrown out of a moving train near the cantonment station. He was first admitted in Pyarelal hospital. But considering his critical condition he was later referred to LLRM medical college. The victim was being followed by a man ever since he was admitted to the hospital.
The man accused of murdering the patient reportedly colluded with the hospital staff and got himself admitted to the same hospital on the pretext of being a patient. The accused conspired with the hospital staff and got a bed right next to the victim. Finding a chance, he slit the throat of the victim following which he died in the emergency ward. After committing the crime, the accused fled the scene.

After the incident, a probe was launched and the matter was reported to the human rights commission. The findings of the investigation indicated negligence on part of hospital staff which led to the death of the victim.
The NHRC ruled in favour of punishing the hospital staff and decide to slap a fine of 3 lakhs on two senior doctors of the hospital, reports Times Now
Meanwhile, the Uttar Pradesh administration has approved the decision of the human rights body.
Source : with inputs