Andhra Pradesh moves to Ban Private Practice by Govt Doctors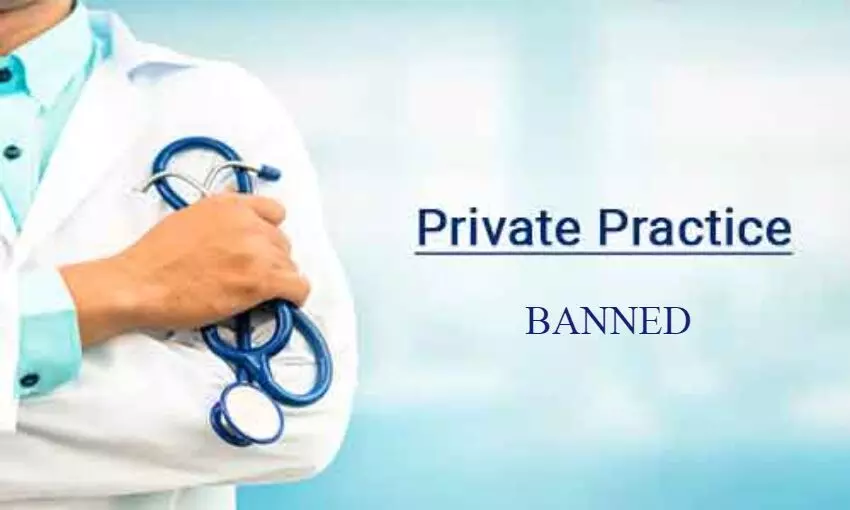 Amaravati: With an aim towards efficient and smooth-running healthcare services in public hospitals, starting from the private health centers (PHC) to government general hospitals (GGHs), Andhra Pradesh may soon issue a ban on the private practice of government doctors.

The plan for banning the private practice was being considered for the last two years. It was recently cleared after the pay scales of doctors working in the public healthcare system got revised, reports TOI.
Besides, the Government is also planning to introduce the biometric attendance system.
The ban on private practice was earlier implemented by the NT Rama Rao government in 1983. At that time, the Government had promised to pay Rs 50 to doctors on an everyday basis for giving up on private practice. However, the decision was resisted by doctors as they had objected to Rs 50 compensation claiming it was way too low.
Also Read: Private Doctors told to mention complete qualifications, specializations on signboards

As per the latest media report by the Times of India, recently the State Government has started implementing the pay scales fixed by the University Grants Commission for teachers in medical colleges.

While commenting on the same, a senior official told the daily, "Since the government met all their demands, it is the duty of doctors to serve the public healthcare system with more dedication."
"Although the proposal looks good on paper, it is very difficult to implement as monitoring the services in private hospitals will become tricky," opined a senior professor at Government Medical College (GMC), Guntur.
However, he also mentioned that since the Government is spending to improve the government institutes, there was nothing wrong in the Government's expectations that the senior doctors would serve the poor in the public health facilities.
The daily adds that earlier the Chief Minister of the State, Y S Jagan Mohan Reddy had said that the government hospitals should be upgraded in such a way that no one in the State would feel the necessity to go to a neighboring state and seek specialized healthcare services.
In fact, the CM had also given his nod for a proposal to fill up 1,400 vacancies in hospitals including doctors, nurses and paramedical staff, as he clarified that no service should be denied for lack of staff in any government hospitals.
Also Read: Absenteeism: GMC Anantnag Doctors, Private Nursing homes warned for Private Practice
Source : with inputs