BFUHS: Punjab Medical Council felicitates MBBS topper with Gurmej Singh Gill Memorial Gold Medal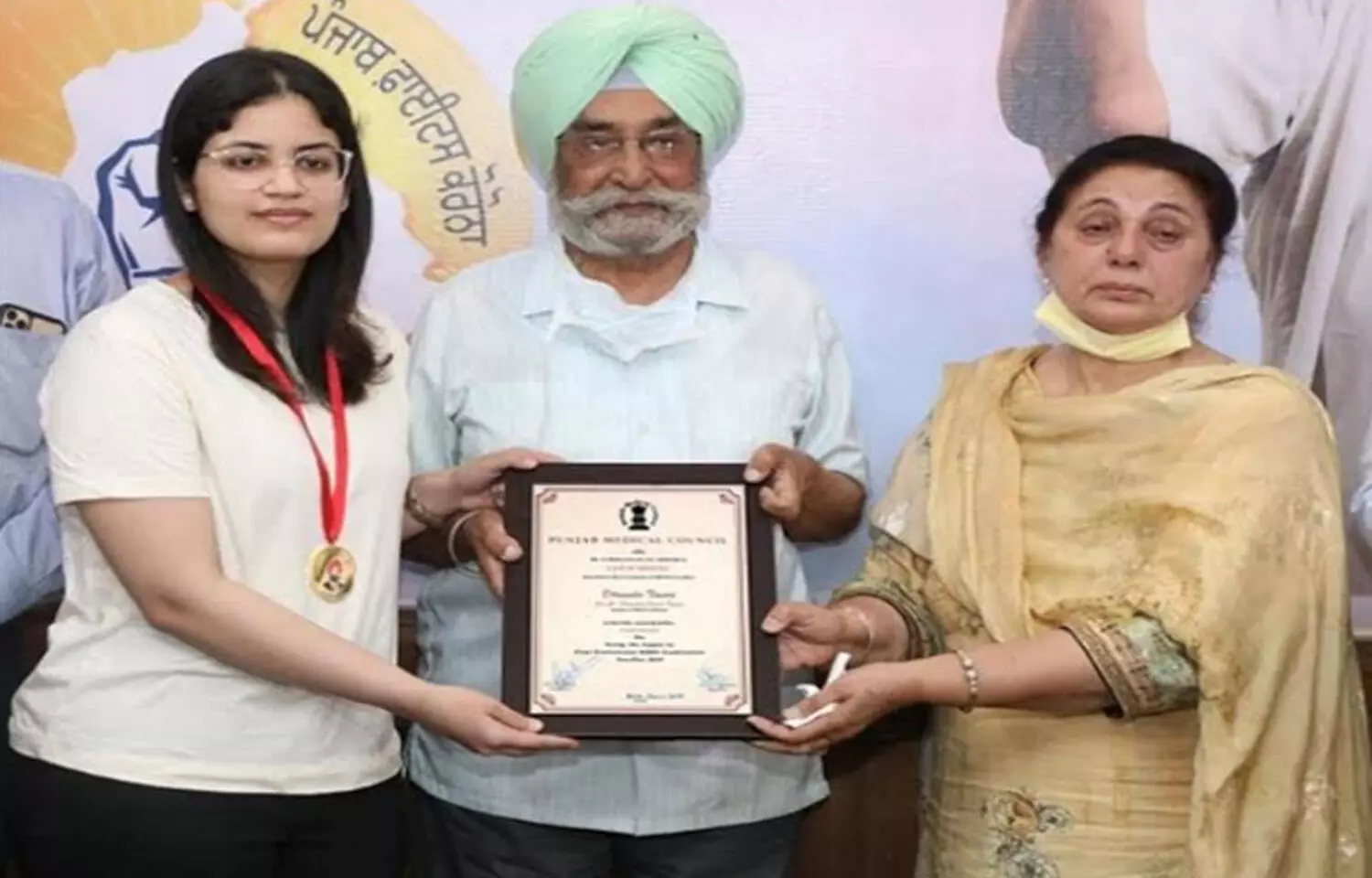 Chandigarh: The Punjab Medical Council (PMC) has recently felicitated Dr Dhruvika Tiwari with Gurmej Singh Gill Memorial Gold Medal. The medico was honoured for securing the first position among all the students of Baba Farid University of Health Sciences (BFUHS), Faridkot in the final year professional MBBS examination held in November-December 2019.

The award was presented to Dr Tiwari, a graduated from the Dayanand Medical College, Ludhiana by the Punjab Medical Council President Dr A.S. Sekhon at a ceremony held at the Punjab Bhavan.
PMC started this award this year in memory of Dr Gurmej Singh Gil, former Vice President of Punjab Medical Council who passed away last year. This award has been started by his family and decided to give MBBS topper of Baba Farid University, Faridkot. Dr Gil had served as a member of the Medical Council of India. He had also served as the president of IMA Punjab, stated Dr Sekhon.
Speaking to Medical Dialogues, Dr Sekhon added, " Dr Gill was a charming and dynamic personality who served patients with keen interest and professionalism. He was a senior member of the Punjab Medical Council. He was an active part of the ethical committee of the Punjab Medical Council and his opinion was given due importance by PMC as he had a high standard of ethics. He completed his MBBS from Government Medical College Amritsar in December 1975 and completed his MS from Government Medical College Amritsar in 1988. However, he passed away last year on October 13th due to blood cancer."
He also stated that the council will be facilitating the best graduate of Baba Farid University of Health Sciences every year with the Gurmej Singh Gill Memorial Gold Medal starting from this year.
" The medal is 10 grams sterling silver that is covered with gold plating. The award is being sponsored by the family members of the late Dr. Gurmej Singh Gil and they have already given 10 gold medals to be awarded in the successive years to come," informed the doctor.
PMC is also planning to initiate other medals sponsored by various doctors which will be awarded to the topic subject-wise Toppers in the final professional examination of MBBS.
The ceremony was attended by the family members of Dr Gil's family and the Tiwari family along with my officials of PMC. The function was conducted by Dr. Akash Deep Agarwal, Registrar PMC. Dr Sekhion stated that the ceremony was organized following g all the COVID preventive methods and the standard guidelines.
The father of the recipient, Mr Tiwari told Medical Dialogues, " I am really proud of her and right now she is preparing for her further studies. What I believe is each kid is talented and has the potential to be successful. There is no substitution for hard work. Disciplined hard work is the only key to success."