Doctor at CHS hospital agitates against lower salary than AIIMS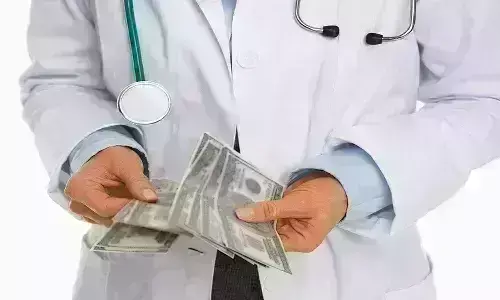 New Delhi: Pointing out the huge difference in Pay-scale offered to doctors working as teaching specialists in different departments and hospitals under the Central Health Services (CHS), a doctor has recently written to the Union Ministry of Health and Family Welfare (MOHFW).

For example, the teaching hospitals like RML hospital and VMMC pay its Assistant Professors in the pay grade of Rs 6,600, whereas the similarly qualified doctors assigned to similar duties and responsibilities in GMC Chandigarh gets paid almost double, i.e. in the pay grade of Rs 8,600. Besides, the pay scale offered to teaching specialists working in premium medical institutes like PGIMER and AIIMS receive a much better pay grade, the letter has pointed out.
Not only this, there is no difference regarding the pay-scale offered to teaching and non-teaching staff appointed under CHS. Besides, the Union Health Ministry still doesn't pay higher remuneration to doctors with higher educational qualifications such as DM (Doctor of Medicine) degree.
Representing the matter before the Union Health Ministry the doctor has pointed out that discriminating in the pay scale for the same work is against the fundamental rights of Equal Pay for Equal Work ensured under the Constitution of India.
This difference in the pay scale is vividly prominent in two advertisements issued by the Union Public Service Commission back in 2019. In the earlier advertisement, the UPSC had announced vacancies in the Specialist Grade III Assistant Professor and offered them to remuneration in the pay scale of Level-11 with NPA in the Pay Matrix as per 7th CPC, i.e. Rs. 15600-39100/- + Grade pay Rs. 6600 with N.P.A.
However, the UPSC announced vacancies for Assistant Professor in Cardiology in the Government Medical College and Hospital Chandigarh. However, in this case, the pay scale was much higher, i.e. Rs.37400-67000/- + Grade Pay Rs.8600/- with N.P.A as admissible (Pre Revised).
It should be noted in this context that the educational qualifications required for these two jobs are almost similar. In case of the Specialist Grade III Assistant Professor, the UPSC was looking for "(i) A recognized MBBS degree qualification included in the First Schedule or Second Schedule or Part II of the Third Schedule (other than licentiate qualifications) to the Indian Medical Council Act, 1956 (102 of 1956). Holders of Educational qualifications included in Part II of the Third Schedule should also fulfill the conditions specified in sub-section (3) of section 13 of the Indian Medical Council Act, 1956 (102 of 1956).
(ii) PostGraduate degree in the concerned Speciality or Super Speciality mentioned in Section A of Schedule VI from recognized Teaching Institute i.e. Doctorate of Medicine (Cardiology); or Diplomate National Board (Cardiology)."
On the other hand, for the post of Assistant Professor in GMC Chandigarh, the required educational qualification was "(i) A basic University or equivalent qualification included in any one of the Schedules of the Indian Medical Council Act, 1956 (102 of 1956) and must be registered in a State Medical Register or Indian Medical Register.
(ii) Doctorate of Medicine, D.M. (Cardiology) or DNB (Cardiology) or equivalent from a recognized University/Medical College/Teaching Institution."
In fact, for both the jobs the necessary experience was a minimum of three-years teaching experience. However, still there was a striking contrast in the pay scale offered for both the posts.
Besides, in the later advertisements published by MOHFW for the same posts in institutes including All India Institute of Medical Sciences (AIIMS) Jodhpur, AIIMS Delhi and Post Graduate Institute of Medical Education and Research (PGIMER), Chandigarh, JIPMER puducherry, the pay scale offered was Rs. 15600-39100/- + Grade pay Rs. 8000 + NPA.
Moreover, a letter issued by Union Ministry of Finance back in January 13, 2017, had clarified that autonomous organization are extension of central government and salary pay in autonomous organization should not be higher than that of corresponding categories of central government employees.
In fact, from the data presented by the Union Ministry of Health in the Gazette dated April 7, 2014, it could be realized that there is no difference in pay scale provided to teaching and non-teaching staffs.
Another issue is the matter of qualifications. Apparently, there is no extra credit given to doctors with higher qualifications such as DM (Doctorate of Medicine) which is Post Doctoral degree and can be attained only after a post-graduate degree.
In its last report, the Parliamentary Committee had also pointed out the matter and had suggested the Ministry to consider providing higher remuneration for doctors with higher qualifications. "The Department may also consider to extend higher remuneration/incentives with higher qualifications eg DM/MCH etc. for ensuring adequate manpower in the hospital," the top Health Panel had earlier opined.
Also Read: Need to pay Higher Remuneration to DM, MCh doctors in Central Govt Hospital: Parliamentary Panel

However, all these unaddressed issues are causing to several unfilled vacancies under the Union Health Ministry. While commenting on the matter, a doctor under the condition of anonymity told Medical Dialogues, "Even though the workload is pretty much higher for the teaching faculties, there is no difference in their pay grade with that of the non-teaching staffs."

"This is leading to a situation, where most of these posts are remaining vacant because of lesser pay scale. Most of the doctors don't even appear for the interview, and who get selected later hesitate to join," he added.