Delhi: 4 Duty doctors beaten up over parking scuffle, Colleagues go on flash strike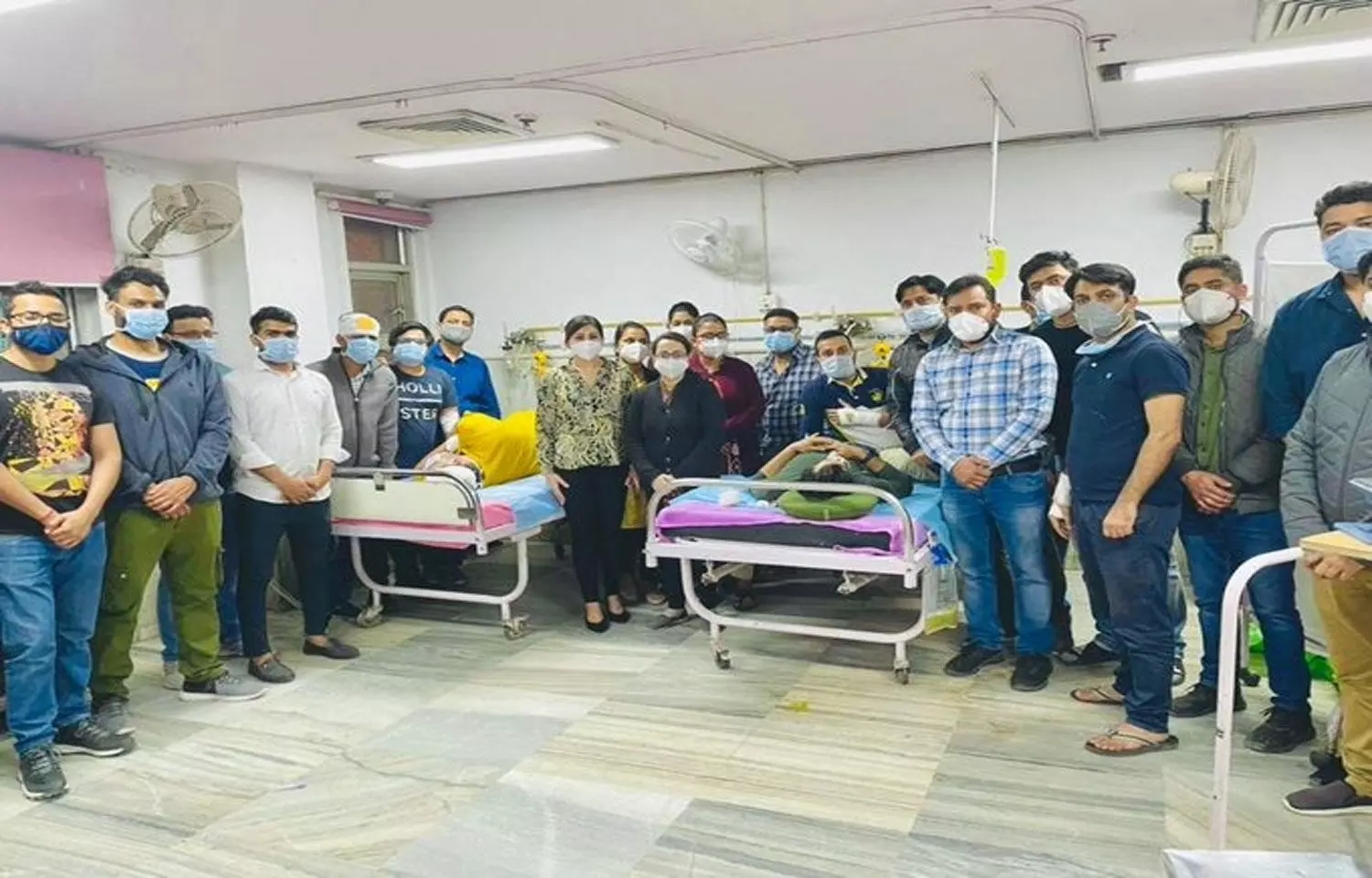 New Delhi: Condemning a violent attack on doctors attached to the Delhi-based Hedgewar Arogya Sansthan in Karkardooma, the medicos of the hospital went on a flash strike on Tuesday evening.

The incident took place with four duty doctors, who were brutally beaten up over a parking scuffle. The assault cost head injuries in the case of two doctors, while one had fractured the wrist and another faced some minor injuries.
The reason for the scuffle revolved around the parking issue. When the two accused had brought a patient to the hospital's emergency wing, the on-duty guard had asked them to remove their car parked in front of the emergency wing's gate. This led to an argument and soon the two accused were joined by many other men. On hearing the commotion, the doctors reached the spot to take control, however, they were badly beaten up by the mob.
Also Read: Three Men visiting a patient at Sassoon Hospital assault doctor, vandalize hospital, held

The act of violence against doctors was strongly criticized by various doctors' associations and bodies, who stood in solidarity with the victims and demanded action against the accused.
A FORDA (Federation of Resident Doctors' Association) delegation had rushed to Hedgewar Hospital and extended all the possible support.
Parth Bora, president of the association, had tweeted about the matter on his Twitter handle. He wrote, "FordaIndia strongly condemns the assault on Resident doctors' of Hedgewar Arogya hospital, Karkardooma. We demand strict action against the culprits at the earliest.
Meanwhile, Resident Doctors' Association (RDA) members from Lady Hardinge Medical College (LHMC) had also come in support of the assaulted doctors. The letter of solidarity by RDA LHMC, dated 17.02.2021, has stated, "On the evening of 16/02/2021/, four doctors on duty at Dr. Hedgewar Arogya Sansthan were beaten up by some people who had brought a patient to the hospital emergency. Two of the four doctors suffered head injuries, one of them is in critical state and other one sustained a fractured wrist. The doctors at Dr. Hedgewar Arogya Sansathan have gone on a strike demanding an institutional FIR and that the culprits be identified and brought to justice."
The letter further mentioned, "RDA LHMC strongly condemns such assaults and stands in full support of the doctors of Dr Hedgewar Arogya Sansathan in their rightful demands."

The New Indian Express adds that Dr. Ajay Lekhi, former president of the Delhi Medical Association, had reached the hospital after the accident. While commenting on the matter, he told the daily, "One of the two doctors who sustained head injuries is in serious condition and is feeling giddy. This should not happen and we have asked the hospital medical superintendent to register an institutional FIR. The doctors on strike have demanded that the culprits be arrested."
Also Read:TN: Private medical college manager assaulted by 2 Real estate agents, duo arrested
Source : with inputs