Demand for Reinstatement of maternity leaves for DNB doctors escalates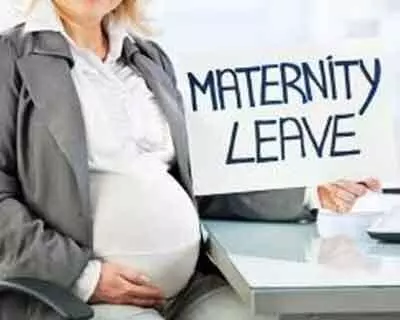 New Delhi: For the past few days, doctors all across the country have started demanding the reinstatement of maternity and paternity leaves for the DNB doctors, which was allegedly denied by a notification by the National Board of Examinations (NBE) a few years ago.

Although the demands were first made by the Association of DNB doctors, later several other associations including National Medicos Organization (NMO), Federation of Resident Doctors Association (FORDA), Federation of All India Medical Association (FAIMA), Indian Medical Association Junior Doctors' Network (IMA-JDN) came in their support and started voicing the same demands.
Recently, scholar politician Dr. Shashi Tharoor has also supported the doctors and has written to the Union Health Minister Dr. Harsh Vardhan raising the issue. Dr. Tharoor pointed out that the decision on the part of NBE to reduce the maternity leaves would have a "devastating impact on female doctors, particularly considering the incredible stress and harm inflicted upon healthcare workers during this pandemic."
Previously, DNB doctors were allowed a Maternity Leave of three months without any extension of the course duration. Medical Dialogues had reported back in 2018 that bringing relief to the DNB candidates, NBE in a public notice had mentioned that DNB/FNB candidates who joined after 2018, would be entitled to Maternity/ Paternity leave as per the Central or State Government policies, whichever is applicable to DNB/FNB training institute.
Read also: Maternity, Paternity Leave For DNB, FNB Candidates:NBE Issues Clarification
This came after a representation in this regard was submitted by a group of DNB doctors to NBE pointing out that while new rules for notified by the central government ( and adopted by various state government and organizations), NBE was still following the 2012 rules whereby female candidates were permitted a maternity leave of 90 days once during the duration of the entire DNB course.

However, in 2019, NBE answered some frequently asked questions (FAQs) and clarified that "Any Leave availed by the DNB/FNB Trainee other than the eligible leave mentioned in the revised leave rules dated 20.03.2018 (i.e 30 days per year), shall lead to extension of DNB /FNB training."
Read also: NBE Releases Clarifications On DNB, FNB Leave Rules,Check Out Details
Doctors have started questioning this stand of NBE and Association of DNB Doctors was first to voice their concerns regarding the matter. Demanding immediate restoration of the maternity benefits for the DNB doctors, they raised their voice through several Tweets. In fact, they had approached Dr. Shashi Tharoor regarding the matter and sought his help.
NMO in a letter directed to Prime Minister Modi discussed the issue in detail. They wrote, "While the nation on a whole is thinking progressively, our DNB residents had to bear the brunt of regressive ideologies of NBE. The board vide its notification dated 20/03/2018 had removed even the previous made provision of 90 days maternity leave. This has left many female residents in distress, no wonders this present COVID crisis made the matters even worse. Many have been even denied their right to appear in examinations."

FORDA, in a letter directed to the Prime Minister, mentioned how the "Maternity Amendment Bill" was passed in 2018 as a welcome move and it extended the Maternity Leaves of female employees to 26 weeks, extending from the previous period of 12 weeks. However, the same benefits were denied to the DNB doctors by NBE.

"The Maternity Leave has become more relevant in the ongoing COVID19 pandemic since pregnant DNB Residents are not able to join their duties because of risk of contracting the infection which in turn, might harm the mother as well as the baby who is yet to be born. Withdrawal of Maternity Leave is a serious violation of basic rights of the female Resident Doctors," added the letter by FORDA.
Recently, in a letter dated 27.06.2021, MP Dr. Shashi Tharoor has also raised the issue before Health Minister Dr. Harsh Vardhan. Further stressing upon the lack of transparency regarding the issue, Dr. Tharoor wrote, "The lack of transparency surrounding this decision is also concerning, as doctors have been unable to obtain, through an RTI request, the minutes of the meeting at which the decision was taken."

"India's medical workers have been a lifeline in our difficult fight against the pandemic, and I am sure you will agree that we should not deny them this most basic of rights," further read the letter by Dr. Tharoor.
Several other associations including IMA-JDN, FAIMA have also come in support of maternity benefits of the DNB doctors and have called for Twitter Storm.
IMA-JDN wrote, "#NBEdeniesMaternityBill #DNBdoc4Maternity@imajdnnational Condemns the order of NBE which denies 90 days maternity leave to DNB Doctors. It's inhumane & anti-law. It's their right. We demand paid leave without tenure extension."
FAIMA also expressed their support and gave a call to start a Twitter storm regarding the matter.
Also Read: Kerala revises Maternity leave period for residents doctors at government medical colleges