DNB Resident assaulted at Delhi hospital, doctors demand justice from Union Health Minister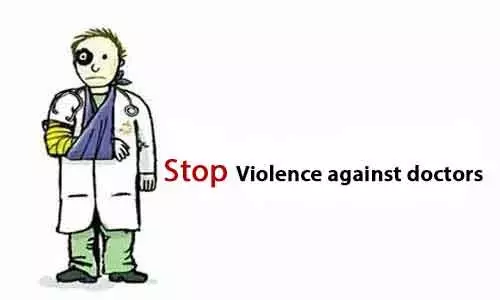 New Delhi: With yet another Delhi doctor assault taking place at Government Hospital, angry doctors have written to the Union Health Minister, Dr Harsh Vardhan demanding urgent nationwide implementation of Central Doctors' Protection Act.
The incident that triggered the resentment took place on January 24, 2020, at Maharaja Agrasen Hospital following the death of a patient. The patient was admitted in the ICU in the hospital on January 22, 2020 and his condition was well-explained to the attendants. However, following the death of the patient, 15-20 attendants gathered in the Hospital premises and barged into the ICU. They assaulted the On-duty doctors, Nursing staffs, Hospital staffs and Security personnel. One of the on-duty doctors was Dr Vipin Kumar, a DNB Super-Speciality Resident in Critical Care Medicine, was grievously injured in the violence.
According to the doctors, the police were called upon from P.S Punjabi Bagh and some of the miscreants were arrested. An FIR was lodged against the culprits and the very next day, however, they were allowed to leave. Dr Vipin is now being threatened and constantly pressurized to withdraw the F.I.R, by the culprits and their relatives.
Seeking justice, the Federation of Resident Doctors Association (FORDA) has now written to the Union Health Minister demanding institutional FIR and strict punishment of miscreants who assaulted the on-Duty doctor.
"Assault on Doctor is a heinous crime and a Central Act to protect the medical fraternity is the need of the hour. FORDA, the largest association of Resident Doctors in India, demands Central Doctors' Protection Act to be implemented nationwide. We stand in support of Dr Vipin Kumar and demand Institutional F.I.R and strict punishment of the miscreants, " the letter stated.
Medical Dialogues had recently reported about a similar incident wherein a lady doctor was assaulted after the death of a pregnant patient.
Also Read: Jaipur: Female Doctor Assaulted After Pregnant Patient's Death