Jaipur: Female Doctor assaulted after pregnant patient's death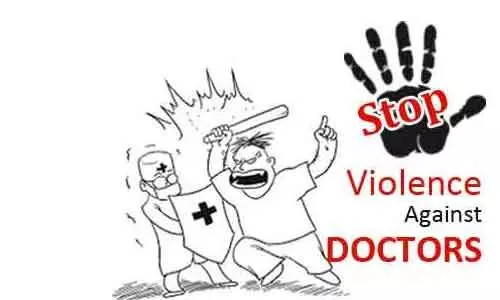 Jaipur: In a recently reported case of violence against medical professionals, a female doctor of a Mahila Chikitsalaya (Women healthcare centre) was allegedly assaulted by family members of a pregnant patient after she died during labour.

The doctors of the facility have moved the concerned authorities demanding an immediate arrest of the attackers under the Rajasthan Medical Protection Act.
TOI reports about the incident which took place on February 11th 2020. The pregnant patient was admitted to the hospital with labour pain. She died when the doctors were helping her to deliver the baby normally.
Following her death, the lady doctor informed the attendants, who became violent and reportedly attacked her alleging medical negligence.
Read Also: Andhra Pradesh: ENT Specialist Assaulted By Chemist
Speaking about the incident, a resident doctor alleged to TOI that even though the policemen were present at the time of the clash, they did not stop the patient's attendants.
In their explanation, the hospital administration informed the daily that it was a high-risk case and the attendants did not give the consent to conduct a c-section delivery.
Meanwhile, the doctors have demanded the arrest of the accused immediately under the Rajasthan Medical Protection Act. The Act deals with the prohibition of violence against Medicare Service Persons and Damage to Property in Medicare Service Institutions and for matters connected therewith and incidental thereto.
The demands also include the implementation of better security measures at all hospitals.
Taking a serious note, the administration of the Sawai Man Singh Medical College (SMS Medical College) issued a direction to all medical superintendents of hospitals attached to the college to cancel leaves of doctors.
Read also: Government Rajaji Hospital: Female PG doctor assaulted by patient kin; Doctors stage flash protest
Assault on medical professionals has proven to be an uncontrolled horrific menace which doesn't seem to stop. These rampant instances of violence portray nothing but the lack of trust of patients on their doctors and that medical professionals are being made the scapegoat of the public frustration.
Source : with inputs