Elderly patient hugs PPE clad doctor after recovering from COVID, picture goes viral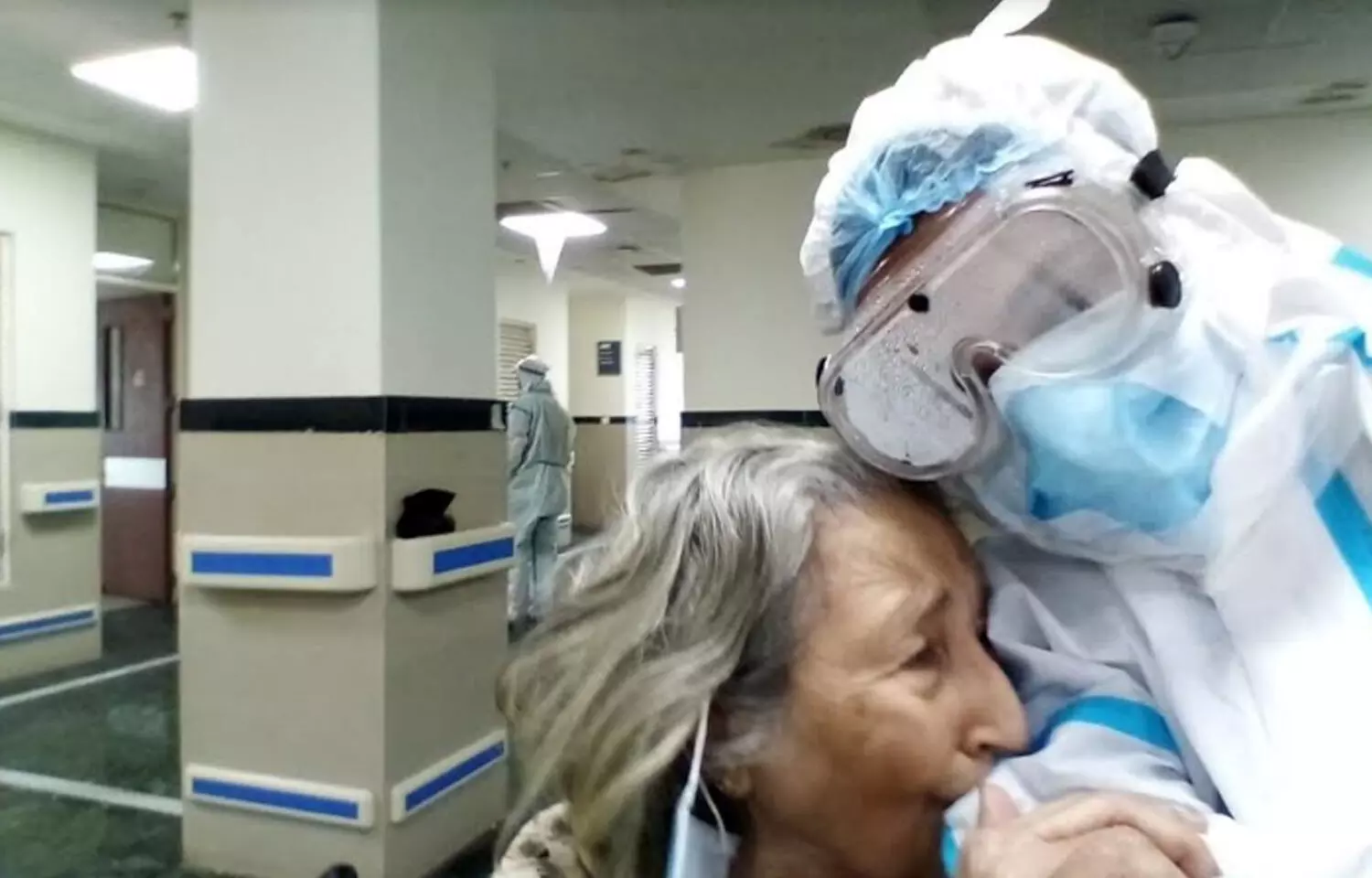 Kolkata: With healthcare workers falling victim to violence even after their desperate efforts to save the patients, a gentle gesture of gratitude of an elderly patient who won the battle against Covid-19 has dispersed positivity throughout the medical community.

A picture of a 75-year-old woman hugging her PPT-clad doctor after recovering from COVID has recently gone viral on social media.

Though the doctors are burnt out under the constant pressure of work amid surging Covid-19 cases, the picture shared by the doctors of Kolkata Medical College has spread hope via social media.
Several doctors shared the picture and wished good health for the women and the doctor.
Medical College of Kolkata Resident Doctor Association (MCK RDA) too shared the photo stating that the elderly lady fought against COVID for 10 long days and after recovering from the disease, she has expressed her gratitude towards her doctor by hugging the doctor clad in the PPE Pit. The picture was captioned as " Emotions can touch hearts even through the PPE and hazy googles."
One Tanmoy Dey has also shared the pictures on Facebook stating, " After 10th of days of struggle against COVID, the 75-year-old grandmother finally recovered, On her way home she made sure to hug the Dr Avisikta who treated her during the long struggle. She showered love and blessing for the doctor." The post has already reached 1.9K shares and many comments on Facebook. Many have commented on the photo appreciating the efforts of the doctors while wishing the elderly woman a speedy recovery and some have also sent the COVID warriors virtual hugs.
Congratulating the doctors, one of the netizens stated, "It is really appreciable, words won't be enough to show the gratitude to the Doctors, Nurses all the staffs of Kolkata Medical College and to the entire Sawasth Bhavan for such a great God Blessed work Thank you all for all your support. It wouldn't have been possible without you all." "Thank you is not enough for all the doctors, nurses, and all the staff of Kolkata medical college. I bow my self to the great work done at this hospital to instill the belief in mankind and restore faith in humanity during these distressing time. May God give you the courage to move forward in the path you are pursuing", commented another. While some compared them with superheroes in costumes, some have called them "pride of country".