Viral Photo: Doctor shares repercussion of wearing PPE kits for long hours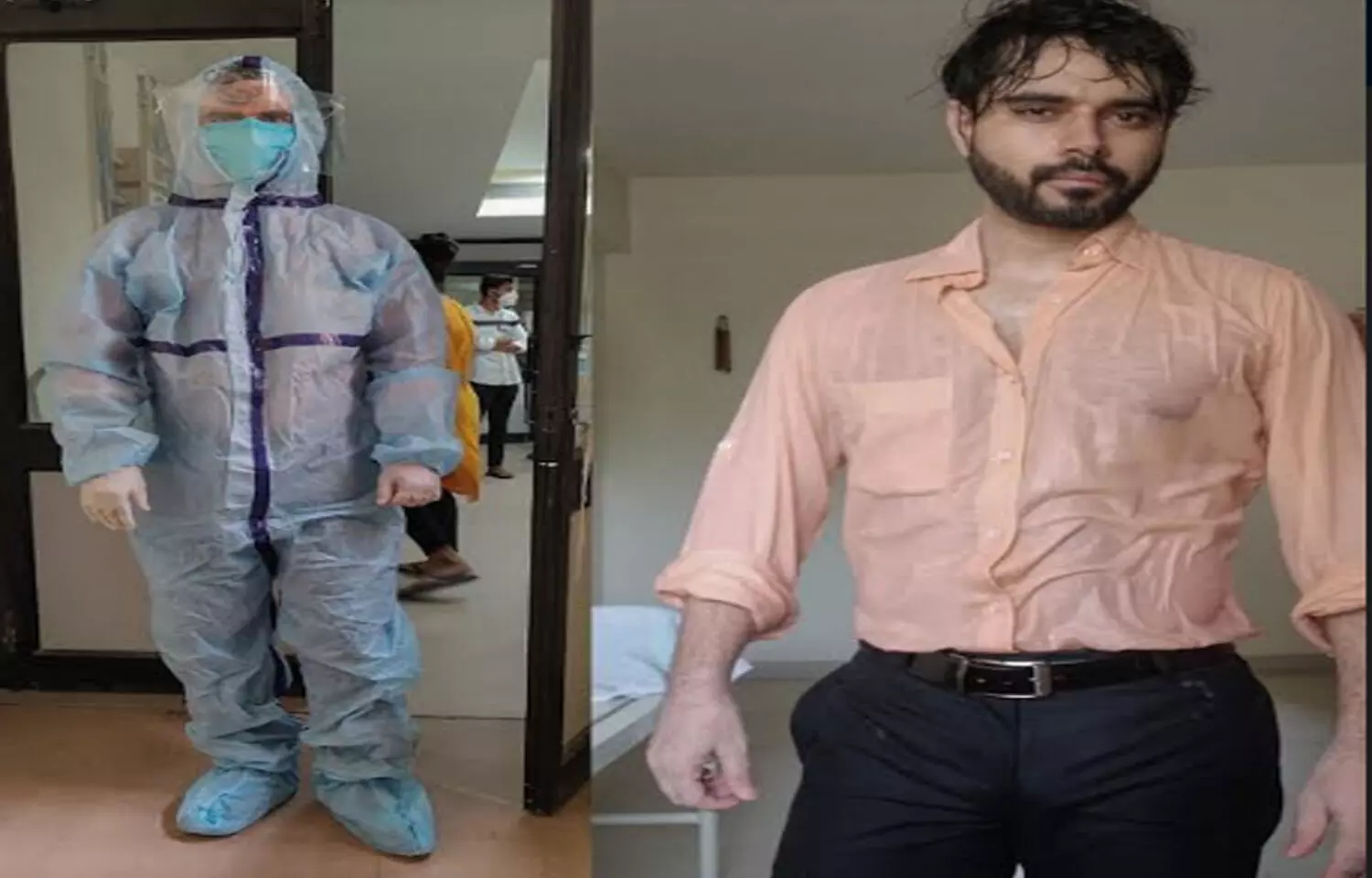 New Delhi: As the country is struggling to cope with the second wave of the Coronavirus pandemic, people have started to appreciate the efforts and untiring hard work by the doctors and healthcare workers, fighting in the frontline.

Deprived of food, sleep, and rest, medical professionals all over the world are giving their best efforts to save lives while wearing PPE kits for hours. Recently, a viral photo by a doctor giving a glimpse of the after-effect of wearing PPE has taken the internet by storm.

The doctor, identified as Dr Sohil Makwana, shared on his Twitter handle a collage- one part of which shows the doctor in a PPE, and the other one showing his image drenched in sweat from wearing the protective shield against the virus for hours. He captioned it with a line, "Proud to serve the nation."
In another Tweet, he expressed on the behalf of doctors and healthcare workers how hard they all are trying to win this war against Covid-19. He also requested everyone to go for vaccination as he regards it to be the only solution.

He wrote, "Talking on the behalf of all doctors and health workers.. we are really working hard away from our family.. sometimes a foot away from positive patient, sometimes an inch away from critically ill oldies... I request please go for vaccination.. it's only solution ! Stay safe."
In the same thread, the doctor advised everyone to keep a pulse oximeter as it is the primary caretaker nowadays, considering the circumstances.
He also informed that he made sure that his parents were inoculated. He wrote, "Just inoculated my parents with second dose.. I've protected my parents.. Did u? Go.. Grab a shot for yourself, for your family, and for all of us...!! Together we can do.."
Soon, the photo collage of the doctor with and without became viral on the internet. The photo has been liked by more than 1 lakh 33 thousand users and shared by thousands.

Netizens started flooding the comment section with love and gratitude. One user wrote, "A big thank you to you & all the doctors, healthcare workers for the yeomen service. May God bless you all with good health and protect you all from the deadly virus."
Another one commented, "When all this gets over I hope the nation unites to celebrate our healthcare workers in grand fashion."
Speaking to Times Now, Dr Sohil, who works at GMERS Medical College Dharpur in Gujarat, said, "I was posted in Covid triage area and ward. It was too hot and humid. Got drenched in sweat at the end of day."

"This is not about me. This is about all the healthcare staff. From bottom to up, everybody is working 24*7," he further added.
Commenting on his reaction after the picture went viral, he told the daily, "I'm feeling okay. It's not a celebration. I'm happy that our condition is reaching people. The circumstances that we are living in, staying away from the family... We need co-operation."
Further encouraging people to engage in at least one extra-curricular activity apart from the usual professional life for the sake of mental health, the doctor added, "I like to write. I don't watch TV. I started writing a novel. This is my stress buster. I have written film scripts in the past. I also have a passion for photography."
"We need to change our lifestyle to deal with the pandemic. People should exercise and have a good diet," he further said.
Also Read: Mumbai's specialist doctor breaks down while urging people to take Covid-19 seriously, Video Goes Viral
Source : with inputs