Govt doctor gets thrashed for advising man not to ride bike with one hand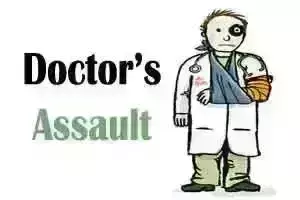 Coimbatore: A government doctor was assaulted by a group of men and women for advising one of them not to ride his bike with one hand while holding his child on the other hand. The offender identified as a building contractor was arrested by the Singanallur police on Tuesday.

The 47-year-old doctor, resident of Ramanujam Nagar at Uppilipalayam, who works at the Malayadipalayam government hospital was out for his evening walk when the incident took place on Monday.
Also Read:Doctor beaten up by patient kin over signing consent form, IMA demands action

Narrating the incident, a police officer told Times of India, that the 41-year-old building contractor, M Bhaskar was riding his bike with one hand while he held his child on the other. On seeing this, the doctor advised him not to do so.
This infuriated the man, who stopped the bike and started a fight with the doctor. "Suddenly, he started hitting the doctor. On seeing this, another man and two women joined Baskar in thrashing him", the officer stated.

The doctor was admitted to the Coimbatore Medical College and Hospital after he sustained a few injuries.
Later, a complaint was filed by him at the Singanallur police and a case was registered against the contractor under Sections 294b, 323, 324, and 506 (ii) of the Indian Penal Code (IPC).
The incident was recorded on a CCTV camera in the area and the police arrested Bhaskar the following day.
The police are yet to find the remaining three involved in assaulting the doctor, while Bhaskar was remanded in judicial custody.
Also Read: Goa: Patient kin brutally assaults gynaecologist, 3 held after State IMA uproar
Source : with inputs