Hyderabad: Man impersonates as doctor to invite patients to his cardiology centre; Arrested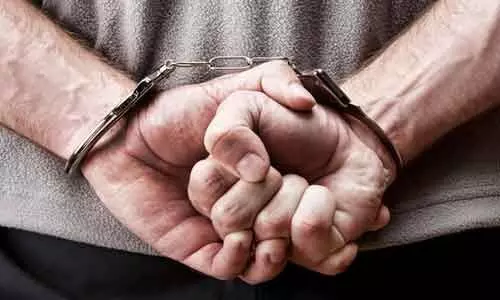 Hyderabad: In a recent case of impersonation, a man has been arrested for posing as a doctor at state run Gandhi Hospital while holding a World Health Organisation (WHO) batch.
According to recent media reports, the accused was running a community cardiology centre as a 'doctor' without any proof of qualification. The police informed that he was visiting the Gandhi Hospital for last few months and interacting with the patients. He was handing over his visiting card to the relatives of the patients and luring them to his hospital 'Community Cardiology' located at Uppal promising affordable treatment.
"He has been using a fake ID card posing as a doctor and was operating a clinic since January 1 this year. The accused was caught after a security guard grew suspicious of Panda when he visited Gandhi Hospital to invite patients to his clinic," said Chilkalguda inspector AC Balagangi Reddy.
Speaking to ANI about the incident, Dr Ramesh Reddy, Director Medical Education informed that the state-run Gandhi Hospital management has caught a person impersonating as a doctor in the hospital. He was holding a World Health Organisation (WHO) batch. The accused was nabbed after a security guard at the hospital caught him in the canteen and questioned him.
He introduced himself as a doctor from the cardiology wing. Later, the staff, along with the resident medical officer (RMO), alerted the police, reports Telangana Today.
Read Also: Dentist Arrested For Impersonating Amit Shah, DCI Hands Him Suspension Order
"The man was handed over to local police. His motto and why he was posing as a doctor in the Gandhi Hospital and how did he get the World Health Organisation batch is yet to be verified," he added.
The police confirmed to TOI, "The accused was running the clinic without proper degree or documents and charged his patients consultation fee. The accused, in the guise of a cardiologist, would visit Gandhi Hospital and distribute his fake visiting card requesting people to visit his clinic."
The accused was booked under IPC Sections 170 (personating a public servant), 419 (cheating by personation), 420 (cheating), 467 (forgery) and 468 (forgery for purpose of cheating) and relevant sections of Telangana Medical Practitioners Registration Act.

Read Also: Dissatisfied Patient Threatens To BOMB Coimbatore Medical College, Arrested
Source : with inputs