Dissatisfied patient threatens to BOMB Coimbatore medical college, arrested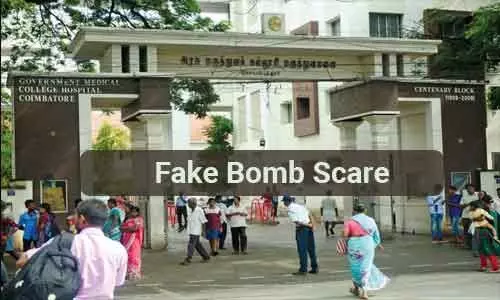 Coimbatore: A 37 year old patient at Coimbatore Medical College and Hospital (CMCH), took his dissatisfaction to another recently when he threatened to turn into a human bomb and "bring down" the said hospital.
The patient had apparently gone to the hospital prior in an inebriated state and also created a ruckus after the doctors "refused to provide him with treatment."
The local police control room, was indeed in for a shock, when they received a call from some person, Friday night last week who threatened that he will cause an explosion at the CMCH, having turned into a human bomb himself. The call was soon disconnected after the threat.
The police immediately began their investigation and traced the man using his mobile tower location. The man was identified as 37 year Peer Mohammad, who had made the threat call in an inebriated condition after he was " dissatisfied" with the treatment that was provided at the medical college and hospital.
He confessed that he issued the bomb threat as the duty doctors at CMCH refused to give proper treatment to him when he went there to get an injury on his head looked at.
The police first arrested him and then later released after issuing him a stern warning.