KNRUHS Reservation Policy upsets In-service Doctors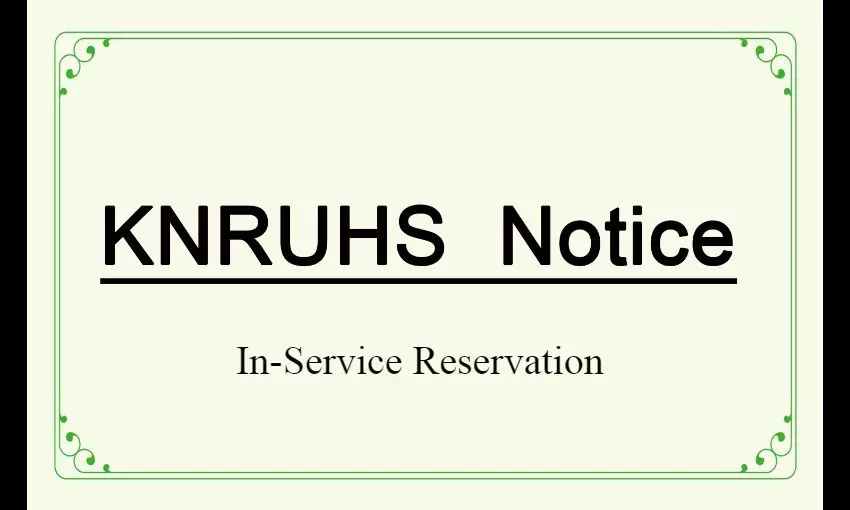 Hyderabad: Unhappy with the reservation criteria for the in-service doctors, as mentioned in the recent notification issued by the Kaloji Narayana Rao University of Health Sciences (KNRUHS), the doctors have demanded to revoke the same.

The PG medical admission Prospectus issued by KNRUHS has referred to the G.O 155, which mentioned that the in-service doctors of the State will get 20% reservation in clinical subjects and 30% reservation in pre and para-clinical subjects in government medical colleges.
Although Telangana Government Doctors' Association has welcomed the reservation policy for the in-service doctors, the association has urged the Government for an increase of seats that shall be reserved for the doctors working for the Government.
Medical Dialogues had recently reported that KNRUHS has recently released the information bulletin for admission to MD/MS and PG Diploma Courses. The Bulletin contains all the specific details that the candidates are required to know- including Bond Amount, Reservation Policy and Documents that are required to be uploaded along with the application form.
Section 4.3 of the Prospectus is as follows:
4.3. SERVICE CANDIDATES RESERVATION :
"4.3.1 20% of seats in postgraduate clinical broad specialties and 30% of the seats in postgraduate pre and para clinical broad specialties for degree and diploma courses are reserved for in-service candidates In government medical colleges under service quota which are horizontal reservations. Eligibility criteria for in-service candidates are as notified in G.O.Ms.No.155, HM&FW, Dated:18-11-2021."
However, alleging that the said GO 155 can seriously damage the government in-service doctors, the doctors have demanded that it should be revoked immediately.
Also Read: PG Medical Admissions 2021 at KNRUHS: MD, MS candidates to sign Rs 20 lakh, PG Diploma Rs 10 lakh bond

As per the latest media report by The Hans India, even though Dr. Putla Srinivas, president, Telangana Government Doctors' Association, has welcomed the move for reservation of seats for the in-service doctors, he has further pleaded with the State Government to recognize the selfless services of in-service doctors during hard times and increase the number of seats reserved for them.

While commenting on the matter he informed the daily that he has urged the Government for a reservation for 30 percent clinical and 50 percent non-clinical seats.
'If the quota is increased the hospitals in the State would be strengthened so that there would be a better possibility of providing quality medical services to people of Telangana', he said while speaking to the daily.
Meanwhile, the Telangana Public Health Doctors' Association has also condemned the notification issued by KNRUHS and referred to it as a "humiliation and disrespect to public health doctors for their relentless, selfless commitment towards public health.
Also Read: DNB Post MBBS, Diploma Courses in Haryana: In-service Doctors to Avail 50 percent Reservation
Source : with inputs