Maharashtra Doctor booked for allegedly drugging, raping patient in car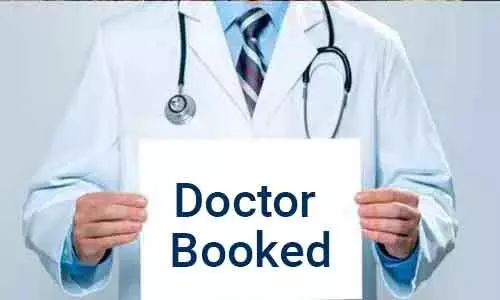 The doctor allegedly offered her Rs 15,000 to keep mum.
Amravati: An offense has been registered against a 48-year-old doctor in Amravati for allegedly raping a married woman in his car after intoxicating her, police said here on Friday.
The accused has been identified as a doctor of Taj Nagar in Amravati.
As per the complaint lodged by the victim on Monday evening, the woman went to the clinic as she was not feeling well.

The doctor told her that her blood pressure was high and asked if she was under any stress.
When the woman told him about her inability to pay her daughter's tuition fees, the medical practitioner allegedly offered to help her to get a hand loan from his friend.
He asked her to reach the Camp area, which she did, and waited for the doctor near AMC school No. 13 at Rampuri Camp in Amravati.
The doctor reached the spot and picked up her and allegedly provided refreshments and water to the woman in the car.
After consuming, the woman started feeling dizzy.
The doctor then allegedly stopped the car near SRPF Quarter on Chandur Railway road here and committed the heinous crime.
When the woman came back to her senses and realized what had happened to her.
The doctor allegedly offered her Rs 15,000 to keep mum.
The woman, however, lodged a complaint against the doctor on Wednesday night, said police adding that further probe was underway.
Also Read: Nagpur: Deceased Cardiologist booked for killing husband, children with anesthesia overdose
Source : UNI