MP doctor abused by politician withdraws resignation, AIIMS RDA seeks action against perpetrators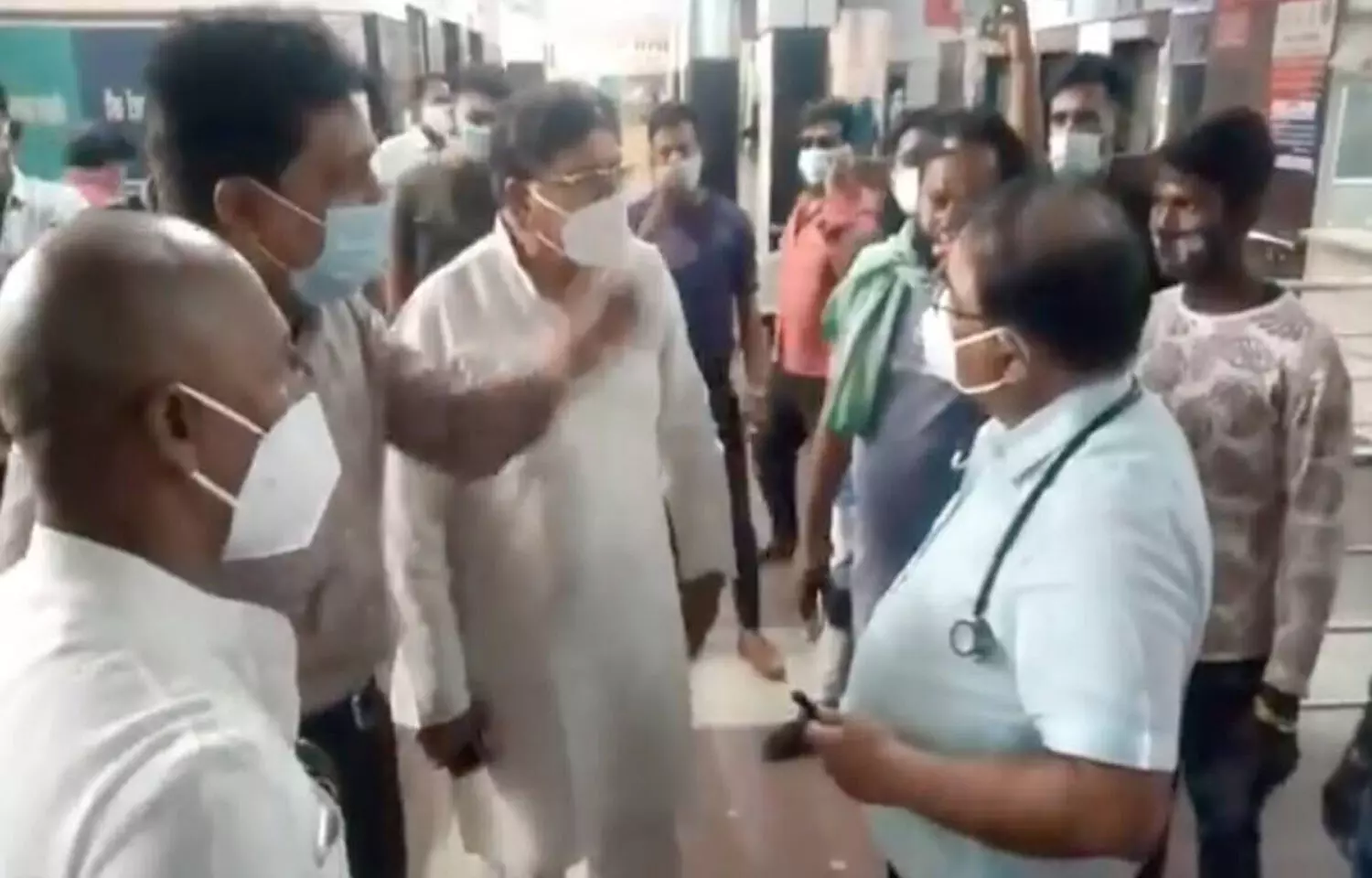 Bhopal: The senior doctor in a government hospital in Madhya Pradesh who had resigned after Congress MLA PC Sharma allegedly misbehaved with him following the death of a patient, withdrew his decision on Sunday, a minister said.

Madhya Pradesh Health Minister Prabhuram Choudhary said Dr Yogendra Shrivastava has agreed to take back his resignation on the assurance that action will be taken into the 'unfortunate' incident.
'Our senior doctor Yogendra Shrivastava has resigned after some politicians misbehaved with him. A patient in a critical condition was admitted to the trauma ward this morning. Dr Yogendra told his family his condition was too critical. During treatment he died, following which some politicians misbehaved with the doctor,' Government JP hospital civil surgeon Dr Rakesh Shrivastava told PTI.
A video of the incident, which went viral on social media, showed former minister PC Sharma and former Congress corporator Yogendra Chouhan purportedly shouting at Dr Yogendra Shrivastava.

CM Chouhan tweeted, 'Saddened by the incident, a senior doctor has resigned. We live in a civilised society and right now it is the time to stand together. Creating furore was neither in public good nor right in the fight against COVID-19.'
When contacted, Sharma said, 'The doctor did not talk to me in the morning when the family of the critical patient was trying to get him to talk to me over the phone. Instead, the doctor told them to take the patient to a private hospital.'
'A supporter of mine spoke loudly to the doctor following which I apologised to him. A patient of my constituency died this afternoon. In such circumstances won't a sensitive person get angry? A poor patient is being asked to go to a private hospital, nobody is talking about this,' Sharma claimed.
While MP Chief Minister Shivraj Singh Chouhan appealed to people to boost the morale of doctors instead of demoralising them, Sharma claimed he did not speak rudely to the doctor and was only involved since the patient was a member of his Assembly constituency.
'I talked with Dr Yogendra Shrivastava and told him that the state desperately needs doctors during this difficult time of coronavirus outbreak. I requested him to withdraw his resignation and assured him of action in the unfortunate incident. He agreed to withdraw his resignation,' Choudhary said in a statement.
Meanwhile, the AIIMS-Resident Doctors' Association on Sunday condemned the incident and urged the Madhya Pradesh chief minister to take immediate action against the perpetrators.

The incident will break the morale of many frontline workers who have forgotten their own wellbeing while helping those in distress in this COVID-19 pandemic and even before, the AIIMS-RDA said PTI.

Demanding that the perpetrators be taken to task, it said, 'Yesterday's event was not an isolated occurrence and doctors throughout the country face it time and again, given the huge burden of patients and the strenuous work, especially during the COVID-19 pandemic.' The doctors' body, which also wrote to Shrivastava, said despite the pressure, the best possible care is offered to patients depending on available resources and the human ability of doctors.
'Instances like yesterday's incident negatively affect this constant endeavour by healthcare workers to do the best for their patients,' it said.
'We plead to our countrymen and our administrators to take cognizance of such episodes and support us when we are right. We are in this battle against COVID-19 together. We urge the Chief Minister of Madhya Pradesh to take immediate action against the perpetrators of this incident to respect the dignity of Dr Shrivastava and the sentiment of all doctors around the country,' the association said.
Also Read: AIIMS Patna Professor facing termination over lack of basic qualification during recruitment Resigns
Source : with agency inputs