On-duty doctor abused, assaulted by patient kin at Mangaluru hospital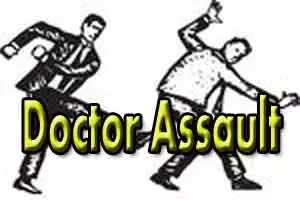 Mangaluru: A doctor on duty at AJ Hospital in Mangaluru was abused and assaulted by the attendants of a patient who was admitted in the Medical Intensive Care Unit (MICU) of the Hospital.

The doctor has been working in the hospital since 2019. He was on night shift on Monday when he was attacked.
Also Read: Jharkhand: MGM surgeon assaulted after woman alleges molestation

The patient who is a resident of Yellapur in Uttara Kannada has been receiving treatment in the hospital since October 30. She was on ventilator support as her condition had turned critical.

However, according to a recent media report in the Times of India, the patient's son wanted to get her discharged from the hospital, despite of the contrary medical advice given by the doctor.
The attack took place around 10.45 pm on Monday, when the discharge documents were being prepared. The kin of the patient entered the MICU and started speaking very roughly to the doctor, using foul language and abusing him. Further, they physically assaulted him, preventing him from performing his duties.
Following the attack, the doctor filed a complaint against the patient's kin at the Mangaluru East Police Station on Tuesday.
In a similar case of violence against doctors, Medical Dialogues team had earlier reported about the assault on a doctor working at the Nightingale Hospital by the kin of a pregnant woman who had died there. The family members had blamed the doctor for her death.
Also Read: Doctor beaten up, hospital ransacked after pregnant woman death, IMA demands action
Source : with inputs