Jharkhand: MGM surgeon assaulted after woman alleges molestation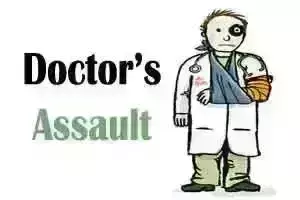 Jamshedpur: A surgeon associated with Mahatma Gandhi Memorial (MGM) Medical College Hospital was assaulted by the relatives of a woman who alleged molestation by the doctor.
As per various media accounts, the incident took place when a woman, a resident of Mango Waris Colony came to the clinic when the doctor was attending the patients at the Medicare Nursing and Research Institute situated in New Purulia Road No 13. However, the woman went home crying and told her relatives that the doctor had allegedly molested her.
Also Read: Gujarat: State IMA asks lawyers not to defend duo who attacked doctors

Upon hearing this, the relatives of the woman came to the clinic. They started beating and assaulting the doctor, reports The Avenue Mail. The doctor reportedly attempted to resist their attack.
Soon the cops were informed. However, according to a recent media report in Jagran, when the police reached the spot, the doctor had gone away. The police have been trying to reach him.
The Indian Medical Association (IMA) secretary, Dr Saurav Chaudhary was also informed about the incident, who immediately tried to contact the surgeon but could not reach him. Dr Chaudhary eventually attempted to contact the police to understand the entire issue. However, the police are said to be investigating the case.
Also Read: Stanley surgeon transferred after PG medico alleges sexual harassment

Source : with inputs