Raipur Hospital Fire: 2 doctors arrested under IPC 304 A, IMA demands high-level investigation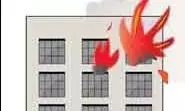 Raipur: Two doctors belonging to the management team of a Raipur-based multi-specialty hospital have been detained by police on Tuesday in a massive hospital fire that claimed the lives of five Covid-19 patients recently.

Search is underway for two other board members, Police has told PTI. After the incident, the police had registered a case under Section 304-A (causing death by negligence) of the Indian Penal Code (IPC).
Meanwhile, the Indian Medical Association (IMA) has condemned the way police acted upon the doctors in this case and demanded a high-level probe into the "legally unwarranted action" by the police, seeking intervention of Chief Minister Bhupesh Baghel into the matter.
Also Read: Backlash: Doctors launch Twitter Storm demanding IMS Cadre, Condemns Postponement of NEET PG

The fire broke out on April 17 in the COVID-19 ward of the Rajdhani Super Specialty Hospital located at Pachpedi Naka under Tikrapara police station limits. One patient was charred to death while four others died of suffocation, officials earlier said. The Raipur district administration had ordered a probe into the incident.

"Based on the investigation findings, the Tikrapara police here arrested two hospital board members for alleged negligence causing death of COVID-19 patients,' Purani Basti City Superintendent of Police Manoj Dhruv said. He said a search is on for two other hospital board members of the hospital.
The police official said a probe into the incident revealed that adequate arrangements were not made in the hospital to deal with the fire. Experts of the Forensic Science Laboratory, based on the crime scene investigation, have also pointed to some 'negligence', he said.
Also Read: Maha: Massive Fire Breaks Out At Pharma firm in Ratnagiri

Although the Indian Medical Association (IMA) expressed regret over the situation, they also condemned the Police action regarding the matter.

"They were taken into custody like habitual criminals. All doctors and paramedical staff risking their lives are devotedly serving the people during the ongoing Covid pandemic. No doctor wishes to kill the patient. Such deplorable incident of arrests of doctors and putting them behind bars will infuse a sense of insecurity among the healthcare professionals," Dr. Mahesh Sinha, president of the Chhattisgarh unit of the IMA told New Indian Express.
IMA also cited the Apex Court's observations on expressing gratitude to the doctors for their vital role during the Covid-19 pandemic, and the Court's emphasis to ensure safety and welfare of the doctors regarding the matter.
Dr. Rakesh Gupta of the Chairman-Chhattisgarh Medical Board told the daily, "Before the arrest of the doctors under Section 304(2), the recommendation of the Medical Board is essential. And it was not taken."
Chief Minister Bhupesh Baghel had announced an ex-gratia of Rs 4 lakh each to the families of the deceased.
Also Read: SC expresses Gratitude for doctors, asks centre for compensation for contribution
Source : with agency inputs