Sun Pharma Launches Sunkalp initiative for the welfare of doctors and their families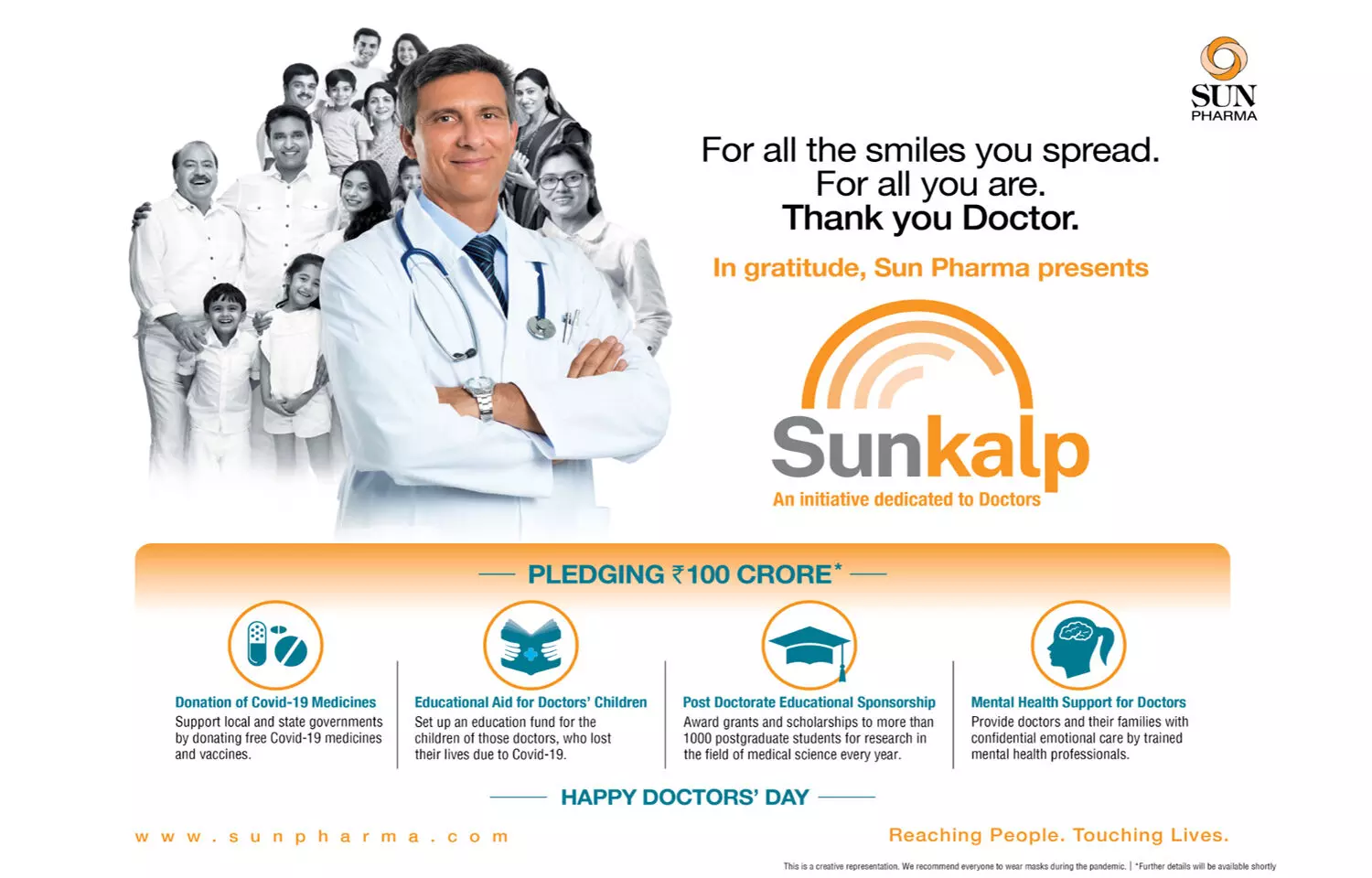 New Delhi: In a major move to boost the well being of the medical fraternity, Drug Major Sun Pharma has announced the launch of its a special initiative "Sunkalp" for the welfare of doctors, their families and the community.

Under "Sunkalp" special programs will be undertaken by the company ranging from providing Mental Health Support to doctors and their families through counselling and webinars to providing educational aid to the children of doctors who have lost their lives fighting the COVID-19 pandemic. The initiative will also see the launch of a special sponsorship for postgraduate medical students for medical & clinical research in various fields. More than 1000 young scholars will receive grants for their research projects. These initiatives will be rolled out in a phased manner.
The company has committed Rs. 100 crores towards these initiatives, which includes a donation of Covid-19 medicines to communities at large through local & state government institutions
Speaking about the initiative, Kirti Ganorkar, CEO – India Business, Sun Pharma, said, "Indian healthcare professionals have faced unprecedented challenges during the pandemic, and their determination to fight against all odds inspires us every day. Sunkalp is a tribute to these heroes for their selfless acts of sacrifice and kindness. Through this initiative, we want to extend our gratitude to them and contribute to strengthening the healthcare ecosystem."

Details of the initiative include:
Mental Health Support for Doctors & their Families
While the pandemic has brought stressful times for all, the pressure on the medical fraternity has reached new heights. Long stressful working hours, witnessing casualties and maintaining distance from loved ones have become normal for them. These factors can result in stress & exhaustion not only for them but also for their families. Hence, to help them cope with the same. Sun Pharma has partnered with Mann Talks to provide doctors and their families with free and confidential emotional and psychological care by trained mental health professionals.
Respecting the privacy of doctors as well as realizing the significance of confidentiality, no information shared with Mann Talks will ever be shared with any third party, including Sun Pharma.
Mental Health Webinars for Doctors

Specific webinars will also be held to educate clinicians on mental health issues and enable them to take better self-care and provide effective patient care. The sessions will include real-life case studies and offer practical tips for their well-being.
Post Doctorate Educational Sponsorship
Believing that research is the foundation of a strong medical support system in any nation., Sun Pharma will sponsor postgraduate medical students for medical & clinical research in various fields. More than 1000 young scholars will receive grants every year for their research projects
Educational Aid for Doctor's Children.
According to the Indian Medical Association (IMA), 1500+ doctors have been lost by the country to Covid-19 in the first and second waves. To pay homage to the martyred healthcare heroes, Sun Pharma is setting up an Education Fund for their children. Sun Pharma will provide an educational grant to the affected families through this fund.
Donation of COVID-19 Medicines
Availability of medicines and vaccines has emerged as a significant challenge during the COVID-19 pandemic. To bring some relief, Sun Pharma will support local and state government institutions to lower their burden and provide ground-level assistance.
Sun Pharma has recently has launched a website, https://sunpharmasunkalp.com/ that gives more details on the initiatives under Sunkalp. This initiative is restricted to India.
The above article has been published under MD Brand Connect Initiative