Breaking News: Rs 50 lakh per person Insurance cover for all doctors, nurses and frontline workers fighting coronavirus, says FM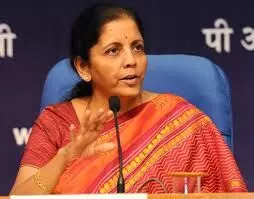 New Delhi: In a major thank you to doctors, nurses and paramedical staff, including cleaning staff working as front line soldiers working for India's Battle against coronavirus, Finance Minister Nirmala Sitharaman has announced a Rs 50 lakh per person insurance to meet any contingencies or mishaps happening to them in case of their service.
Around 20 lakh medical workers will benefit out the proposed scheme, MOS, Finance, Anurag Thakur has stated
The finance ministry has further announced a series of fiscal stimulus measures to deal with economic loss out of coronavirus outbreak. All in all , the Centre unveiled a Rs 1.7 lakh crore ($22.6 billion) spending plan as part of measures to ease the economic impact of coronavirus pandemic on the poor in the worlds most populated nation after China.
The plan will include cash transfers as well as steps on food security, Finance Minister Nirmala Sitharaman said in New Delhi Thursday. The package will benefit migrant workers, she said.
Meanwhile, the Modi Govt had earlier announced an allocation of Rs 15000 crore to strengthen healthcare infrastructure to fight coronavirus in India.
"The Centre has decided to give Rs 15,000 crore for testing facilities, personal protection, isolation beds, ICU beds, ventilators and training medical and paramedical staff. Healthcare should be the only priority of every state government," stated the PM.