MCI proposes to amend feeder qualifications of 12 DM, Mch courses, invites comments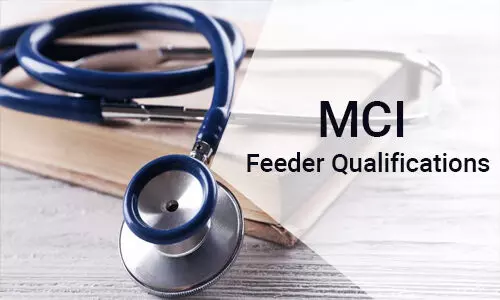 The comments/suggestions should reach Council office by email/post on or before 15 February 2020 on Email ID:- pg@mciindia.or. or at postal address: Secretary-General, Medical Council of India, Pocket-14, Sector-8, Dwarka Phase-I, New Delhi -110077
New Delhi: With the rising trend of super-specialisation in modern medicine, the Medical Council of India's decision on various feeder qualification play a very important role in determining the future path and career discipline of various specialists. Off lately, there has been a major debate on MCI's feeder qualification for various new upcoming super-specialisations
While the apex medical regulator constantly makes updates in feeder qualifications to keep them in line with upcoming clinical advancements, recently the council made amendments in the Postgraduate Medical Education Regulations, 2000, with regard to prior qualifications/feeder qualifications for 12 relatively new kinds of Super-Speciality Courses. These included the subjects Medical Genetics, Organ Transplant Anaesthesia & Critical Care, Critical Care Medicine, Paediatric Hepatology, Neuro Anaesthesia, Paediatrics Nephrology, Virology, Paediatric Oncology, Geriatric Mental Health, Paediatrics & Neonatal Anaesthesia, Clinical Haematology and Hand Surgery and the said amendments were forwarded to the Central Govt., Ministry of Health and Family Welfare, Nirman Bhawan, New Delhi vide Council letter dated 06.06.2019 for approval. The Ministry of Health and Family Welfare has suggested that the drafts be placed in public domain for consultation.
Meanwhile the Hon'ble High Court of Delhi vide order dated 06.12.2019. in W.P. No. 12829/2019 Mr. Manthan Kathrotiya & Others vs. National Medical Commission & others has directed to consider the writ petition as a representation for change in feeder qualification for the Super-speciality course, which is DM (Clinical Haematology). The Ministry of Health & Family Welfare has also asked Board of Governors for Public consultation in this regard.
Accordingly, the draft of notifications dated 06.06.2019 containing proposal regarding feeder courses for Super Specialty courses have now been placed on MCI website for including comments/suggestions from Stakeholders.
The comments/suggestions should reach Council office by email/post on or before 15 February 2020 on Email ID:- pg@mciindia.or. or at postal address: Secretary-General, Medical Council of India, Pocket-14, Sector-8, Dwarka Phase-I, New Delhi -110077
Feeder qualifications for DM (Clinical Hematology)-
The feeder qualifications of DM (Clinical Hematology) were earlier MD (Medicine/Pediatrics), as well as MD (Pathology/Biochemistry). However, in 2019 the MCI proposed to remove MD (Pathology/Biochemistry) as feeder qualifications. The said proposed amendment was challenged in court by a pathologist after which the health ministry asked the MCI to take public consultation on the matter
Feeder Qualifications of Other SS courses
The MCI in June 2019 had forwarded to the health ministry the feeder qualifications of about 10 DM and 1 Mch course, which based on the direction of the Union Health Ministry have now been put in public domain for comments. The following table summarises the super-specialisations as well as their feeder qualifications









S.No.

Area of Specialisation

Prior Requirement

7

Medical Genetics

MD (General Medicine) MD/ MS OBG

MD (Paediatrics)

20

Organ Transplant Anaesthesia & Critical Care

MD (Anaesthesia)

21

Critical Care Medicine

MD (Emergency Medicine) MD (General Medicine)

MD (Respiratory Medicine)

MD (Anaesthesia)

MD (Paediatrics)

22

Paediatric Hepatology

MD (Paediatrics). •

23

Neuro Anaesthesia

MD (Anaesthesia)

24

Paediatric Nephrology

MD (Paediatrics)

27

Virology

MD (Microbiology)

28

Paediatric Oncology

MD (Paediatrics)

29

Geriatric Mental Health

MD (Psychiatry)

30

Paediatrics & Neonatal Anaesthesia

MD (Anaesthesia)



| | | |
| --- | --- | --- |
| S.No. | Area of Specialisation | Prior Requirement |
| 13 | Hand Surgery | MS (General Surgery) MS (Orthopaedics). |