COVID 19 Impact: NBE defers DNB counselling, to release schedule soon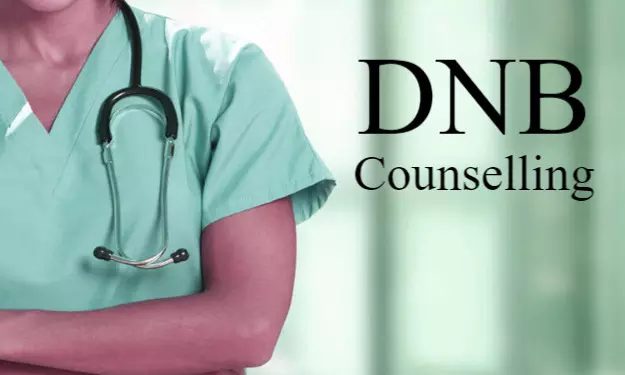 New Delhi: In view of the ongoing coronavirus outbreak and the subsequent lockdown, the National Board of Examination (NBE) has deferred the counselling for 2020-21 Admission Session for DNB Broad Speciality Courses. With the postponement in order, the authority will publish the schedule for the DNB counselling soon.

The notification issued to this effect released on the NBE's official website clearly informs all NEET PG 2020 and DNB PDCET 2020 qualified candidates:
• Counseling for 2020-21 Admission Session for DNB Broad Speciality Courses was deferred by NBE due to ongoing lockdown and COVID 19 pandemic.
• NBE shall be announcing the online centralized merit based counseling schedule for DNB Broad Speciality Courses in the First week of May 2020.
To view the notice, click on the link given below:
The Government of India established the National Board of Examinations (NBE) in 1975 with the objective of improving the quality of the Medical Education by establishing high and uniform standards of postgraduate examinations in modern medicine on All India Basis and utilizing existing healthcare infrastructure for capacity building.

Read Also: Contact Centre Services Suspended At NBE Due To Coronavirus Lockdown
NBE at present conducts postgraduate and postdoctoral examinations in approved specialties leading to the award of Diplomate of National Board. The Medical Council of India has laid down standards for postgraduate examinations conducted by various medical colleges and affiliated to concerned universities and other institutions, yet the levels of proficiency and standards of evaluation vary considerably in these institutions.
The Examinations conducted by NBE provide a common standard and mechanism of evaluation of minimum level of attainment of the knowledge and competencies of medical specialists. Moreover, intra country and international comparisons are facilitated with the availability of common evaluation mechanism.
Read Also: DNB Practical Exams Deferred Due To COVID 19 Outbreak: NBE Issues Notice
For more details keep visiting the official website of the NAT BOARD mentioned below: