DNB Practical Exams December 2019: NBE To conduct Webinar For Doctors; Releases Schedule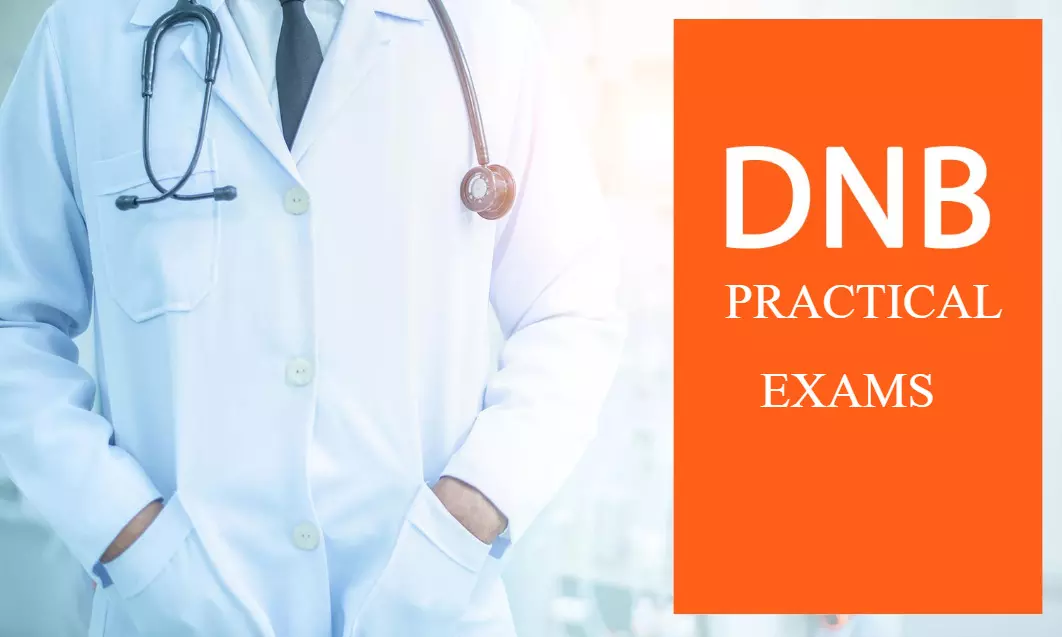 New Delhi: Through a recent notification, the National Board of Examinations (NBE) has informed that it is going to organise a series of the webinar for all the concerned candidates to clear all doubts on the new scheme declared for DNB Practical Exams December 2019 session. The third phase schedule for the webinar has also been released by the exam body.

Earlier, the exam authority had declared that it is going to conduct the DNB Final Practical Examination of December 2019 session in phases. In the first phase, it has given a New Revised Format for DNB candidates in all those specialities which are feeder qualifications for the NEET SS Examination and Fellowship Entrance Test.
NBE had also laid down a new revised scheme of examination for DNB Final Practical Examination that shall be followed in the major clinical specialities as mentioned in the accompanying Annexure.
However, apparently, there were a lot of confusions over the newly released scheme. Therefore, in order to explain the new pattern and to have interactions with the concerned exam going candidates about the new format of DNB Practical Exam, NBE is organizing a series of Webinar for all the concerned candidates as per schedule attached below. Link to the webinars will be sent to the concerned candidates by email.
Sr. No.

Name of the Specialty

Batch

Date & Time of Webinar

1

Anaesthesiology

A

5th November 2020

(3:00 PM)

2

Paediatrics

A

3

General Surgery

A

4

Obstetrics & Gynaecology

A

5

Orthopaedics

B

6th November 2020

(3:00 PM)

6

Radiodiagnosis

B

7

General Medicine

B

8

ENT

B

9

Ophthalmology

B
3. All the concerned candidates are requested to participate in the Webinar as per the schedule by joining the Webinar through the link provided at the designated time and clear their doubts/queries, if any, during the Webinar.
To view official notice, click on the following link:
https://medicaldialogues.in/pdf_upload/pdf_upload-141787.pdf
DNB Practical Examinations for the rest of the specialities of December 2019 session which are yet to be completed will be conducted in the Conventional mode.
All the concerned candidates will be able to download their admit cards from the Online Exit Examination Portal (OEEP) account as and when DNB Practical centres are notified.
Schedule of the Third phase of DNB Practical Exams, December 2019 session

| | | |
| --- | --- | --- |
| S.No. | Name of the Specialty | Date & day of DNB Practical Exam |
| 1 | Anesthesiology | 10th November 2020 (Tuesday) |
| 2 | Pediatrics | 19th November 2020 (Thursday) |
| 3 | General Surgery | 24th November 2020 (Tuesday) |
| 4 | Obstetrics and Gynecology | 27th November 2020 (Friday) |
| 5 | Orthopedics | 02nd December 2020 (Wednesday) |
| 6 | Radiodiagnosis | 08th December 2020 (Tuesday) |
| 7 | General Medicine | 09th December 2020 (Wednesday) |
| 8 | ENT | 11th December 2020 (Friday) |
| 9 | Ophthalmology | 15th December 2020 (Tuesday) |
For more details, log on to the official website of NBE:
Read also; NBE Releases Schedule For 3rd Phase Of DNB Practical Exam December 2019 Session