CDSCO Declares 15 Drug Samples Including Levofloxacin, Paracetamol As Not Of Standard Quality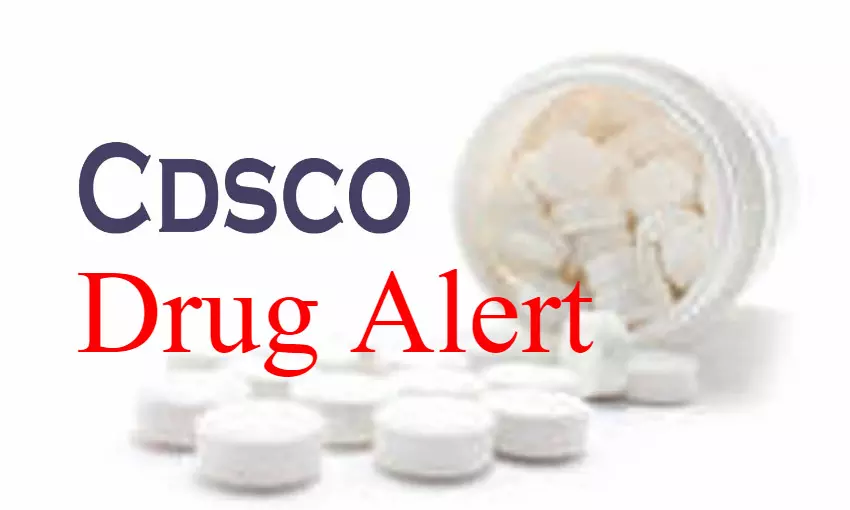 New Delhi: The apex drug regulatory body, Central Drugs Standard Organization (CDSCO) has flagged 15 drug samples as "Not of Standard Quality" after they failed to qualify a random drug sample test for the month of December 2020.

These drug samples included popular formulations and brands like Paracetamol Tablets IP 650 mg, Levofloxacin Tablets IP L-FOX-500 TABLETS, Fluconazole Tablets IP 150 mg FLUCOL TABLETS, and others. The list also included samples of DOCTORS CARE HAND SANITIZER, Calamine, Tramadol Prolonged Release Tablets (CORLIVIDOL-100 SR TABLETS), Rosuvastain Tablets IP 20 mg, and others.
This came after the analysis and test conducted by the CDSCO on 943 drug samples. Out of this, 928 samples were found of Standard quality while 15 of them were declared as Not of Standard Quality (NSQ).
Drugmakers including Bharat Parenterals Ltd., Nanz Med Science Pharma Pvt. Ltd. (A unit of Med Science Canada Inc.), Perk Pharmaceuticals Ltd., Unicure India Ltd., and others are involved in manufacturing the formulations collected by the authorities for random testing.
A few of the causes why the drug samples tested failed were due to Dissolution, Assay of Isopropyl Alcohol, Hydrogen Peroxide, Glycerol, Related Substances, Uniformity of weight, and others.
The samples collected were tested in three laboratories namely CDL Kolkata, RDTL Chandigarh, CDTL Mumbai.
List of Drugs, Medical Devices and Cosmetics declared as Not of Standard Quality/Spurious/Adulterated/Misbranded, for the Month of December-2020
| | |
| --- | --- |
| Total number of samples tested | 943 |
| Total number of samples declared as of Standard Quality | 928 |
| Total number of samples declared as Not of Standard Quality | 015 |
| Total number of samples declared as Spurious | 0 |
| Total number of samples declared as Misbranded | 0 |
S.No.

Name of Drugs/medical device/cosmetics

Batch No./Date of Manufacture/Date of

Expiry/Manufactured By

Reason for failure

Drawn By

From

1.

Alora 0.25 (Alprazolam Tablets I.P. 0.25 mg)

B. No.: 03A19T02

Mfg dt: 11/2019 Exp dt: 10/2022 Mfd by: M/s. Shine

Pharmaceuticals Limited,

Plot No. 132, Karjan – Vemardi Road, Juni Jitherdi, Te. Karjan – 391 240, Dist. Vadodara, Gujarat.

Dissolution

CDSCO

East Zone Kolkata

CDL

Kolkata

2.

Telmicept – 40 (Telmisartan Tablets I.P. 40 mg)

B. No.: C21T479003

Mfg dt: 09/2019 Exp dt: 08/2022

Mfd by: M/s. Concept Pharmaceuticals Ltd., A- 28/3, MIDC, Chikalthana, Aurangabad – 431 006 Maharashtra.

Dissolution

CDSCO

Sub-Zone Guwahati

CDL

Kolkata

3.

HAND SANITIZER

B. No.: V20EL011 Mfg dt: 04/2020 Exp dt: 08/2022

Mfd by: M/s. VOWCARE PRODUCTS Plot No. 77, Zone 4th, I.G.C., SIDCO

Lassipora, Dist. Pulwama Jammu & Kashmir - 192305.

Assay of Isopropyl Alcohol, Hydrogen Peroxide, Glycerol

Drugs Control Department Srinagar

RDTL

Chandigarh

4.

PANTOPRAZOLE SODIUM TABLETS IP 40 MG

B. No.: ATPP-2011 Mfg dt: 06/2020 Exp dt: 05/2022 Mfd by: M/s. ANG

Lifesciences India Ltd. At

Kh No. 139/2, Village

Dissolution

CDSCO

Sub-Zone Jammu

RDTL

Chandigarh
Jodhapur, Barotiwala, Dist. Solan, (HP).

5.

DOCTORS CARE HAND SANITIZER

B. No.: 114D Mfg dt: 04/2020 Exp dt: 03/2022

Mfd by: M/s. Beaubelle'Z Health & beauty Care, NH8, Gujarat.

Assay of Ethyl Alcohol

CDSCO

North-Zone

RDTL

Chandigarh

6.

Paracetamol Tablets IP 650 mg PARLIN- 650 TABLETS

B. No.: CD505598

Mfg dt: 12/2019 Exp dt: 11/2021

Mfd by: M/s. Unisafe Bioscience Pvt. Ltd., At 3726/27, GIDC, Vatwa,

Ahmedabad Gujarat.

Dissolution

CDSCO

North-Zone

RDTL

Chandigarh

7.

SULFASALAZINE TABLETS B.P. 500 mg

B. No.: SSZT718 Mfg dt: 03/2020 Exp dt: 02/2022

Mfd by: M/s. Unicure India Ltd.C-21, 22 & 23, Sector-

3, Noida-201301 Distt. Gautam Budh Nagar Uttar Pradesh.

Related Substances

CDSCO

North-Zone

RDTL

Chandigarh

8.

Fluconazole Tablets IP 150 mg FLUCOL TABLETS

B. No.: BY20002

Mfg dt: 03/2020 Exp dt: 02/2022 Mfd by: M/s. Ortin

Laboratories Ltd. 275 &

278 (Part), I.D.A.

Pashamilaram-502307, Sanga Reddy Dist.

Telangana.

Dissolution and Related Substances

CDSCO

North-Zone

RDTL

Chandigarh

9.

CIPROFLOXACIN TABLETS I.P. 500

mg

B. No.: DT-281 Mfg dt: 01/2020 Exp dt: 06/2021

Mfd by: M/s. Daffodills Pharmaceuticals Ltd. Jawahar Nagar, Rohta Road, Meerut-250001, Uttar Pradesh.

Uniformity of weight

CDSCO

Sub-Zone Jammu

RDTL

Chandigarh

10.

Levofloxacin Tablets IP L-FOX-500 TABLETS

B. No.: SPTG-20639 Mfg dt: 10/2020

Exp dt: 09/2022

Mfd by: M/s. SPECTRUM FORMULATION PVT.

Uniformity of weight

CDSCO

North-Zone

RDTL

Chandigarh
LTD. Khasra No.12, Makhanpur, Bhagwanpur, Roorkee, Haridwar- Uttarakhand.

11.

Tramadol Prolonged Release Tablets (CORLIVIDOL-100 SR TABLETS)

B. No.: PTN-026 Mfg dt: 05/2020 Exp dt: 04/2022 Mfd by: M/s. Perk

Pharmaceuticals Ltd. A-7,

Industrial Estate,Partapur- 250103 Uttar Pradesh.

Dissolution and Related Substances

Drugs Control Department Govt. of

N.C.T. of Delhi

RDTL

Chandigarh

12.

Calamine, Diphenhydramine Hydrochloride and Camphor Lotion NANZIDRYL LOTION

B. No.: NYL-002 Mfg dt: 09/2019 Exp dt: 08/2022

Mfd by: M/s. Nanz Med Science Pharma Pvt.Ltd. (A unit of Med Science Canada Inc.) Rampur Ghat, Paonta Sahib- 173205.District-Sirmour Himachal Pradesh.

Assay of Camphor

Drugs Control Department Himachal Pradesh

RDTL

Chandigarh

13.

Rosuvastain Tablets IP 20 mg

B. No.: T9329

Mfg dt: 09/2019 Exp dt: 08/2022 Mfd by: M/s. Bharat Parenterals Ltd., Vill Haripura, Tal Savli, Vadodara-391520, Gujarat.

Dissolution

CDSCO

West Zone Mumbai

CDTL

Mumbai

14.

Cystecot-600

(N - Acetylcysteine Tablets)

B. No.: MT191313

Mfg dt: 08/2019 Exp dt: 07/2021

Mfd by: M/s. Mascot Health Series Pvt. Ltd., Plot No. 79, 80, Sector 6 A, IIE, SIDCUL, Haridwar- 249403, Uttarakhand.

Assay

CDSCO

West Zone Mumbai

CDTL

Mumbai

15.

Pantoprazole Tablets IP 40 mg

B. No.: T9356

Mfg dt: 09/2019 Exp dt: 08/2022 Mfd by: M/s. Bharat Parenterals Ltd., Vill Haripura, Tal Savli, Vadodara-391520, Gujarat.

Dissolution

CDSCO

West Zone Mumbai

CDTL

Mumbai