CDSCO drug alert flags 46 drugs as Not of Standard Quality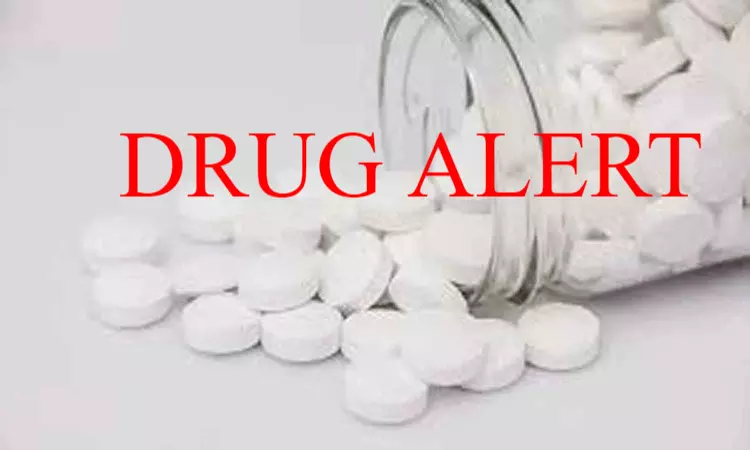 New Delhi: In its latest drug safety alert, the apex drug regulatory body, Central Drugs Standard Control Organization (CDSCO) recently flagged 46 medicine batches for failing to qualify a random drug sample test for the month of March. These drug samples including Asthalin - 4 (Salbutamol Sulphate Tablet I.P. 4 mg) manufactured by Cipla, Ciprofloxacin & Tinidazole Tablets (CIPROTEC-TZ) by M/s. Neutec Healthcare Pvt. Ltd, and are declared as 'Not of Standard Quality' while 0 out of the 46 drug samples have been declared as 'Spurious'.
This came after analysis and test conducted by the CDSCO, Drugs Control Departments, on 1673 drug samples. Out of this, 1627 samples were found of Standard quality while 46 of them were declared as Not of Standard Quality (NSQ).
Some of the reasons why the drug samples tested failed was due to the presence of Assay, Description, Particulate Matter & pH, Uniformity of Content & Dissolution, Dissolution, Related Substances, Description, pH, water content & Assay, Assay of Neomycin Sulphate, Polymixin-B Sulphate and others.

The samples collected were tested in four laboratories namely CDTL Mumbai, RDTL Chandigarh, CDL Kolkata, RDTL Guwahati., CDL Chennai.
List of Drugs, Medical Devices and Cosmetics declared as Not of Standard Quality/Spurious/Adulterated/Misbranded, for the Month of March 2020 reads;

| | |
| --- | --- |
| Total number of samples tested | 1673 |
| Total number of samples declared as of Standard Quality | 1627 |
| Total number of samples declared as Not of Standard Quality | 46 |
| Total number of samples declared as Spurious | 0 |
| Total number of samples declared as Misbranded | 0 |
S.No.

Name of Drugs/medical device/cosmetics

Batch No./Date of Manufacture/Date of Expiry/Manufactured By

Reason for failure

Drawn By

From

1.

Salbetol -2 (Salbutamol Tablets IP 2 mg)

B. No.: 469D005

Mfg date: 04/2019,

Exp date: 03/2021,

Mfd by: M/s. FDC Limited, Plot No L -40, Verna Industrial Estate, Verna, Salcete, Goa.

Related Substances

CDSCO, Hyderabad

CDL, Kolkata

2.

Amikacin Sulphate Injection I.P. 500mg / 2ml

B. No.: ANI3905

Mfg dt: 06/2019,

Exp dt: 05/2021,

Mfd by: M/s. Modern Laboratories, 45 -47, Sector D - 2, Sanwer Road, Indore (M.P.) 452015, India.

Description and Particulate Matter

CDSCO, East Zone, Kolkata

CDL, Kolkata

3.

Asthalin - 4 (Salbutamol Sulphate Tablet I.P. 4 mg)

B. No.: SA81637,

Mfg dt: 04/2018,

Exp dt: 03/2021,

Mfd by: M/s. Cipla Ltd., Kumrek, Rangpo, Sikkim - 737132, India

Related Substances

CDSCO, East Zone, Kolkata

CDL, Kolkata

4.

H-E-T – 2 ml (Etofylline & Theophylline Injection)

B. No.: 051904,

Mfg dt: 05/2019, Exp dt: 04/2021,

Mfd by: M/s. Bhavani Pharmaceuticals (P) Ltd., D- 4-G, Panki Ind. Area-1, Kanpur – 22.

Description and Particulate Matter

CDSCO, Bangalore

CDL, Kolkata
5.

Amoxycillin Trihydrate Dispersible Tablets I.P. 125 mg

B. No.: EAK103,

Mfg dt: 08/2018,

Exp dt: 07/2020,

Mfd by: M/s. Elegant Drugs Pvt. Ltd., R.S.No. 59/3A, Chalmatti – 581 196, Dist. Dharwad, State Karnakata.

Description and Uniformity of Dispersion

CDSCO, Bangalore

CDL, Kolkata

6.

Amloclav 625 (Amoxycillin & Potassium Clavulanate Tablets I.P.)

B. No.: BT136026,

Mfg dt: 04/2018,

Exp dt: 03/2020,

Mfd by: M/s. Shashi Pharma, S.N. 77/P, At. Vill. Dhanot, Chhatral – 382729, Ta. Kalol, Dist. Gandhinagar (Guj.).

Description, Dissolution, Water, and Assay

CDSCO, Bangalore

CDL, Kolkata

7.

Erythromycin Thiocyanate

B. No.: Q190402020,

Mfg dt: 23/04/2019,

Exp dt: 22/04/2022,

Mfd by: M/s. Ningxia Taiyicin Biotech Co. Ltd., Pacific Road, No. 1, Nuanquan Economic Zone, Helan Country, Yinchuan, Ningxia, China.

Water Content

CDSCO, Ahmedabad

CDL, Kolkata

8.

Paracetamol, Phenylephrine Hydrochloride and Chlorpheniramine Maleate Syrup (COLDBEST-PC SYRUP)

Batch No: DL5201

D/Mfg. : 09/2019

D/Exp.: 08/2021

Mfd. By- M/s Digital Vision Pvt. Ltd. 176, Mauza Ogli, Nahan Road, Kala Amb, Distt. Sirmour (H.P)

Uniformity of Volume, pH, and Assay of Phenylephrine Hydrochloride

Remark-Positive for Diethylene Glycol (Content: 32.30% w/v)

Drugs Control Department Nahan (H.P).

RDTL, Chandigarh

9.

Norfloxacin & Tinidazole Tablets (EMNORCIN-TL TABLETS)

Batch No.: DVT197270 D/Mfg. : 07/2019

D/Exp.: 06/2021

Mfd. By- M/s Digital Vision Pvt. Ltd. 176, Mauza Ogli, Nahan Road, Kala Amb, Distt. Sirmour (H.P)

Disintegration Test

CDSCO

North Zone, Ghaziabad.

RDTL, Chandigarh

10.

Paracetamol Tablets IP (SYNPAR TABLETS)

Batch No.:19SGJT005 D/Mfg.: 10/2019

D/Exp.: 09/2021

Mfd. By- M/s SYNOKEM Pharmaceuticals Limited Plot No. 36-36, Sector-6A,

Dissolution

CDSCO

North Zone, Ghaziabad.

RDTL, Chandigarh
IIE, SIDCUL, Ranipur, Haridwar-249403 (Uttrakhand)

11.

Paracetamol Paediatric Oral Suspension IP 125 mg/5 ml (STARMOL SUSPENSION)

Batch No.: RV19007

D/Mfg.: 11/2019

D/Exp.: 10/2021

Mfd. By- M/s Rivpra Formulations Pvt. Ltd., Plot No. 8, Sector-6A, IIE, SIDCUL, Haridwar-249403 (Uttrakhand)

Assay

Drugs Control Department Jammu

RDTL,

Chandigarh

12.

NUPUR HENNA

Batch No.: B731

D/Mfg.: 09/2019

D/Exp.: 08/2022

Mfd. By: M/s Progression Industries Pvt. Ltd., Unit-II, Plot No. 9B, Apparel Park cum Industrial Area, Village Katha, Baddi, Distt. Solan (H.P.)-173205.

Mineral Matter, Acid Insoluble Ash, Extraneous Sand, Total Aerobic Microbial Count, Total yeast and Mould Count

Drugs Control Officer, Srinagar.

RDTL,

Chandigarh

13.

Methylergometrine Maleate Tablets IP

Batch No.:19113201

D/Mfg.: 06/2019

D/Exp.: 05/2021

Assay

CDSCO

North Zone Ghaziabad.

RDTL,

Chandigarh

Mfd. By: Mercury Laboratories Limited, Unit: 2, Halol-Baroda Road, Jarod, Tal: Waghodia, Distt. Vadodara-391510

14.

Paracetamol and Mefenamic Acid Suspension ( EVIMOL-DS SUSPENSION )

Batch No.: L-409

D/Mfg. : 10/2019

D/Exp. :09/2021

Mfd. By: M/s Bioconic Remedies, Plot No. 66-67, Industrial Area, Gondpur, Paonta Sahib, Distt. Sirmour (H.P)-173205.

Assay of Paracetamol and Mefenamic Acid

Drugs Control Department Paonta Sahib, Distt. Sirmour.

RDTL,

Chandigarh

15.

Tinidazole Tablets IP 500 mg

Batch No.: BT-8416

D/Mfg. : 01/2019

D/Exp.: 12/2020

Assay

CDSCO

North Zone, Ghaziabad

RDTL,

Chandigarh

Mfd. By: M/s Omega Biotech Ltd., 7th Mile Stone, Dehradun Road, Roorkee - 247667 (UK)
16.

Paracetamol, Phenylephrine Hydrochloride and Chlorpheniramine Maleate Syrup (COLDBEST-PC SYRUP)

Batch No.: DL5201

D/Mfg. : Sep./2019

D/Exp.: Aug./2021

Mfd. By: M/s Digital Vision Pvt. Ltd. 176, Mauza Ogli, Nahan Road, Kala Amb, Distt. Sirmour (H.P)-173030

pH and Assay of Phenylephrine Hydrochloride Remark-Positive for Diethylene Glycol(Content: 35.87%w/v)

Drugs Control Officer, FDA, Panipat (Hr.)

RDTL, Chandigarh

17.

Paracetamol, Phenylephrine Hydrochloride and Chlorpheniramine Maleate Syrup (COLDBEST-PC SYRUP)

Batch No.: DL5201

D/Mfg.: Sep./2019

D/Exp.: Aug./2021

Mfd. By: M/s Digital Vision Pvt. Ltd. 176, Mauza Ogli, Nahan Road, Kala Amb, Distt. Sirmour (H.P)-173030

pH and Assay of Phenylephrine Hydrochloride Remark-Positive for Diethylene Glycol(Content: 34.24%w/v)

Drugs Control Department, Jammu

RDTL,

Chandigarh

18.

Paracetamol, Phenylephrine Hydrochloride and Chlorpheniramine Maleate Syrup (COLDBEST-PC SYRUP)

Batch No: DL5201

D/Mfg. : Sep./2019

D/Exp.: Aug./2021

Mfd. By: M/s Digital Vision Pvt. Ltd. 20 176, Mauza Ogli, Nahan Road, Kala Amb, Distt. Sirmour (H.P)- 173030

Uniformity of Volume, pH, and Assay of Phenylephrine Hydrochloride Remark-Positive for Diethylene Glycol(Content: 34.97%w/v)

Drugs Control Officer,

FDA, Ambala (Hr.)

RDTL,

Chandigarh

19.

Tamsulosin Hydrochloride Modified Release Capsule (GOTAM-0.4 CAPSULES)

Batch No.: CC-190002

D/Mfg.: 01/2019

D/Exp.: 12/2020

Mfd. By: M/s CMG Biotech Pvt. Ltd.58, Industrial Area, Phase III, Sansarpur Terrace, HP-176501

Dissolution

CDSCO

North Zone Ghaziabad

RDTL,

Chandigarh

20.

Metoprolol Succinate Extended-Release Tablets USP Metorol- XL 50 mg

Batch No.: CT9167

D/Mfg.: 03/2019

D/Exp.: 02/2021

Mfd. By: M/s Cian Healthcare Pvt. Ltd. Kh. No.:248, Village. Sisona, Bhagwanpur, Roorkee, Haridwar, Uttarakhand

Dissolution

CDSCO

North Zone Ghaziabad

RDTL,

Chandigarh

21.

Sodium Chloride Injection IP

Batch No.:190719

D/Mfg.: 07/2019

D/Exp. :06/2021

Mfd. By: M/s Haseeb Pharmaceuticals Pvt. Ltd., Plot No. F9/14,15,16, MIDC,Nagpur-440016

Assay

Drugs & Food Control Organisation, Udhampur (J&K)

RDTL,

Chandigarh
22.

Metoprolol Succinate Extended-Release Tablets USP (METOROL-XL 50 TABLETS)

Batch No.: T8030128

D/Mfg. 03/2018

D/Exp. 02/2020

Mfd. By: M/s ION

Healthcare Pvt. Ltd. Baddi- Barotiwala road, Baddi, Distt. Solan (H.P)-173205

Dissolution

CDSCO

North Zone Ghazian bad

RDTL,

Chandigarh

23.

Albendazole Tablets

I.P. 400 mg

B. No.: BBT19327A,

Mfg dt: 08/2019,

Exp dt: 07/2021,

Mfd by: M/s. Biomax Biotechnics (P) Ltd. 261, HSHDC, Indsutrial Estate Alipur, Barwala, Haryana- 134118.

Dissolution

Drugs Control Department, Arunachal Pradesh.

RDTL,

Guwahati

24.

Albendazole Tablets

I.P. 400 mg

B. No.: ABT18036,

Mfg dt: 08/2018,

Exp dt: 07/2020,

Dissolution

Drugs Control Department, Assam

RDTL,

Guwahati

Mfd by: M/s. Vivek Pharmachem (India) Ltd. NH-8, Chimanpura, Amer, Jaipur-303102

25.

Albendazole Tablets

I.P. 400 mg

B. No.: ABT18036,

Mfg dt: 08/2018, Exp dt: 07/2020,

Dissolution

Drugs Control Department, Assam

RDTL,

Guwahati

Mfd by: M/s. Vivek Pharmachem (India) Ltd. NH-8, Chimanpura, Amer, Jaipur-303102

26.

Pheniramine Maleate Tablets I.P. (MOREVIL-25

Tablets)

B. No.: NT-190221

Mfg dt: 02/2019, Exp dt: 01/2021, Mfd by: M/s.Gracure

Pharmaceuticals Ltd.

Brahman Bell Road, Vill. Belldyod, Nalagarh, Dist. Solan (H.P)

Physical Parameter

Drugs Control Department, Nagaland.

RDTL,

Guwahati

27.

Albendazole Tablets

I.P. (REBEN)

B. No.: T9030099,

Mfg dt: 03/2019, Exp dt: 02/2021,

Dissolution

Drugs Control Department, Nagaland.

RDTL,

Guwahati

Mfd by: M/s. Rhydburg Pharmaceuticals Ltd, C2 & 3, S.I.E.L, Selaqui, Dehradun, UK



28.

Ferrous Sulphate and Folic Acid Tablets I.P

B. No.: IFTJ18025,

Mfg dt: 09/2018,

Exp dt: 08/2020,

Mfd by: M/s. Vivek Pharmachem (India) Ltd. EPIP, Bari Brahmana, Jammu-181133

Disintegration

Drugs Control Department, Assam.

RDTL,

Guwahati

29.

Pantoprazole Gastro- Resistant Tablets I.P. (ALPANT-40)

B. No.: MST-18403,

Mfg dt:07/2018,

Exp dt: 06/2020,

Mfd by: M/s. M Sea Pharmaceuticals (P) Ltd, Surajpur, Paonta Sahib, Sirmour, H.P.-173025

Assay and Dissolution

Drugs Control Department, Assam.

RDTL,

Guwahati

30.

Glimepiride Tablets

I.P. 1mg

B. No.: TPT-0316,

Mfg dt: 03/2019,

Exp dt: 02/2021,

Mfd by: M/s. Tanpal Pharmaceuticals D-12-13, Focal Point, Nabha-147201

Dissolution

Drugs Control Department Mizoram

RDTL,

Guwahati

31.

Glimepiride Tablets

I.P. 1mg

B. No.: TPT-0316,

Mfg dt: 03/2019,

Exp dt: 02/2021,

Mfd by: M/s. Tanpal Pharmaceuticals D-12-13, Focal Point, Nabha-147201

Dissolution

Drugs Control Department Mizoram

RDTL,

Guwahati

32.

Glimepiride Tablets

I.P. 2 mg

B. No.: TPT-0317,

Mfg dt: 03/2019,

Exp dt: 02/2021,

Mfd by: M/s. Tanpal Pharmaceuticals D-12-13, Focal Point, Nabha-147201

Assay and Dissolution

Drugs Control Department Mizoram

RDTL,

Guwahati

33.

Paracetamol, Propyphenazone and Caffeine Tablets (Dart Analgesic Tablets)

B. No.: 1802012,

Mfg dt: 02/2018,

Exp dt: 01/2021,

Mfd by: M/s. Juggat Pharma 47/1, 20th K.M., Mysuru Road, Bengaluru- 560074.

Disintegration

Drugs Control Department Mizoram

RDTL,

Guwahati

34.

Albendazole Tablets

I.P. 400mg

B. No.: 8491015,

Mfg dt: 03/2019,

Exp dt: 02/2021,

Mfd by: M/s. Bengal Chemicals & Pharmaceuticals Ltd. 164, Maniktala Main Road, Kolkata-700054

Dissolution

Drugs Control Department Arunachal Pradesh.

RDTL,

Guwahati
35.

Ciprofloxacin & Tinidazole Tablets (CIPROTEC-TZ)

B. No.: CTZ-19001,

Mfg dt: 08/2019,

Exp dt: 07/2022,

Mfd by: M/s. Neutec Healthcare Pvt. Ltd. E-698, DSIIDC, Industrial Area, Narela, Delhi-110040

Disintegration

Drugs Control Department Arunachal Pradesh

RDTL, Guwahati

36.

Rabeprazole 20mg & Domeperidone 30 mg. SR Capsule

B. No.: CRD-7015,

Mfg dt: 06/2018,

Exp dt: 05/2020,

Mfd by: M/s. Cotec Healthcare (P) Ltd. NH. No.- 74, Roorkee-Dehradun Highway, Kishanpur, Roorkee (U.K) -244667

Assay of Rabeprazole

Drugs Control Department Tripura

RDTL, Guwahati

37.

Levocetirizine HCL Tablets I.P. 5mg

B. No.: SHT9389,

Mfg dt: 03/2019,

Exp dt: 02/2021,

Mfd by: M/s. Synokem Healthcare Ltd. D-42, IIE, SIDCUL, Selaqui, Dehradun-248197 (U.K)

Dissolution

Drug Control Department, Assam

RDTL, Guwahati

38.

Norfloxacin Tablets

I.P. (NORPIC -400)

B. No.: NR1801,

Mfg dt: 02/2018,

Exp dt: 01/2021,

Mfd by: M/s. Danish Healthcare (P) Ltd. 76/27, Industrial Estate, Maxi Road, Ujjain-456010

Physical Parameter

Drugs Control Department, Mizoram

RDTL, Guwahati

39.

Metronidazole Tablets I.P. 400mg

B. No.: MZT19009,

Mfg dt: 05/2019,

Exp dt: 04/2021,

Mfd by: M/s. Vivek Pharmachem (India) Ltd. NH-8, Chimanpura, Amer, Jaipur-303102

Dissolution

CDSCO, Sub-Zone, RDTL, Assam

RDTL, Guwahati

40.

Cefixime Dispersible Tablets I.P. 200mg (CEFONIX 200)

B. No.: EL-G/015/A,

Mfg dt: 09/2019,

Exp dt: 08/2021,

Mfd by: M/s. Elvia Care Pvt. Ltd. Vill. Berson, Tehsil, Nalagarh, Dist-Solan (H.P)

Disintegration

Drugs Control Department, Mizoram

RDTL,

Guwahati

41.

Alprazolam Tablets

I.P. 0.25 mg

B. No.: TAZ-7005

Mfg dt: 01/2018,

Exp dt: 12/2020,

Mfd by: M/s. Cotec Healthcare (P) Ltd. NH. No.- 74, Roorkee-Dehradun Highway, Kishanpur, Roorkee (U.K) -244667

Dissolution

Drugs Control Department, Arunachal Pradesh

RDTL,

Guwahati
42.

Frusemide Tablets

I.P. 40mg (RASIX Tablets)

B. No.: 7127

Mfg dt: 06/2017,

Exp dt: 05/2020,

Mfd by: M/s. Ramson Remedies 186-187, Industrial Focal Point, Amritsar, A.O.: 2, G. Floor, Baktawar, Malabar Hill, Mumbai-6.

Dissolution

Drugs Control Department, Arunachal Pradesh

RDTL, Guwahati

43.

Compound Sodium Lactate Injection I.P. (RL)

B. No.: 190039

Mfg dt: 04/2019,

Exp dt: 03/2021,

Mfd by: M/s. D.J.Laboratories Pvt. Ltd. 255, Sector-1, Industrial Area, Pithampur-454775.

Sterility Test and Particulate Contamination

Drugs Control Department, Meghalaya

RDTL, Guwahati

44.

Telmijack- 40 (Telmisartan Tablets IP 40 MG)

B. No.: T-19301

Mfg dt: 04/2019, Exp dt: 03/2021,

Mfd by: M/s. Jackson Laboratories Pvt. Ltd. 22-24, Majitha Road, Bye Pass, Amritsar-143001

Dissolution

CDSCO, West Zone, Mumbai

CDTL, Mumbai

45.

Ibuprofen Tablets IP 400mg

B. No.: LL484103

Mfg dt: 09/2019,

Exp dt: 08/2022,

Mfd by: M/s. Lesanto Laboratories, Plot No. 9, 10, 11 and 20, Survey No. 53, Palghar, Maharashtra.

Dissolution

CDSCO, West Zone, Mumbai

CDTL, Mumbai

46.

JFIX-LB (Cefixime Trihydrate with Lactic Acid Tablets IP)

B. No.: HS.114

Mfg dt: 09/2019,

Exp dt: 08/2021,

Mfd by: M/s. Rivpra Formulations Pvt. LIMITED., Plot No. 8, Sector -6A, I.I.E., Sidcul, Haridwar-249403 (U.K)

Identification of Cefixime

CDSCO, Sub Zone, Indore

CDTL, Mumbai
For full details click on the following link: