CDSCO flags 39 drug samples including Aspirin, Remdesivir as not of standard quality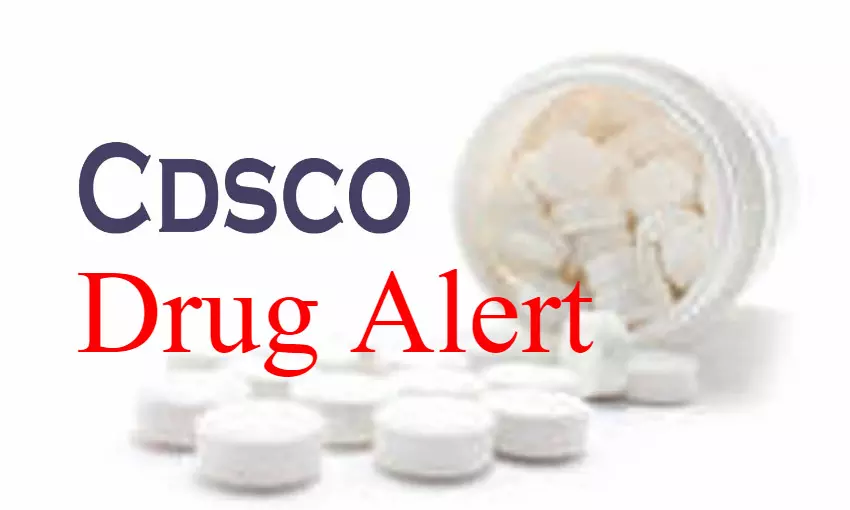 New Delhi: In its latest drug safety alert, the apex drug regulatory body, the Central Drugs Standard Control Organization (CDSCO) has flagged 39 medicine batches as 'Not of Standard Quality' after the samples failed to qualify a random drug sample test for the month of June, 2021.
These drug samples which have been declared as not of standard quality include Skymap Pharmaceutical's Omeprazole Gastro-Resistant Capsules, Bharat Parenteral's Folic acid tablets, and Jackson Laboratorie's Aspirin tablets.
In addition to this , the list also includes some popular medicines such as Diclofenac Sodium manufactured by Hindustan Antibiotics, Goodvit (Folic Acid Tablets I.P) manufactured by Overseas Health Care, Amikef-500-2 ml (Amikacin Sulphate Injection I.P.) manufactured by Lupin, lverpil-12 (lvermectin Dispersible Tablets 12 mg manufactured by Psychotropics India Ltd., Coldbest- PC SYRUP (Paracetamol, Phenylephrine Hydrochloride & Chlorpheniramine Maleate Syrup, 60 ml) manufactured by Digital Vision.
Remdesivir for Injection 100 mg/vial (COVIPRI INJECTION), a popular covid medication manufactured by Pristine Life Sciences, is also on the list of "Not of Standard Quality" drugs..
Further, two veterinary medications, Cypermethrin Dip Concentrate Liquid IP Vet. manufactured by Saibliss Drugs & Pharmaceuticals and Amitraz Dip Concentrate Liquid manufactured by Ambrosia Pharma, are on the list of "Not of Standard Quality."
This came after analysis and testing were conducted by the CDSCO, Drugs Control Department, on 681 drug samples. Out of these, 642 samples were found to be of standard quality while 39 of them were declared as Not of Standard Quality (NSQ).
A few of the reasons why the drug samples tested failed were the failure of the assay, failure of the dissolution test, failure of the Vitamin D3 assay, failure of Phenylephrine Hydrochloride assay, and the Assay of Methylcobalamine & Dissolution of Pregabalin.
The samples collected were tested in four laboratories, namely CDL Kolkata, CDTL Mumbai, RDTL Chandigarh, and RDTL Guwahati.
List of Drugs, Medical Devices and Cosmetics declared as Not of Standard Quality/Spurious/Adulterated/Misbranded , for the Month of June - 2021
| | |
| --- | --- |
| Total number of samples tested | 681 |
| Total number of samples declared as of Standard Quality | 642 |
| Total number of samples declared as Not of Standard Quality | 39 |
| Total number of samples declared as Spurious | Nil |
| Total number of samples declared as Misbranded | Nil |
S. No

Name of Drugs/medical devices/cosmetics

Batch No./Date of Manufacture/Date of Expiry/Manufactured by

Reason for failure

Drawn By

From

1

SESTIL –AD

(Loperamide Hydrochloride Dispersible Tablets)

B. No: CST-75

Mfg dt: 07/2020

Exp dt: 06/2023

Mfd by: M/s Coastal Medicare Pvt Ltd. RS No. 9/2,5,Ramachandrapuram, Surampalli, Krisha Dist, Andhra Pradesh

Assay

CDSCO

Hyderabad

CDL,

Kolkata

2

Alusil (Aliuminium, Magnesium and Simethicone Chewable Tablet I.P.)

B. No.: AC80

Mfg dt: 08/2020

Exp dt: 07/2022

Mfd by: Mls. Unicure India Ltd., C-21, 22 & 23,Sector-3, Noida - 201 301, Distt. Gautam Budh Nagar, Uttar Pradesh.

Assay of

Polydimethylsiloxane (Simethicone)

CDSCO Hyderabad

CDL, Kolkata

3

Belitra - 200 (Itraconazole

Capsules 200 mg)

B. No.. AC20084

Mfg dt: 08/2020

Exp dt. 07/2022

Mfd by: Mls. Cian Healthcare Ltd., Khasra No. 248 Vill Sisona, Bhagwan pur, Roorkee, Uttarakhand

Dissolution

CDSCO Hyderabad

CDL, Kolkata

4

Dicloenac Sodium

lnj. I.P. 75 mg / 3ml

B. No.. DSIX-109 Mfg dt: 12/2020 Exp dt: 11/2022

Mfd by Mls. Hindustan Antibiotics Ltd., At: 11,

W.E.A. F aridabad -121001 Haryana.

Particulate Matter

CDSCO

South Zone

CDL, Kolkata

5

Bupivacaine Hydrochloride in Dextrose lnjection USP 4 ml.

GB No : TBD-2003

Mfg dt: 07/2020

Exp dt: 06/2022

Mfd by: Mls. Systochem Laboratories Ltd., B-75, Roop Nagar, Indl. Area Loni 201102, Uttar Pradesh.

pH

CDSCO South Zone

CDL, Kolkata

6

FEN PIL – 120

(Fexofenadine Hydrochloride Tablets I.P 120 mg

B. No.: AWX29002

Mfg dt: 10/2019

Exp dt: 09/2021

Mfd by: Mls. Psychotropics India Limited, Plot No. 46 & 49, Sector - 6A, I IE, SIDC UL,

Ranipur, Haridwar - 249 403 Uttarakhand.

Dissolution

CDSCO East Zone Kolkata

CDL, Kolkata

7

Asonac-100

(Aceclofenac Tablets I.P.)

B. No.: 420-576

, Mfg dt: 05/2020

Exp dt: 04/2022 Mfd by: M/s. Zee

Laboratories, 47, Industrial Area, Paonta Sahib- 173025 Himachal Pradesh

Dissolution

CDSCO,

East Zone Kolkata

CDL, Kolkata

8

Omeprazole Gastro-Resistant Capsules IP 20 mg

B. No.: GM20033

Mfg dt: 03/2020

Exp dt: 02/2022

Mfd by: Mls. Skymap Pharmaceuticals Pvt. Ltd., B-3, Dev Bhoomi Industrial Estate, Puhana lqbalpur Road, Roorkee - 247667, Uttarakhand.

Dissolution & Assay

CDSCO,

East Zone Kolkata

CDL, Kolkata

9

Goodvit (Folic Acid Tablets I.P)

B. No.: GVT-76 Mfg dt: 07/2020

Exp dt: 12/2021

Mfd by: Mls. Overseas Health Care Pvt. Ltd., 335 K.M. Milestone, National Highway No. 1, P.O. Box No. 25, Phillaur — 144 410

Punjab.

Hydrolysis Products

CDSCO,

East Zone Kolkata

CDL, Kolkata

10

Amikef-500-2 ml

(Amikacin Sulphate Injection I.P.)

B. N—o. A20332VP

Mfg dt: 07/2020

Exp dt 06/2022

Mfd by: Mls. Lupin Ltd., 116, 1st Floor, K. B. Complex, Opp. Mahavir Nagar, Vapi - 396195,

India, At: 75/1, G.I.D. C.,

Description & Particulate Matter

CDSCO,

East Zone Kolkata

CDL, Kolkata

11

lverpil-12 (lvermectin Dispersible Tablets 12 mg

B. No.: AFM20018 Mfg dt: 10/2020 Exp dt: 09/2022

Mfd by: M/s. Psychotropics India Ltd., Plot No. 46 & 49, Sector -6A, IIE,

SIDCUL, Ranipur, Haridwar -249 403

Uttarakhand

Total Aerobic Microbial Count

CDSCO,

East Zone Kolkata

CDL, Kolkata

12

Amikacin Sulphate Injection I.P.

500 mg/2 ml

B. No.: 7901719.

Mfg dt: 09/2019 Exp cit: 08/2021

Mfd by: M/s. Karnataka Antiblotics & Phamaceuticals Ltd., Plot No. 14,II Phase, Peenya Bangaluru-560058

Description & Particulate Matter

CDSCO,

East Zone Kolkata

CDL, Kolkata

13

Bupivacaine Hydrochloride in Dextrose Injection USP 4ml

B. No: 1320328

Mfg dt: 09/2020

Exp dt: 08/2022

Mfd by: M/s. Swiss Parentrals Ltd., 808, 809 &

:810, Kerela Industrial

Estate, G.1.O.C., Nr. Bavla, Dist. Ahmedabad -382220, Gujarat

Assay/Content of Dextrose

Drug Control Department Madhya Pradesh

CDL, Kolkata

14

SANGENTA INJECTION (Gentamicin Injection IP, 30 ml)

B. No.: JDLl-169

Mfg dt: 10/2020

Exp dt: 09/2022

Mfd by: Mis. Jpee Drugs

Plot No. 53, Sector 6-A,

SIDCUL, Haridwar,

: Uttarakhand

Description & Particulate Matter

Drug Control Department Andhra Pradesh

CDL, Kolkata

15

SANDEXA INJECTION 30 ml

(Dexamethasone Sodium Phosphate Injection IP 2.0 mg/ml)

B. No.: JDLl-167

Mfg dt: 10/2020

Exp dt: 09/2022

Mfd by: M/s. Jpee Drugs,

Plot No. 53, Sector 6-A, SIDCUL, Haridwar, Uttarakhand.

Description, Assay & Particulate Matter

Drug Control Department Andhra Pradesh

CDL, Kolkata

16

Coldbest- PC SYRUP

(Paracetamol, Phenylephrine Hydrochloride & Chlorpheniramine Maleate Syrup, 60 ml)

B.No.: DL5872

Mfg dt: 01/2020

Exp dt: 12/2021

Mfd by: Mis. Digital Vision, The sample 176, Mauza Ogli, Nahan Road, Kala-Amb, Dist- Sirmour, Himachal Pradesh- 173030

Assay of Phenylephrine Hydrochloride. The sample shows the presence of Diethylene Glycol (DEG) and content of Diethylene Glycol in the sample has been found to be 1.27 % w/w

Drug Control Department Andhra Pradesh

CDL, Kolkata

17

Coldbest- PC SYRUP

(Paracetamol, Phenylephrine Hydrochloride & Chlorpheniramine Maleate Syrup, 60 ml)

B. No.: DL5201

Mfg dt: 09/2019 Exp dt: 08/2021

Mfd by: Mis. Digital Vision,

176, Mauza Ogli, Nahan Road, Kala-Amb, Dist­ Sirmour, Himchcal Pradesh- 173030.

Assay of Phenylephrine Hydrochloride. The sample shows the presence of Diethylene Glycol (DEG) content of which is found to be 7.71 % w/w

Drug Control Department Andhra Pradesh

CDL, Kolkata

18

Folic Acid Tablets IP

B. No.: T9122

Mfg dt: 05/2019 Exp dt: 04/2022

' Mfd by: M/s. Bharat Parenterals Ltd. V11l

Haripura, Ta. Savli, Dist.

Vadodara-391520, Gujarat

Assay

CDSCO Sub-zone Guwahati

RDTL, Guwahati

19

ASPIRIN TABLET I.P. (Dilsprin 75)

B. No.: T-20902

Mfg dt: 11/2019

Exp dt: 10/2021

Mfd by: M/s Jackson Laboratories Pvt. Ltd. Majitha Road, Bye Pass, Amritsar , B.O-32-33, CBD Belapur, New Mumbai.

Description

Drug Control Depertment Nagaland

RDTL, Guwahati

20

OYSCAL

B. No.: BPT-6611

Mfg dt: 01/2020

Exp dt: 06/2021

Mfd by: Mis. Banson

Pharmaceutical Pvt Ltd. C-

g &10 Focal Point, Nabha(Pb) 147201.

Assay of Vitamine D3

Drug Control Depertment Nagaland

RDTL, Guwahati

21

AMPICILLIN CAPSULES LP. 500 mg

B. No.: AMP-19B03

Mfg dt: 08/2019

Exp dt: 07/20 22

Mfd by: Mis Cyper Pharma, K.No. 825-827, Gullarwala Saj Road, Baddi, Dist-Solan, Himachal Pradesh

Assay

Drug Control Depertment Nagaland

RDTL, Guwahati

22

Calcium Carbonate & Vitamine D3 Tablets (oyscal)

B. No.: BPT-6617

Mfg dt: 01/2020

Exp dt: 06/2021

Mfd by: M/s. Banson

Pharmaceutical Pvt Ltd. C-/ 9 &10 Focal Point, Nabha Punjab-147201

Assay of Vitamine D3

Drug Control Depertment Nagaland

RDTL, Guwahati

23

CHLORCIM-500

(Chloramphenicol Capsules I.P. 500 MG)

B. No.: OC-1809006

Mfg dt: 09/2018

Exp dt: 08/2021

Mfd by: M/s. Oshin Laboratories Pvt ltd. Aggarwal Industrial Area, Piou Maniyari, Narela

Road, Kundli-131028, Haryana

Dissolution

Drug Control Depertment Mizoram

RDTL, Guwahati

24

Atorvastatin Tablets IP 20 mg

B. No.: AVBT802

Mfg dt: 07/2020

Exp dt: 06/2022

Mfd by: M/s. Unicure India Ltd, C-21, 22 & 23, Sector-

3, Noida-201301, Distt­ Gautam Budh Nagar Uttar Pradesh.

Dissolution

CDSCO Sub-zone Guwahati

RDTL, Guwahati

25

MERICOBAL-PG

B.No.: TLC-262

Mfg dt: 09/2019 Exp dt: 08/2021 Mfd by: M/s. Taksa Lifescience, E-47, Industrial Area, Focal Point : D erabassi , Distt.-Mohali, Punjab

Assay of Methylcobalamine & Dissolution of Pregabalin

Drug Control Depertment Mizoram

RDTL, Guwahati

26

Omeprazole Capsules IP

B. No.: OMl-2001 Mfg dt: 04/2020 Exp dt: 03/2022

Mfd by: M/s. Ridley Life Science Pvt. Ltd., D-1651, DSIDC lndl. Complex, Narela, Delhi-110040.

Dissolution & LOD test

CDSCO Sub-zone Guwahati

RDTL, Guwahati

27

Amoxycillin Oral Suspension I.P. 60 ml Dry Syrup 125mg/5 ml

B. No.: 9903620

Mfg dt: 03/2020

Exp dt: 08/2021

' Mfd by: M/s. Karnataka

Antibiotics & Pharmaceuticals Limited, (A Govt. of India Enterprises), Plot No. 14, II Phase, Peenya, Bangaluru-560058

Assay

CDSCO West Zone Mumbai

CDTL, Mumbai

28

LORAZEPAM INJECTION IP 2 mg/ml (LOPEZ INJECTION)

B. No.: KLLO0002

Mfg dt: 02/2020

Exp dt: 01/2022

Mfd by: M/s. KILITCH

DRUGS !NOIA LTD. Plot

C-301/2, MIDC, TTC, Navi

/ Mumbai, Pawane-400705.

Assay

CDSCO Sub-zone Baddi Himachal Pradesh

RDTL Chandigarh

29

Methylcobalamin Pyridoxine HCL and Nicotinamide Injection (MAXOBAL INJECTION)

B. No. HL-403A

Mfg dt: 07/2020

Exp dt: 1212021

Mfd by: M/s. Havik Pharma

Plot No. 9 AB, Phase-1, Ind.Area, Sansarpur­ Terrace, Distt Kangra, Himachal Pradesh

Particulate Matter

Drug Control Department

Himachal Pradesh

RDTL Chandigarh

30

IBUPROFEN AND PARACETAMOL Tablets

B.No: 21001

Mfg dt: 04/2021

Exp dt: 03/2024

Mfg by: M/s Tulip Formulations Pvt Ltd.

Village Surajpur Uparla, Tehsil Indore, Dist Kangra , Himachal Pradesh.

Assay of Ibuprofen and Paracetamol

Drug Control Department

Himachal Pradesh

RDTL Chandigarh

31

CALCIUM MEGNESIUM ZINC AND VIT 03

SUSPENSION ((DECALVIT SUSPENSION )

B.No. BL-822

Mfg dt: 01/2020

Exp dt: 12/2021

Mfd by: M/s Biosearch Organics D.I.C. IndI. Estate, Govindsar, Katua 184102, Jammu & Kashmir

Assay of Vitamin D3

Drug Control Department

Jammu & Kashmir

RDTL Chandigarh

32

TELMISARTAN TABLETS I.P. 40 mg (TELMICEPT 40 Tablets)

B. No.: C21T470002

Mfg dt: 07/2020

Exp dt: 06/2023

Mfd by: Mis. CONCEPT

PHARMACEUTICALS

LTD. A-28/3, MIDC,

Chikalthana, Aurangabad- 43100 , Maharashtra

Dissolution

CDSCO North Zone

RDTL Chandigarh

33

REMDESIVIR for Injection 100 mg/vial (COVIPRI INJECTION)

B. No.. PR/A-54

Mfg dt: 12/2020

Exp dt: 11/2022

; Mfd by: M/s. Pristine life sciences A-229, PIPDIC industrial estate,Mettupalayam, Singtam, Sikkim

Identification of Remdesivir, Particulate matter, Sterility

Drug Control Department Delhi

RDTL Chandigarh

34

CEFIXIME DISPERSIBLE TABLETS IP 200 mg

B. No.: TPT GOV-2231

Mfg dt: 10/2020

Exp dt: 09/2022

Mfd by: M/s. Terrace Pharmaceuticals (P) Ltd. 3-B (a), Phase-III, Industrial Area,Sansarpur

Terrace, Distt. Kangra,

HimachalPradesh 176501

Disintegration

CDSCO North Zone

RDTL Chandigarh

35

Cypermethrin Dip Concentrate Liquid IP Vet. (CYPER 10 % VETERINARY)

B. No: CP-245

Mfg dt:05/2020

Exp dt: 04/2022

Mfd by:M/s Saibliss Drugs & Pharmaceuticals 66-67, Gondpur, Industrial Area, Pontasahib, Dist. Sirmour Himachal Pradesh

Assay of Cypermethrin

Drug Control Department Srinagar

RDTL Chandigarh

36

Pegabalinan d

Methylcobalam n Capsule

(MECNAR-PLUS CAPSULES)

B. No: TLC-441

Mfg dt:03/2020

Exp dt: 02/2022

Mfd by: M/s. Taksa Lifescience E-47, Industrial Area, Focal Point, Derabassi Dist Mohali, Punjab

Uniformity of filled weight

Drug Control Department Himachal Pradesh

RDTL Chandigarh

37

IVERMECTIN TABLETS USP 6 mg

B. No: lVE/20002

Mfg dt: 07/2020

Exp dt: 06/2022

Mfd by: M/s. MAAN PHARMACEUTICALS LTD. Plot-1,G.I.D.C. Phase II, Modhera Road, Mehsana-384002, Gujarat

Dissolution

CDSCO North-Zone

RDTL Chandigarh

38

Azilsartan Medoxomil Tablet 80 mg (ABEL-SO TABLETS)

B. No: QZ210101

Mfg dt:01/2021

Exp dt: 12/2022

Mfd by: M/s. Hetero Labs Limited (Unit II) Kalyanpur, (Village), Chakken Road, Baddi (Tehsil), Solan ( Dist), Himachal Pradesh-173205

Dissolution of Azilsartan

CDSCO Sub-Zone Baddi

RDTL Chandigarh

39

Amitraz Dip Concentrate Liquid BP Vet. (AMTRAZ)

B. No: AVG-401

Mfg dt: 01/2021

Exp dt: 12/2022

Mfd by: M/s. AMBROSIA PHARMA 91, lndl.

Estate, Zainakot Srinagar, Jammu & Kashmir.

Assay of Amitraz

Drug Control Department Srinagar

RDTL Chandigarh
For more details click on the link below;
Also Read:22 drug samples including Sun Pharma Rosuvas fail to qualify CDSCO test